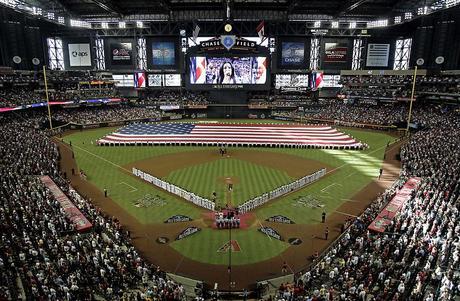 Um, Pre-Game: It is 8:40-something. I rushed home from softball (which was an utter disaster; perhaps the worst game that the Wolfpack has ever played) to watch the All-Star game, thinking I'd miss the first few innings.  The game hasn't even started yet! What kind of ridiculous pre-game show/introduction ceremony did they have?! Did they all watch last year's game on the big screen together before they felt comfortable playing this one? I do not understand. And how can Major League Baseball expect any kid to be able to stay up later than, say, the third inning? YAWN. Let's play some fucking baseball already.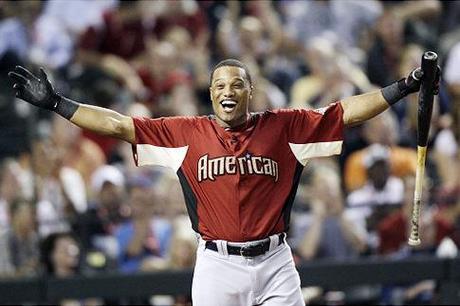 This gives us a chance, however, to gush about how adorable Robbie Cano was last night. I am not talking about his monster homeruns or victory in the Derby. I am talking about how he jumped into his dad's arms right afterwards, how he dropped his bat and lifted his hands to the sky while smiling like a little kid, how he wanted to cut the trophy in half to give part of it to his Pops. I decided last night that when the Baseball Jesus retires, Robbie will take his place as my new Yankee crush.  He is just so smiley and humble and clearly loves every minute he is on the field. I adore him. What a week for the Bombers. Derek joined The 3,000 Club and Robbie is the new Homerun Derby Champion. Also? I would just like to mention that whenever I see Ron Washington before a game, I imagine him snorting lines off of the line-up card and listening to 70's porn music in his office. His glasses really do it for me.
Top 1: Finally, Curtis Granderson steps into the box. And proceeds to line the first pitch to Prince Fielder at first base.  Let's at least make Doc work a little bit and let the other guys see some pitches, okay? That was basically the worst lead-off at-bat ever.  Asdrubal Cabrera is up. He is on Joe Girardi's Braces and I still cannot spell or pronounce his name. Which means it is ridiculous.  I am an immigration attorney; my profession is dealing with unusual names. And I still think it is simply a ludicrous name.  Halladay strikes him out.  Gonzo, the Angry Bird, steps in.  I really thought he was going to take the Derby last night (before Robbie lit up the world with his pearly whites).  And he grounds out. Sigh, Doc makes it look so easy.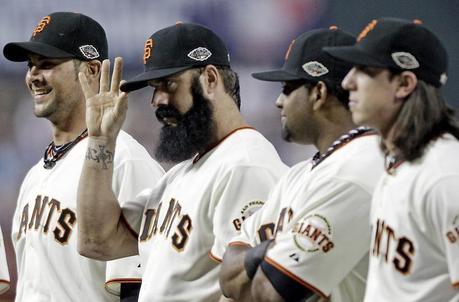 Bottom 1: Oh wow. Brian Wilson and that animal on his face that he calls a beard are acting as sideline reporters at the moment? Awesome.  He calls Halladay a cyborg robot, or something equally amusing.  Rickie Weeks also swings at the first pitch and grounds out to first.  What is wrong with these All-Star lead-off hitters? I understand they are looking for a first-pitch fastball to drive, but still.  Take some damn pitches, do your job.  Beltran strikes out on a beautiful change-up. Well, at least we can look forward to Fred Wilpon insulting him tomorrow. Oh we have our first base runner! A walk to Matt Kemp.  Prince Fielder drives one to left, but Josh Hamilton makes a nice shoe-string-like catch to end the inning. 
Top 2: Joey Bats, which I think is basically the coolest nickname ever, swings at the first pitch and pops it up to shallow center. I really am not grasping this swing-at-the-first-pitch-overly-aggressive approach by the AL. Whoa. What is up with Josh Hamilton's facial hair? It is bad enough that we have Papi's chin strap and Gonzo's perfectly manicured goatee; we have to deal with this weird facial pubic hair, too? Thank god the Yankees and Duke – two of the most successful and classiest teams world-wide, in my completely unbiased opinion – have rules against this hair-rible trend we are seeing here.  He grounds out to third. Serves him right.  Beltre is battling up there, which I appreciate. The first five batters saw about one pitch each.  He rocks one to right, but it is caught. Still no score.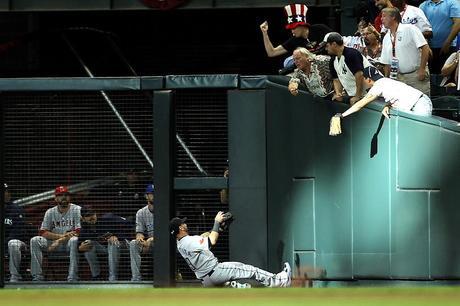 Bottom 2:  Wait. I am SO confused.  David Robertson is pitching?! Like the Yankees eighth-inning guy? Who was added to the roster like three days ago or whatever? We have a whole roster of actual All-Star-caliber pitchers, and David Robertson is on the mound in the second inning??? Maybe Washington really IS doing lines of coke between innings.  Really, I am so confused at the moment.  Perhaps this is because he can warm-up quickly, unlike a regular starter? Don't we have better middle relievers/closers? Oh. We were just informed that Josh Beckett tweaked something in his knee while warming up.  My condolences, Red Sox Nation.  I do not say that in a sincere manner.  Holy crap, Jose Bautista just made an incredible sliding catch in right-field foul territory on Brian McCann. David Robertson was smiling and pumping his fists in appreciation.  Fat Elvis is up; he has been a wonderful surprise all season.  And he gets the first hit of the night, a hard grounder up the middle! Now Matt Holliday is up. He is one of the players who has impressed me the most this season. I think, in my own head, I had always underrated him.  I was wrong. He is outstanding. I am still confused why the best the AL could offer us in the second inning was David Robertson.  But he strikes out Holliday and then, after Berkman steals second, his hand comes off the base and he is tagged out. Weird double-play (failed hit-and-run?) and there is still no score.
Top 3: Cliff Lee is pitching for the NL. I am really not a big Cliff Lee fan after his disparaging comments about the Yankees being old and whatnot. I do not care if it is true. I badly want to beat him in the World Series.  Papi grounds out. Robbie is up! Why is the Home Run Derby Champion batting so low in the order? Again, I am confused by Ron Washington's decisions here. He grounds out, too.  And Avila grounds out, as well.  Well, that was boring.
Bottom 3: Michael Pineda is pitching for the AL. He gets Troy Tulowitzki to fly out to center. And then Scott Rolen strikes out. Rickie Weeks, with his Jose Reyes wannabe hair, also strikes out. Really impressive inning from my rookie stud.  Dear fantasy baseball gods, please do not let him be on an innings limit.  Thank you. XOXO, Jill.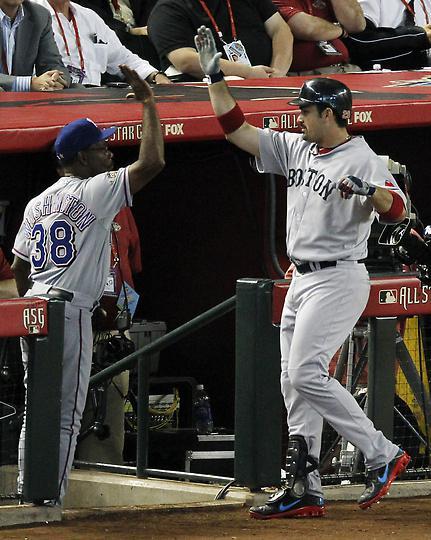 Top 4: Maybe someone can score at some point; that would be swell. This game is reinforcing the theme that 2011 is the "Year of the Pitcher." Curtis lamely grounds out to second. Tyler Clippard is warming up in the bullpen, so apparently the NL wants to bore us with middle relievers, too. Asdrubal flies out to center.  This is turning out to be a riveting game.  And just as I type that, Adrian Gonzalez takes Cliff Lee deep for a solo shot! Joey Bats pops up behind first-base, but Prince cannot make the play.  He went for the over-the-shoulder bucket catch and failed. I wonder if that will be a hit.  Prince is being booed loudly.  Apparently the crowd hates him for not selecting Justin Upton for the Homerun Derby. We already knew people from Arizona are assholes, based on their immigration laws, so this is not all that surprising.  What IS surprising? Cliff Lee is being taken out after Josh Hamilton just hit a single up the middle.  Interesting. Tyler Clippard's glasses are nuts. Just nuts.  Beltre hits a line-drive to shallow left, but Pence throws Bautista out at home. Awesome, right-on-target kind of throw.  1-0, AL.
Bottom 4: Carlos Beltran leads off with a single to shortstop off of C.J. Wilson.  And now Justin Timberlake is being interviewed by the outfield swimming pool about his new movie, which I actually want to see.  Matt Kemp hits a single, too.  Fielder is up with men on first and second, no outs. And he ROCKS one to left for a three-run homer! Well, that is one way to endear yourself to Arizona fans.  McCann pops out, Upton lines out, and Pence strikes out, but the damage is done.  3-1, NL.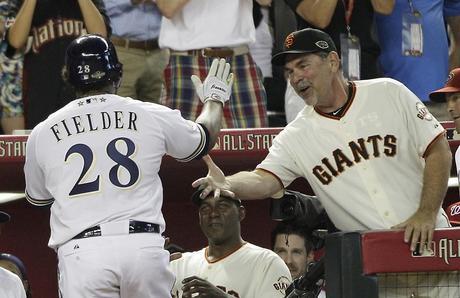 Top 5: David Ortiz is up against Clayton Kershaw, but he strikes out. Robbie grounds out weakly to first. And Avila grounds out, too. LAME.  3-1, NL.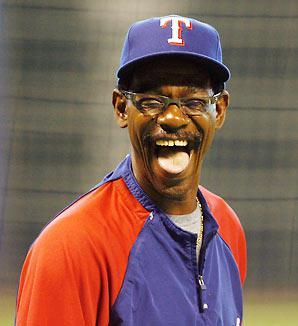 Bottom 5: Jordan Walden is now pitching. Ron Washington's pitching decisions sort of blow my mind. Why do we have a closer in now? Troy T. starts the inning with a liner to center. He is replaced by Starlin Castro, who immediately steals second.  Starlin is a bitchin' name.  Scott Rolen strikes out…again. A good showing for him tonight. No, really. Rickie Weeks is up, but Castro takes third on the passed ball.  He weakly grounds to the pitcher, but Castro breaks for home and is thrown out by four feet.  Ethier is up. Rickie Weeks steals second on the first pitch.  Maybe Walden blows saves because, um, anyone can run on him? This is not science, folks.  Ethier hits a single to right field,  but he is caught between first and second to end the inning. Weeks scored on the play. I blame Ron Washington for all of this.  4-1, NL.
Top 6: Jair Jurrjens, who has been unbelievable this season, is pitching for the NL. Their pitching decisions seem to make much more sense, you know? We need to get something started here.  And Ellsbury strikes out to start the inning.  Those fucking Red Sox, always screwing everything up (yes, I am aware that the only run by the AL was scored by a Boston player). Peralta flies out to deep right, which brings up the Alcoholic, Miguel Cabrera.  He proceeds to ground out to second. He will secretly take a swing from his flask now. 4-1, NL.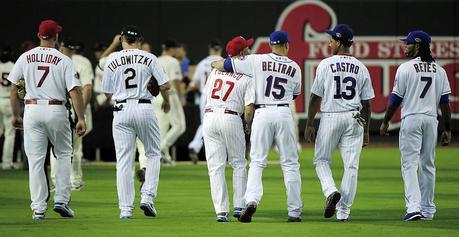 Bottom 6: Chris Perez is pitching and Matt Kemp is up. I have never watched this dude pitch, but he has a crazy delivery. It is sort of sidearm/submarine-ish.  I am intrigued.  Kemp flies out to right.  Joey Votto strikes out.  But Yadier Molina hits a shot to left for a stand-up double. Chris Perez laughs at his ex-catcher, which amuses me.  But Justin Upton flies out to right to end the inning.  4-1, NL. 
Top 7: Carlos Quinten pops out to first. Oh, Matt Joyce is up. I feel like we got close and personal on Saturday, since I sat five feet behind him in right field at the Yankee game.  He grounds out. But Youk lines one to center for a single.  Paul Konerko is up and Craig Kimbrel is in.  Other than a two-week blip, he has been stellar all season. And I love that he broke Papelbon's rookie record for saves. Sigh, but he walks Konerko. See, this is Kimbrel's one problem. He walks way too many guys.  But Kendrick grounds out to second to end the threat. 4-1, NL.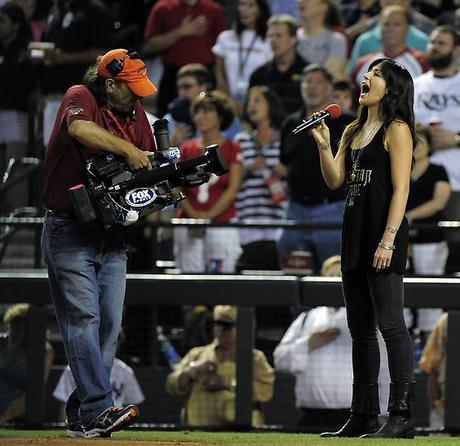 Bottom 7: Since we are entering the seventh-inning stretch, are we going to be entertained with some sort of special performance? Yes, yes we are. Michelle Branch is singing "God Bless America." Jordin Sparks and now Michelle Branch? This is not 2006. All of the talent really flocks to Arizona, huh? Brandon League is now pitching for the AL. Um, let's talk about his stats for a minute. His record? 1-4. His ERA? 3,44.  HOW IS HE AN ALL-STAR?! That is simply ridiculous. Yes, I know he has 23 saves, second most in the AL. But so what?! And, again Ron Washington, why is he pitching now? Especially with that heinous neck tattoo. Hunter Pence leads off with a single through the left side.  But Starlin strikes out.  Pablo Sandoval, who has a fabulous nickname, arguably better than Joey Bats, is up.  Hunter Pence goes first to third on a passed ball. Matt Weiters didn't move to catch a somewhat perfect pitch and then couldn't find the ball as it rolled away from him. Terrible play.  Panda makes him pay! He rockets a ball into the left-field corner for a ground-rule RBI double.  Brandon Phillips flies out to left and Gaby Sanchez pops out to second to end the inning.  5-1, NL. 
Top 8: Johnny Venters, who is having an incredible season, is pitching; he gets Weiters to ground out on the first pitch.  Ew. We now see Tim McCarver and Joe Buck on the screen. It is bad enough we have to listen to them. Also? Joe Buck, in his purple shirt and green tie and crossed legs, looks absolutely ridiculous.  Ellsbury strikes out. Heath Bell is coming in, sprinting in, and he slides into the pitcher's mound. Seriously, that just happened. He has a huge grass stain on his leg.  The camera man running behind him, trying to keep up, was the best part of that sequence actually. Hilarious.  He gets Peralta to pop up to first. Thank you for the entertainment, Heath Bell.  Especially because the AL is super lame tonight.  5-1, NL.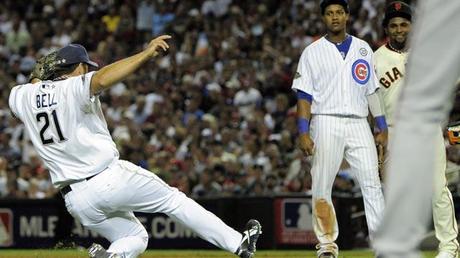 Bottom 8: Alexi Ogando is pitching and gets McCutchen to check-swing hit to the mound for an easy out.  Joey Votto grounds out to short. Jay Bruce is up, but….Gio Gonzalez is coming in? Really? Don't get me wrong, he is fantastic. But this is when David Robertson would have made sense, Ron Washington!!!! Is anyone else a little baffled? Am I just expecting too much? I know this game is part-exhibition, part-serious-affair, but shouldn't there be some sort of strategy by the coaching staff? Why wouldn't we save our relievers/closers to mix and match in the last few innings? This makes no sense! Sigh, he strikes out Bruce to end the inning.  5-1, NL. 
Top 9: Home-field advantage for the AL is not looking good, folks.  Michael Young leads off against Joel Hanrahan.  And promptly strikes out.  Quentin hits a groundball to short, but the ball is thrown away by Starlin Castro.  Matt Joyce singles to right, the ball is erratically tossed around a bit, and we now have runners on second and third. Brian Wilson and his beard pet are coming in.  I love that he dyes his beard, I really do. He gets Michael Cuddyer to fly out to right on the first pitch. Wait…no tag? What the hell? I guess the out means more than the run at this point.  It is all up to Paul Konerko to keep the game going.  But Wilson strikes him out, does his crazy post-game symbol thingy, and it is over. A poor showing by the American League and a less-than-entertaining game on the whole. When the highlight is a Heath Bell slide into the pitcher's mound, you know your All-Star game has been lackluster.  5-1, NL.