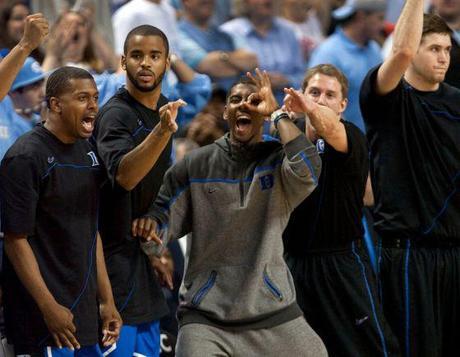 Speaking of "Live from New York," how funny was Zach Galifianakis this week on SNL? His monologue was so randomly hilarious, full of awkward pauses and sharp snarkiness.  His Annie rendition at the end was, by far, one of the best openings the show has had in awhile.   
Zach Galifianakis's SNL Monologue and 'Annie' Performance - watch more funny videos
But that is not why we are here.  It all can't be joy and laughter, folks. In fact, I should be at the Duke Hoops Watch event at Village Pourhouse, which my friend Amanda is in charge of, but I am here playing hooky.  I purposely did not go out, because the last two times I have been social during a Duke-UNC game, Duke lost. I refuse to put the team through that again. So, here we are, live from the couch bleacher seats in front of the big-screen. Just like being in Greensboro, but…not. 
Pre-Game:  They only met a week ago, but it is Duke (#5) vs. UNC (#7) for the ACC title.  This is the first time the two rivals have played in the ACC championship game since 2001, and the 11th time overall (UNC leads, 6-4).  Duke, however, has won 18 ACC championships to UNC's 17, which is sort of remarkable.  We have owned this tourney for the past decade, and I hope our dominance continues today.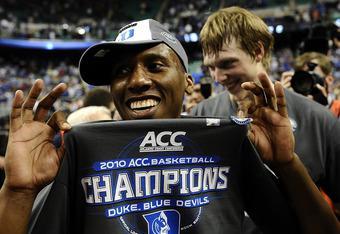 Can Duke clinch a #1 seed? Can UNC keep a #2 seed? Who will be the 2011 ACC Champion?  It would absolutely drive me nuts to lose to these douchebags twice in an eight-day period. But it would be especially awesome to avenge that awful anomaly on my birthday in Chapel Hill. So, like, colored me intrigued, anxious, and ready to do the damn thing.  Here is hoping that Nolan and Kyle leave the ACC on a high note. May the Plumlees not foul out in the first half, may Roy Williams freak out on the sideline at least once, and may the force of the Crazies be with you.  This one is for all the prizes, folks.  Let's go Devils!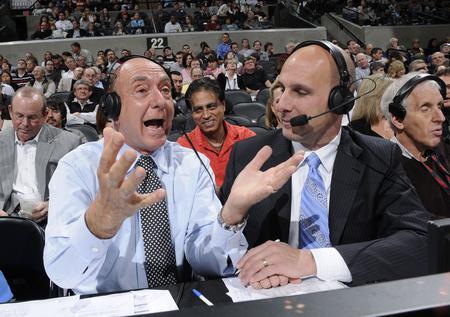 First Half:  The game is about to start. We have Dan Shulman and Dickie V, baaaaaybay, so get excited.  It is bald broadcasting day here at ESPN.  The atmosphere is wild.  It looks mainly like a UNC crowd, but that is to be expected in such a dumb state.  We need to get out to a quick start; that is really key. I am super nervous. Okay, here we go. UNC wins the tip.  Kendall Marshall takes it to the hole, but misses. Singler rebounds. Smith tries to do the same thing on other end. He also misses. But Miles Plumlee, holy shit, cleans up the miss. 2-0 Duke.  Way to be useful.  
19:13: UNC turnover. Seth Curry pokes away the pass.  Smith takes ball up court.  Singler hits a 10-foot jumper.  4-0 Duke and they are making this look easy. 
18:40:  Smith all over Marshall inches from the half-court line.  5 second call?????  No! Even better. Turnover! Nolan pokes it away.  NICE defense by the Blue Devils.  Keep this hot start up, please. Thanks.  Xoxo, Jill.
18:30:  Oh sweet jesus. Mason Plumlee with a behind the back, sort of baby hook shot??? That GOES IN? It is too early to get excited. But I am excited.  6-0 Duke.  UNC is sluggish. Roy is already flipping out.  This is pretty much awesome.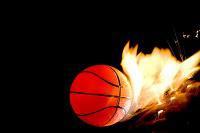 17:59: Wow, Duke's defense is astounding.  Just all over UNC's backcourt.  After a UNC miss, Smith lobs to Miles who gets an easy, wide-open basket. We are on fire.
17:46: UNC shoots a brick that bounces awkwardly off the backboard without coming near the rim.  Then they turn the ball over again.  But Nolan misses on the other end and Mason gets an offensive foul.  Well, it is nice to know that some things never change.  And now his brother gets a foul too, too. Miles with 2. Mason with 1. It is not a contest guys.  
16:53:  Ryan Kelly takes a charge. Great D by Duke.  And then another UNC turnover.  But Mason gives it right back.  As the saying goes, sharing is caring.  UNC still hasn't scored.  Kelly blocks a shot attempt by Barnes. 
16:08: Leslie McDonald finally scores for UNC, a three-pointer.  It is sad for him that he was named after, what could only be, his great grandmother.  Ugh, then a Duke offensive foul to give it right back to the Heels. Come on guys.  First TV timeout.  8-3, Duke.  All 8 points have come in the paint.
15:35: Zeller with a pretty point-blank shot, but it rims out. Duke takes over.  Singler takes the ball to the hoop and goaltending is called on Henson. 10-3 Duke.  Zeller has a crazy weird shot that happens to bounce up eight feet and somehow falls back through – and the foul.  LAME.  10-6 Duke.  Seth Curry already has two fouls.
14:49: Dawkins drains his first shot, a long three. Beautiful. Barnes misses. The 40-point freshman wizard is still scoreless.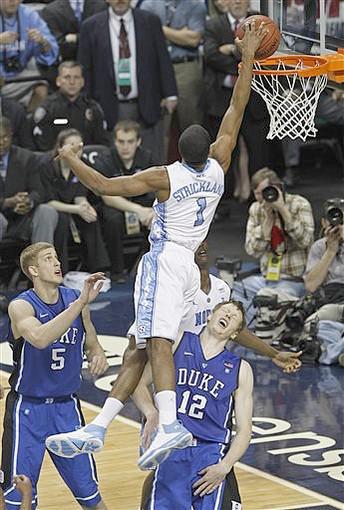 14:25: OH WOW. Strickland has a crazy dunk. Like slams the ball into Singler's face. But it is waved off, because Singler had position. And he did. So stop bitching UNC fans.  No basket! I am giggling.  (I would be so mad if I was a Heels fan). Everyone is going crazy. Singler has a hint of a smile.  Roy sort of has a point, though. Singler was under the basket. But there is no little arc-thingy like in the NBA and he totally held his ground. Suck it, UNC.
13:47: Singler rebounds a UNC miss, Smith drives, misses, but Miles slams it home.  15-6 Duke.  Offensive rebound. Nice move and drop-step by Henson. 15-8 Duke. Singler has it poked away and then a foul on Ryan Kelly.  Not smooth.
12:53: Then Kelly steals the inbounds right back, lobs down court to a sprinting Nolan Smith, who has an easy layup. Duke is 8-12 from the field, while UNC is 3-12.  Henson takes a long jumper, close to the three-point line, and misses. Bad shot. Singler takes over. Then foul on UNC. Miles Plumlee with a great offensive rebound. Wow. Impressive. Very Zoubekesque. I miss Brian Zoubek. Until the very end of last year, I never ever thought that I would say that. 
11:51: OH WOW.  UNC just throws it away. Unforced error, right after they inbounded the ball. Just totally mishandles it. Now we have a TV timeout, Duke ball when we get back from the break.  Duke's defense is the difference so far. They are making UNC alter shots, force things, feel uncomfortable at all times. It is working. 17-8 Duke. 
11:22: Singler misses; he is 6 of his last 40 from three-point range. So, um, yeah. UNC also misses.  Kelly with nice move and nice floater.  19-8 Duke. UNC misses. Duke rebounds again.  Duke with an 11-8 advantage in rebounds so far.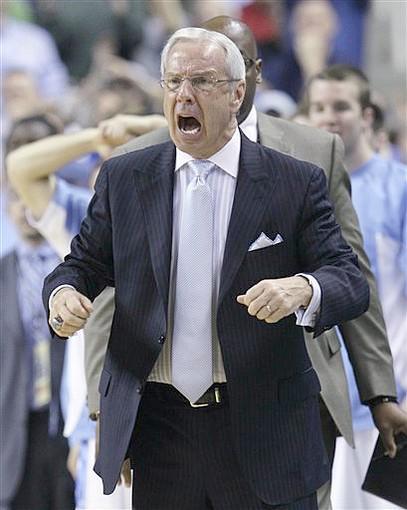 10:16: Dawkins with loooong three. HUGE shot. So pretty. Release, rotation, splash! UNC misses again.  They are 3-17 from the field.  Smith drives to the basket. Easy layup. And one! Third foul on Strickland.  Roy Williams looks constipated and angry.  25-8 Duke. 15-2 run by the Devils.
8:57: Roy is making some kind of x-like cross with his wrists. It looks like a cult or gang symbol.  It looks very ominous.  I wouldn't want my children playing for some thug like that.  Zeller gets a basket!!! They have finally reached double digits - yay for the Heels. 25-10 Duke. 
8:23: Kelly with a gorgeous baseline jumper. Foul on Andre Dawkins on the other end.  The refs have been very whistle-happy so far. It is annoying.  But I guess they have to keep it under control.  Harrison Barnes get his first point. But misses his other free throw.  And then a travel on Singler. Marshall follows his own miss, gets a basket.  27-13 Duke.  TV timeout. 
7:23: Duke is shooting 63% from the field right now.  As the shot clock expired, Nolan Smith chucked up a three. It fucking went in at the buzzer.  This is unbelievable. I hope he called bank. Because that was fugly. But no complaints from my couch here in New York. Dickie V is going nuts. "Ohhhhhh are you serious Erin Andrews? Are YOU serious?!" 
6:57: But then Prince Harry follows with a nice alley-oop slam. Well-played, Mr. Barnes. 
6:30: UNC with a nice, quick basket on the other end after a Duke miss. 30-17 Duke. UNC fans are back in it, which annoys me. I would like them to be miserable for the full three hours, if possible.  Especially since they are the clear majority of fans in the stadium. Ohhhh, Seth Curry drains a pretty three. Swish, no net. Hotttttt.  
5:51: Mason Plumlee picks up his second foul.  Henson draws it; he almost had an and-one, but the ball rolled off the rim. Henson sucks at free throws.  But hits the first one. Damn you, tall skinny person.  And the second.  33-19 Duke.  The crowd going nuts.
5:17: Weird play. Seth Curry looked like he stole the ball from Zeller. Zeller jumped into Singler and then fell on the ground. Curry ran down the floor.  Then the whistle blew. Refs are going to the monitor. It is under "Official Review."  Specifically, they are looking at retaliation on the part of Singler after Zeller fell on him.  It looked like he gave a little shove.  The uncreative "Tar…Heels" chant is super loud at the moment. Come on, Duke fans, at least try to counter it.  "Roy Williams seems to be the unhappier of the two" says not-Dick Vitale. No foul is called, play on. Interesting. Things are getting hot up in here. Smith with a great fadeaway.  10 points for Nolan.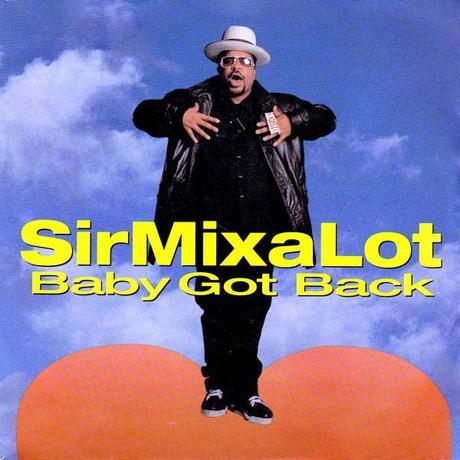 4:40: Great defense by Kelly.  Amazing. UNC is struggling on offense.  They are flailing and throwing the ball up. McDonald fouls. 35-19 Duke. And a foul by Henson underneath on one of the Plumlees...Miles! Who misses the first free throw. And misses the second. Swell job, Sir Bricks-A-Lot.
4:01: Henson traveled, UNC gives it right back.  UNC has 8 turnovers. It has seemed like a lot more. Curry turns it over, too.  Oh wow. Nice play by UNC: Huge court-long pass, bucket and a foul.  Marshall to Henson.  But Henson misses the free throw.  Duke recovers, but Miles gives it right back.  35-21 Duke.  Great defense by Duke. UNC having trouble getting offense started.  Duke deflecting passes like whoa. 
2:14: Smith dishes to Mason, who slams it home.  Turnover by UNC.  Smith is all over on defense, he is really getting it done on both ends of floor.  And he is making a fool of Marshall.  He drives at other end, kicks out to Dawkins, who nails a long three. The crowd is going nuts. 40-22 Duke.  "Trouble city, trouuuuuble city" says Dickie V.  Dawkins is 3 for 4, all three baskets have been huge threes. Good for his confidence. 
1:19: Erin Andrews is talking about Nolan's toe and offering us nothing of importance. She does a bad Dickie V impersonation: "how's the toe feeling, baby?" that makes me watch to punch her in the face.  Under a minute left. Ohhhhhhhhhhh, Smith misses the floater, then there is a huge high rebound off rim, and Miles come in to slam it home.  That was hot. I am rather impressed with you Miles Plumlee. Which, quite frankly, is SCARY.
32 seconds: Knox slams it home.  42-26 Duke.  Dan Shulman says that the dunk was Knox "making a statement for UNC." I say that when you are down 18 and get an easy two points, you should not be celebrating anything.  Timeout someone.  Duke has ball and should play for last shot.  So I assume we took the timeout. But who knows really?  Clear out for Smith, who promptly turns it over.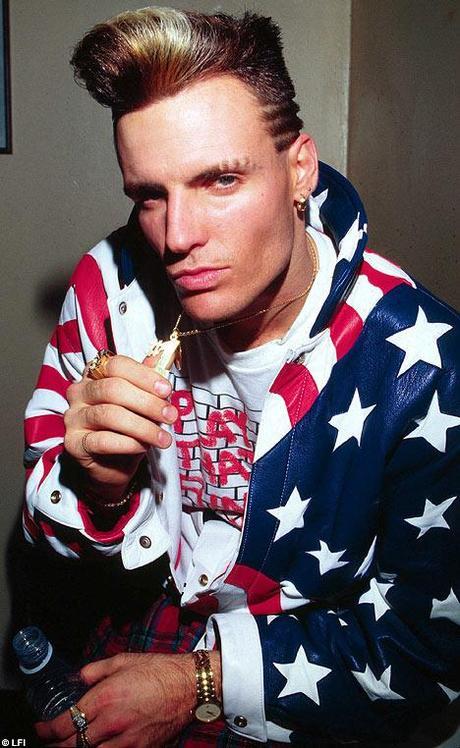 .6 seconds:  Singler fouls.  SO DUMB.  We give them two shots with less than a second left.  LAME.  Leslie McDonald hits them both.  Can we talk about his 80s hairstyle? It looks like he should be in a rap video and paging Vanilla Ice.  42-28 Duke.
Halftime:  Okay, so we dominated that half.  And I am afraid to say too much, lest I jinx it.  So I will just say this:  1) Duke's defense has been incredible.  The absolute difference in the game. UNC has no offensive rhythm and no comfort. 2) Nolan Smith has just dominated. Everything. He has dominated life.  He has put a collar on the proverbial neck of UNC and made it his bitch. 3) Harrison Barnes has owned nothing. He scored 40 points yesterday, but has been a non-factor so far. 4) There is a lot of basketball left. UNC has been down big every game in the ACC tournament, and this one is no different.  They also came back to win those other games. So I do not count them out…yet.  5) Final thoughts:  Duke has to come out strong in the second half, keep up the defense, and milk the clock.  They have to remain aggressive, without giving UNC any long runs to get back into it.  The crowd is decidedly pro-UNC, so they have to keep them out of it for as long as possible, too. This is it. 20 minutes for the banner, for a #1 seed, and for the pride of Tobacco Road.  42-28, Duke at the half.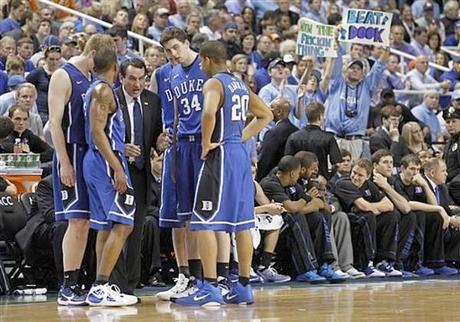 Second Half: My heart is pounding in a good way…  The first three minutes will be very telling.  Dickie V just told me that Nolan Smith is 4 for 11, while the rest of Duke is 14 for 18.  14 for 18! That is crazy. And scary, because there is no way we can keep up that shooting percentage.  The Plumlees and Kelly are 8 for 8! And Barnes has only 3 points! What the hell! This is like an alternate universe. 
19:51: Duke ball.  Singler drives, drops in a floater.  44-28 Duke.  Zeller misses on the other end.  Duke misses, Barnes misses. But then Henson gets the rebound. He misses. He gets the rebound. He misses again. He gets another rebound. And then he scores. I mean, he earned that. Miles Plumlee, that was awful. Go cry in a corner somewhere. 
18:48: Zeller rejects Miles, but it goes off his huge foot, so Duke ball. Singler misses, but Miles gets the offensive rebound. Singler misses again.  Zeller forces one up, but he misses, too.  This is sloppy so far.  Smith misses, Zeller partially blocked it. Ugggggggly. 
17:26: Barnes gets an offensive rebound, then puts it back up.  44-32 Duke.  Carolina is doing a good job on the glass this half, which is annoying me. They have gotten way too many second looks in the first two and a half minutes.  So we need to work on that, big people.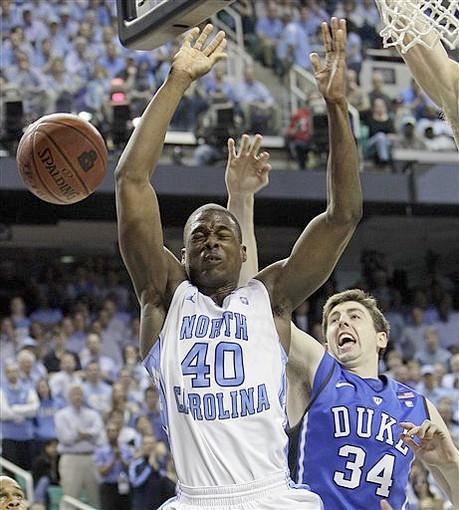 17:08: Have no fear, Erin spoke with Roy during the break. They need to do something about Duke's defense, blah blah blah, no one cares because Singler just hit a three.  47-32.  UNC turns it over, Duke ball again.  Keep this up, boys.
16:39: Nolan almost steals a pass, but knocks it out of bounds – UNC ball on the sideline.  Duke shooting 54% from the field, UNC is only at 29%.  Barnes hits a bucket.  Miles Plumlee follows with a nice move and hook.  49-34 Duke. Foul on Duke, not sure on who.  TV timeout.  Marshall going to line, I think. 
15:58: Marshall misses his first FT.  And the second! UNC trying to trap. Wow. Marshall takes it down, loops to basket, hits a pretty layup. Then Singler misses. UNC takes over. Trying to push ball, which is scaring me, because it appears to be working.
14:49:  But then BAM. Offensive foul on Strickland, Curry took it.  Strickland picks up his fourth – of those, three have been charging calls.  He was out of control, good call by the refs.  Duke takes over, but then gives it right back.  Offensive foul on Singler, who picks up his third.  Barnes with an airball; he is not having a good game. Miles Plumlee with rebound, who has been money on the glass today. 


14:32:  Kendall Marshall fouls Smith, who took it all the way to the hoop in transition and showed a sweet crossover in the process. Nolan hits both free throws.  51-36 Duke.  Marshall takes it to other end, but misses, as Zeller slams it home. Duke wants an interference call. It was def on rim. LAMEsauce.  Nolan Smith is freaking out. Calm down.  Like really, or you will get T-ed up. 
14:03:  Seth Curry drains a three and gets fouled. HUGE play.  He misses the FT, and Zeller follows with two points.  54-40 Duke.  Singler hits a beautiful turnaround jumper.  Duke is playing like this matters. Dick Vitale on Singler: "He is a winner, a flat out winner. He has a heart." He may have just had an orgasm. 
12:01: UNC just missed 100 shots, got 100 rebounds, and then finally got fouled. Sigh. Zeller on the line for two.  Hits only one of them.  56-41 Duke.  Singler misses, Zeller rebounds but ohhh! Zeller is stripped. Smith hauls ass down court, goes to the hoop, and is then fouled by Marshall.  Nice move by Henson for a layup. 58-43 Duke. 
10:31: Again, UNC takes a bunch of shots, gets a bunch of rebounds, but Seth Curry eventually finds the ball in a mass of large people by the basket. He moves the ball up court, trying to lob to Miles Plumlee.  Miles is fouled by UNC, two shots coming.  And he proceeds to miss them both.  I am shaking my head.  This will not work in the tournament, fuckheads.  Barnes hits a nice floater. 58-45 Duke. Crowd is stirring, with under 10 minutes left.
8:58: Miles Plumlee was fouled, but it looked like Singler could have been called for the charge before. Roy looks very sad.  Miles hits one free throw, to make it 61-47 Duke. 
7:58: UNC can get it down to single digits with this trip down the floor. But they don't. Offensive foul. Wow, that was big. We need buckets, for realz.  Roy takes off his glasses in disgust.  Five charges have been called on UNC.  Duke up by 12.  TV timeout.  Dickie V is hugging his bald friend and singing Duke's praises. Whatever, I'll take it.
7:34: Henson blocks Kelly. Wow. But then Nolan drains deep two. What a pretty shot.  UNC turns it over as a result of Duke's tight defense.  That was hot. 63-49.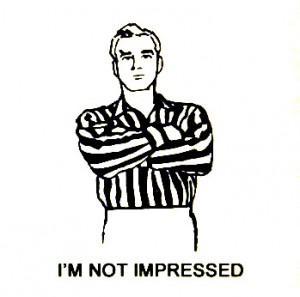 6:44: Oh, what the F, refs? Kelly just totally got pushed out of bounds, but it is apparently UNC ball. That was a terrible non-call.  Barnes drains a three. WE CANNOT LET HIM GET HOT.  63-52 Duke.  Foul on Barnes.  Duke needs points.  It is getting chippy up in here.  Kelly to the line, but he misses the front-end of a one-and-one.  UNC can get it in single-digits again.  Push on Curry; that is his third foul. ARGH. Come on. Please do not let them claw their way back into this.  This is crunch time, people! Barnes gets a crazy bounce off the rim that falls through. Duke by 9.  The crowd is going crazy. 
5:37:  Curry drains a wide-open three. Thank god, we needed that. HUUUUUUGE.  Smith just got his fourth foul, though. That is also huge. In a terrible way.  Ugh.  I am nervous.  Marshall hits both free throws.  66-56 Duke.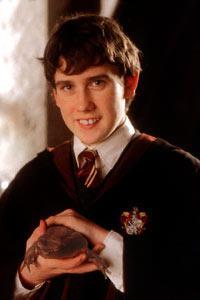 5:05: Oh, thank god, Barnes misses a wide-open three.  THANK THE GOOD LORD.  That would have brought down the roof in Greensboro.  Under five minutes left.  WOW.  Kelly drains a wide-open three. WOOOOOOOO.  The Duke bench is dancing, guys arms are linked, it is a joyous affair at the moment.  Everyone is going crazy.  69-56 Duke.  No, really. The Devils are going crazy, they are fired up.  Kelly is yelling. He looks like an angry Neville Longbottom. Like how I imagine Neville was when he stabbed Nagini before the final Battle of Hogwarts. Then UNC turns it over!!!!!!!!!!!!
4:20:  Duke is milking the clock. Tyler Zeller is called for a sort of ridiculous foul waaaaay behind the three-point line.  That scared me, because I thought it was a push-off on Nolan for a second.  Which would have been his fifth. The three-point miss by Barnes and the basket by Kelly were ginormous, by the way.  Huge swing of momentum. Okay.  Double bonus, two shots for Duke the rest of the way. Exactly four minutes left, Nolan Smith on the line.  He makes both.  Let's do this, Devils. Close out strong. I am begging. Back up to a 15-point lead.
3:33: Impressively, Duke's defense is still stifling. It forces another UNC turnover!!!  Double dribble on Leslie McDonald. Dan Shulman whispers in a creepy voice that "Duke fans can smell it now." Fine, it wasn't creepy or a whisper, but I just thought we would add a plot twist.  Under four minutes, final official TV timeout.  Duke ball when we get back! 71 Good, 56 Evil.
3:26: Um, Mason Plumlee just traveled. Like stutter step, no one around him, while he was no where near the basket. My love-hate relationship with him each game is such a roller coaster ride.  Then the refs call a push on Mason. His fourth. ARGH. A pretty chart on TV shows Duke's balanced scoring.  That is how it is done, fools. UNC misses the front-end. 
3:09:  Duke turnover, but UNC is running out of time.  Then UNC turns it right back over. See, like his doppelganger Neville, Ryan Kelly is also smart; he stepped right into that pass and stole it like Lindsay Lohan at a jewelry store. Duke is now managing the clock. Smith misses floater, but Singler gets the offensive rebound. They are milking the clock again.  Under 2 minutes!!! With this title, Coach K will tie Dean Smith with 13 ACC championships.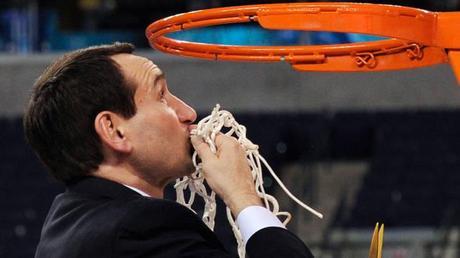 1:40: Mason Plumlee emphatically slams it home. UNC is donezo, people.  73-56 Duke.  Timeout by Duke.  Marshall Plumlee is in the house, as the camera just flashed to him. Unfortunately, he will be coming to Duke next year.  He is sitting in the regular people stands, away from his parents, who are sitting behind the Duke bench. I wonder if he has to do that.  Nolan Smith has 18 points and 10 assists so far. He has to be the tourney MVP, right? UNC ball, but Barnes misses a three. Curry rebounds.
1:25:  Nolan is milking the clock and UNC is not fouling.  They know it is over, they are aware that they all failures of the highest accord. Under one minute left!!!!  As soon as the announcer says "one minute," Nolan drives to the basket, lays in pretty floater from behind his back. 20 points for Nolan. What an incredible game by the senior and captain.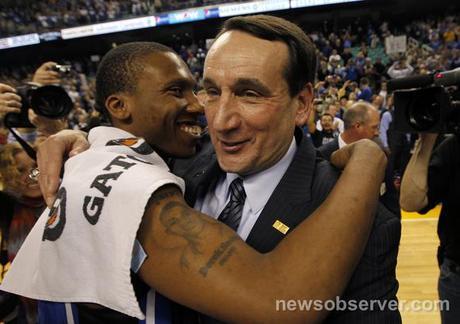 52 seconds: Barnes draws a foul. The announcers are discussing how they thought that this game would be much closer, or as they call it, a "real barn burner." But Duke was "really focused." Barnes hits the first.  Between free throws, Coach K takes out Singler and Smith to a huge standing ovation. The crowd is going nuts. These guys totally deserve it.  I am actually getting emotional, it is all so sweet. Everyone is so happy! These guys have been so incredible for four years. I love post-game celebrations. I didn't want to type that earlier, because I was afraid to jinx us.  But I can do it now. I LOVE post-game celebrations. I do. For all teams except the Tar Heels and Red Sox.  But especially for Duke. And this one will be special. Kyle and Nolan are getting huge hugs from everyone.  Duke ball.
37 seconds: Ryan Kelly tries to lob to Mason for a huge slam, but he bricks it. Well, that was unfortunate. UNC ball. They miss like 18 times.  Duke has the ball, taking it up for the final time.  This is it, guys.  Game over. Duke wins!!!!  75-58 final. 
Post-Game:  The Blue Devils are your 2011 ACC Champions.  Contrary to what my UNC friends are texting me right now - and as much as Roy may hate it - the regular season actually doesn't mean anything. At least formally. So we are this year's champions. Again, bitches.  That was the 898th win for Coach K. Bob Knight holds the record with 902.  Interestingly, if Duke continues kicking ass this March, he will become the all-time winningest coach in the Final Four. Aw, confetti is pouring, the crowd is clearing out except for all 28 Duke fans.  I remember how this felt when I went to the ACC tournament in college. It was awesome. They will bring out the stage and cut down the nets. I hope ESPN shows some of it.
Nolan is now being interviewed by Erin Andrews.  He is all smiley. She asks him to talk about Duke's hot start and then to talk about defense. Nolan says: "I had to set the tone for my team."  He also says that during last night's team meeting, they focused on how important it was for him to get after UNC's point guard. Interesting. It totally worked.  He clearly got in Marshall's head, who never got into rhythm on offense. Erin asks him to describe the little things and, without skipping beat says, "Give this guy a shirt!" It sounds super weird on TV, but I assume they are handing out the ACC champ tees as we speak.  I feel badly for those poor kids in Africa who will have to wear the defunct UNC championship shirts that no one will ever see. How sad for them. Not only because they are, you know, living in horrible conditions in Africa. But because no one should be forced to support the Tar Heels against their will.  This is the third straight ACC title for Nolan Smith.  Erin asks, "Why is this one different?" Um, it is not different, dumbass. They are all pretty awesome. But Nolan obliges and answers, "Because it is against Carolina."  HELL YEAH IT IS.  He says that "it was like a home game" for the Heels with all the "Carolina blue everywhere."  He respects them, all that jazz, but Duke showed "a lot of heart and a lot of toughness."  He can't wait for the tournament. Here at CDTF, we can't either.
UNC never led in the game, and it wasn't even particularly close. Nolan owned the whole fucking forty minutes.  The Tar Heels got off to another bad start and never recovered.  And now "Simply the Best" is playing in background.  Bracketology is up next on ESPN and it is looking like the Blue Devils earned a number one seed. Come on Committee, they earned it.  God, that was an awesome game. A total ass-kicking.  In Coach K's never-graying hair, we trust.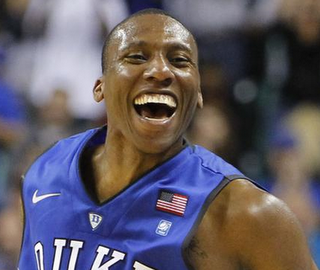 2011 ACC CHAMPION DUKE BLUE DEVILS
Go to Hell, Carolina, Go to Hell.