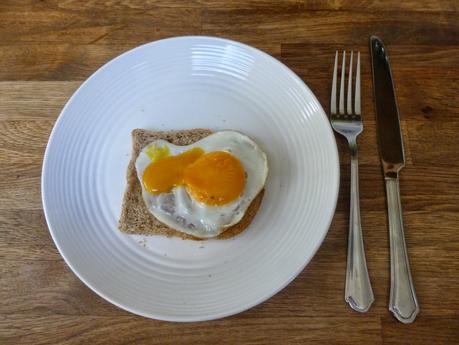 Lunch yesterday was yummy ... tiny but yummy!!
It was the little Pekin egg that I didn't use for my fish cakes on one slice of my small bread toasted,  it tasted delicious.  Flavour is what I needed, I wasn't that hungry hence only having the one egg but I did want something in my tummy before I went out weeding on the veggie patch.  I get crabby when I'm hungry .... and I mean really crabby!!  So I usually try to make sure I eat regularly just to make myself a better person, even the dogs know to keep out of my way when I'm hungry  :-)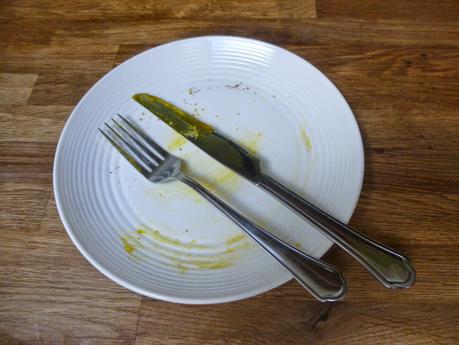 It didn't last long, just six mouthfuls, but it stopped me thinking about food for a while.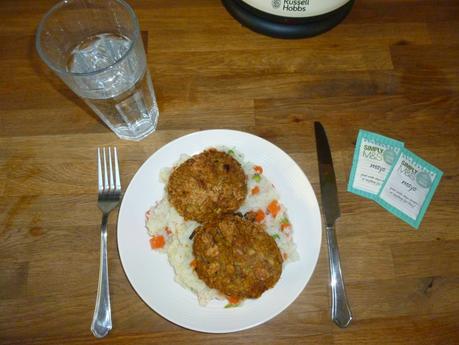 For tea last night I had the remaining two fishcakes from the night before.  Still as tasty, and they held together even better while I oven baked them, so obviously leaving them to rest is the real secret.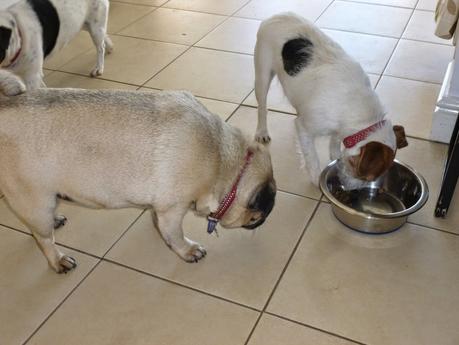 It's a good job I've been here on my own all week, or I might have been like Suky.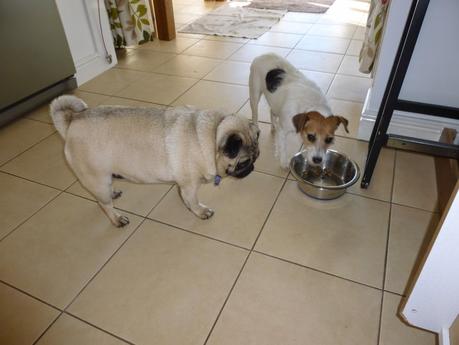 She wolfs down her own food, making real 'gobble, gobble' noises (a turkey would be proud of her), and then waits by Mavis's dish.  She never pinches food from the other dogs dishes, but she does consider any food that flies out to be fair game and will snaffle it off the floor almost before it lands.
Lovely Hubby is home now so he better watch out  ;-)
I have to say it again .... THANK YOU for the wonderful donations that are landing in the donation box on my Living Below the Line page HERE.  There have been three more since yesterday.  Thank you to Dawn McHugh. Roxane Harker and Faith Archer.  Your support and faith in me is truly wonderful and I thank ALL the folk that have donated from the bottom of my heart.
I might have had a few moments doubt that I could do this at my low spot yesterday, but you wonderful lot have kept me on the straight and narrow and even more determined to see this through to the end.  I'm off to the supermarket later on today to fill my trolley with food for the Foodbank ... it will be nice to shop even though it is not for me.  As much as I like making money for overseas aid I do want to feel as though I'm doing something to help local people too, and some of the areas around where we live have a real need.
It is a sad day for the dogs today ... the 1st of May means they are no longer allowed on the beaches in Llandudno or Rhos on Sea.  So no more sand between their little toes until the end of September.  They can come with Mum to the woods instead ..... I need to forage for some Wild Garlic
Sue xx