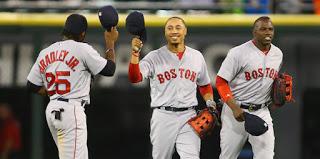 It's been quite a turnaround for the Red Sox since manager John Farrell left the club for health reasons.
On August 14th, Farrell announced he had lymphoma and would leave the team for the remainder of the 2015 season. The Red Sox stood at 50-64,  7 1/2 games out of fourth, and a last place finish seemed almost a certainty.
But under the stewardship of Torey Lovullo, the Sox have gone 15-8, and yesterday caught the Baltimore Orioles for fourth place. And they are now just two games behind Tampa Bay for third place, and have a series with the Rays in St. Pete this weekend.
It has a pleasure watching this Sox team in recent weeks. The best part of the turn around has been watching the exciting outfield trio of Mookie Betts, Jackie Bradley and Rusney Castillo. Bradley had an historic day in the 22-10 wipeout of Seattle on August 15, getting five extra base hits in a game, including two home runs. His defense has no peer in the AL, and he is making a strong case that he has finally arrived, and should be a major player in the Sox outfield in 2016.
Mookie Betts has had a stellar year in center field. 13 home runs, 34 doubles, and 55 extra base hits. He made his presence known on Opening Day at Fenway, making an amazing catch, hitting a home run and showing off some daring base running. Safe to say he is a fixture and an untouchable in the Sox outfield for years to come.
Rusney Castillo got off to a slow start after his initial callup, but after Shane Victorino was traded at the dealine, he has taken over right field, and is currently hitting .284 with 5 HRs and 26 RBI. He's recently played left field, and has shown he can adapt to the position quickly. He's signed to a long term deal, so he will be in the Sox outfield for the foreseeable future as well.
The trio has been nicknamed "The BBC Outfield" (nothing to do with the British Broadcasting Company, just the first letter of each last name). The season may have been lost many months ago, but there is real reason to watch the Red Sox these days. I would consider both Betts and Xander Bogaerts as untouchable players, and I think you can add Blake Swihart to that list as well (and perhaps Bradley as well).
Swihart was forced on to the MLB roster as the numerous injuries to the backstops this season, and Swihart has done well handling the staff. He got off to a slow start, but has come on in recent weeks, capped by his game-winning inside-the-park home run at Citi Field in the 10th inning to beat the Mets. He's brought his average up to .289, and it will be interesting to see what the Sox do with their catching situation next year, when Christian Vazquez returns from Tommy John surgery.
So, the nucleus of the next great Red Sox team may very well be in place, and there will, of course, be many changes this winter, mostly on the pitching side. The club needs an ace, and the bullpen needs to be rebuilt. And Dave Dombrowski needs to decide what to do with Hanley Ramirez. (Hopefully he has a new address in 2016.)
Funny how nobody's talking about "three last place finishes in four years" any more. The Sox maybe long out of the 2015 race, but the youngsters are making this an interesting and exciting team to watch as 2015 closes.