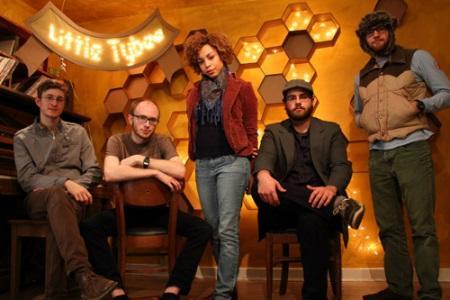 Atlanta folk band Little Tybee took their time finishing their new full-length For Distant Viewing, the follow-up of the 2011 album Humorous To Bees. Josh Martin's 8-string guitar is still at large, and quite rightly so, but violinst/vocalist Nirvana Kelly demands her place in the spotlights too - check out the melancholic love song Mind Grenade. Musically the band is gravitating to jazz, especially during the jazzy instrumental Left Right, showcasing the swing of bass player Ryan Donald and percussionist Pat Brooks.
With the falsetto of lead singer Brock Scott Little Tybee might come off as a gentle outfit, but they have sharp eye for their surroundings and drama come to the fore in songs like being trapped in Jury Duty and the loneliness of A Dog Waits in the Doorway. On this album dreams and nightmares are equals.
Little Tybee:
Brock Scott: vocals, guitar, piano
Josh Martin: 8-string guitar
Nirvana Kelly: violin, vocals
Ryan Donald: bass
Pat Brooks: percussion

For Distant Viewing is released on Paper Garden Records. Release date: April 9.
Tracks:
For Distant Viewing
Mind Grenade
Hearing Blue
Fantastic Planet
Herman
Boxcar Fair
Jury Duty
The Boldest Line
Castle
Left Right
A Dog Waits in the Doorway
Live dates:
03/22 Pianos New York, NY
03/23 House of Hayes Philadelphia, PA
03/24 Kings Raleigh, NC
03/25 Snug Harbor Charlotte, NC
04/06 The Earl, Atlanta, GA
» littletybee.com
HCTF review of Humorous To Bees.