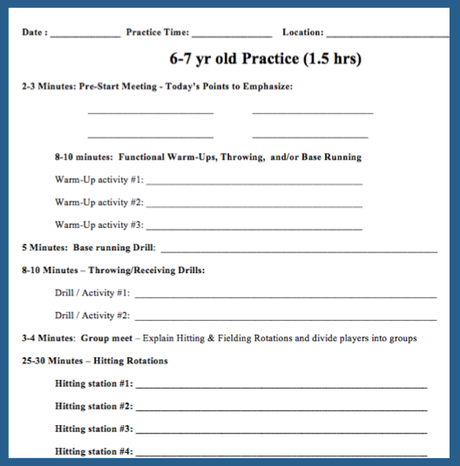 Template for a 1.5 hr max practice.
Over the past month or so, a good friend and I did a few coaching clinics for Little League coaches.  One of our big priorities for the clinics was to pass on the importance of organizing good practices.  To help them do this, we created practice templates for practices involving four age groups that range from 5 to 12 years old.  Of course, the templates could be used or tweaked for any age group over 12 as well.
As you will see, all the templates are structured to allow coaches to plug in whatever drills and activities they like depending on the needs of their team.  You are certainly welcome to print out and use the templates as they are.  If you'd like to edit them to fit your needs, that's fine too.  
Below are links to the templates in both Word and PDF formats.  Click on whichever fits best for you.
To download the templates in a Word Document, click HERE.  
To see the templates in PDF form, click HERE.
Whether you use the templates above or create your own, be sure to plan very efficient practices down to the minute in order to keep all your kids moving as much as possible.