0 Flares
0 Flares
×
New to little Indiana? Subscribe for free to my RSS feed. Thanks for stopping by!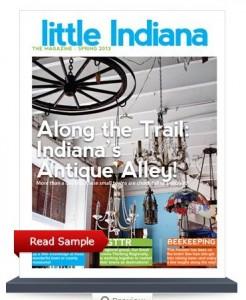 little Indiana Spring Magazine 2013
Did you know that little Indiana publishes a quarterly magazine?
It is written by Hoosiers, for Hoosiers…and Hoosiers at heart!
little Indiana Quarterly Magazine SPRING Edition
This is a labor of love by so many folks across the state. Authors, bloggers, newspaper journalists, and writers all lent a hand to make sure that this second print and digital magazine edition would be just as Indiana town info-packed as the first.
They certainly succeeded!
You will find work from John Updike, Lindsey Stuffel, Cheryl K. Bennett, Jayme Goffin, Emily Perkins, LaRea Slater, "Li'l" little Indiana (aka Kid #1), Melissa Stecher, and Kelly Heet. Okay, and me.
Support Small Towns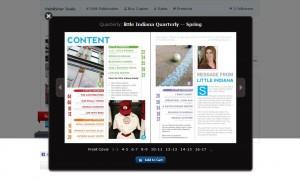 little Indiana Quarterly Magazine SPRING Edition
Really, that's the heart of each and every issue of little Indiana–and that goes for the website you are reading right now, too!
In this issue you will find articles on Indiana's Antique Alley, the story of a small town that no longer exists in the Spring–a childhood of playing marbles, hunting for morels, and fishing, identifying with a Hoosier writer, creative cupcake ideas, a small business story (or two), walking in a small town, a child's view of a great Spring place to play, an Indiana woman's beekeeping experience–and more!
I am using publishing on demand software so yes, the price is slightly higher than what you might expect, however, when you consider that $8.50 covers a period of three months–it's not so bad, right?
The digital issue is only $3.00 and you can then download it instantly. A free digital copy comes with the print edition. That's my way of saying a big "thank you!"
little Indiana: The Magazine
You may preview the magazine in full on MagCloud. I hope you fall in love with Indiana all over again because of it! As with everything here on little Indiana, if I didn't absolutely love it, I wouldn't release it.
If you are a Hoosier writer, author, blogger, or just handy with a pen, I am always up for magazine contributors! Please send me an email with your big idea. I start planning the magazine early so please don't delay. I'd love to hear from you!
Find pictures in Indiana on my Flickr photostream or on the new little Indiana Tumblr blog.
Just don't forget to tell 'em that  little Indiana sent you!
Don't miss a moment. Subscribe to little Indiana and receive instant updates to stay on top of everything "little."
little Indiana: Where to Stay, Play, and Eat in Small Towns in Indiana. Discovering Indiana's best small towns! Now get little Indiana on your Kindle.
Targeted. Relevant. Affordable! little Indiana advertising.