little Indiana is thrilled to announce that the iPhone and iPad application is ready and waiting on iTunes!
While the in-article Google maps are helpful, I wanted more. My favorite feature (and the one that took me forever to do) is the smart mapping.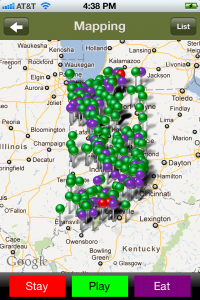 little Indiana iPhone App
little Indiana iPhone App
Let your phone pinpoint your exact location–and show you all the mom and pop businesses that I have personally visited that are right around you!
Toggle between three choices: Stay, Play, and Eat.
Stay equals lodging like Indiana bed and breakfasts or inns that I have personally visited. Eat are the restaurants, bakeries, candy stores, etc. where I've eaten. Play is everything else from attractions like Holiday World to old Pioneer Cemeteries to Indiana bridges.
Get more info about a particular place directly from the mapping screen. See any of my suggestions, like a house specialty or little-known tip, and read the original article on little Indiana.
More than Mapping
While the mapping function will make you wonder how you ever lived without it, there are other features!
In case you hadn't noticed, the little Indiana Facebook Fan Page is pretty busy and full of conversation–and is now easy to access right from the little Indiana App. Twitter, too.
You will also find the most recent articles listed for little Indiana and little Indiana Businesses. Have something to say? Post it on the "Fan Wall" right within the App!
If you are lucky, in the future you may even come across a special deal just for little Indiana readers.
Labor of Love
Since little Indiana frequently travels and updates–so too will this app! You'll discover updates to reflect the most recent articles on little Indiana once a week.
That means there will always be something new to discover and explore. This is little Indiana's 500th post don't'cha know! But you wouldn't expect any less now, would you?