New to little Indiana? Subscribe for free to my RSS feed. Thanks for stopping by!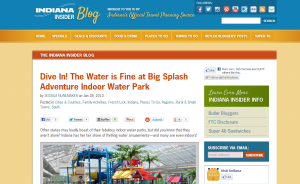 Visit Indiana: little Indiana and Big Splash Adventure
Have you seen the latest news? little Indiana will now also be writing for the Visit Indiana Blog!
They needed small Indiana town content and who better to provide it than the small town explorer?
little Indiana and Visit Indiana
Don't worry–little Indiana is still my first priority but I decided this might be a great way to reach folks who have yet to discover the fun of an Indiana town.
Really, I'm hoping to wear them down with great small town attractions, places to eat, and things to see. You know, the things I normally do here on little Indiana!
That's the plan, anyway! Between little Indiana on PBS' The Weekly Special, the Quarterly little Indiana Magazine, and now the Visit Indiana Blog, well, pretty soon it will be hard NOT to know the joys of small town travel!
Small Town Fun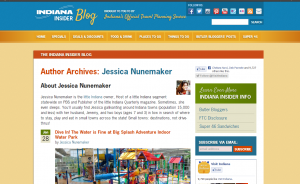 Visit Indiana Jessica Nunemaker Author Page
Again, I thank you for your continued support: your comments, your shares, your little Indiana Facebook Page "likes," and your reading!
You will be able to find any Visit Indiana Blog posts of mine on the  Jessica Nunemaker author page.  It might seem a little sparse right now, but just you wait.
Find pictures in Indiana on my Flickr photostream or on the new little Indiana Tumblr blog.
Just don't forget to tell 'em that  little Indiana sent you!
Don't miss a moment. Subscribe to little Indiana and receive instant updates to stay on top of everything "little."
little Indiana: Where to Stay, Play, and Eat in Small Towns in Indiana. Discovering Indiana's best small towns! Now get little Indiana on your Kindle.
Targeted. Relevant. Affordable! little Indiana advertising.