One of the best parts about being a blogger is the chance to share ideas and resources that can help others who have and work with children. There is power and knowledge in collaboration! Today, I'm excited to join a virtual book tour of "Spoonful of Sweetness and other delicious manners" by author Maria Dismondy.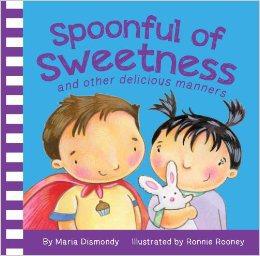 Review of the book
Who knew that children could exhibit acts of kindness from the time they are infants? Children's author Maria Dismondy makes this point clear and encourages the teaching of kindness and other powerful traits in her new board book "Spoonful of Sweetness."
Each sturdy page pictures super cute and diverse babies showing character traits through their play. The traits include kindness, friendship, responsibility, empathy, respect, and courage.
What I love most about this book is how simply each trait is written about and shown through the realistic play of each baby. I have always believed that children learn the most through play and discovery, and Maria captures this beautifully on every page. I love that Maria shows how simple it can be to help young children begin to learn manners – it's as easy as waving, saying hello, smiling, and picking up toys! What a great start to life every child would have if these behaviors were modeled and encouraged.
As an Elementary School Counselor, I have much appreciation for families who model and teach their children pro-social behaviors from an early age. "Spoonful of Sweetness" is an excellent resource for any parent, teacher, or counselor who believes in setting their child up for social and emotional success, in school and in life!
Other children's books by Maria
Spaghetti in a Hot Dog Bun
The Potato Chip Champ
Pink Tiara Cookies for Three
The Juice Box Bully (co-authored by Bob Sornson)
More about Maria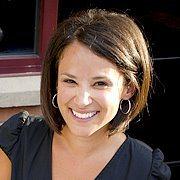 Maria Dismondy is a #1 best-selling children's book author, former teacher, and highly sought-after speaker. Spoonful of Sweetness is her 5th children's book. Maria has a passion for spreading an anti-bullying message and making a difference in her writing, public speaking, blogging, and charity work. She lives in southeastern Michigan with her husband and children.
Maria's website: www.mariadismondy.com (go here for a FREE parent/teacher guide and a FREE coloring page!)
Maria's Facebook page: facebook.com/mariadismondy
Book giveaway!
Maria was kind enough to offer a free, autographed copy of "Spoonful of Sweetness" to one of my readers! If you'd like to enter for a chance to get a free copy of this adorable book, all you have to do is comment on this post with a reason you'd like to have this book or how you'd use this book with the young children in your own life. All entries will be accepted until 11:59 p.m. Saturday, January 25, 2014. I will review all comments and pick one winner! I will contact you for your mailing address and Maria will send you your free copy.
Good luck and thanks for reading!