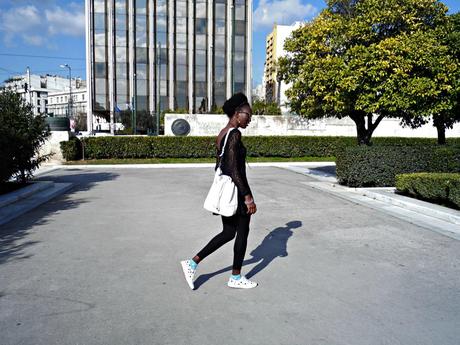 If the idea of a backless lace dress seems too romantic for your style, this post is for you.
I love love backless dresses and lace is on the list of my favorite fabrics, so imagine my joy when I stumble into this dress at a H&M store while shopping around on  one rainy afternoon.
So how to keep it casual in a romantic dress?
the answer is polka dots, sneaker, a simple black and white palette, a good pair of glasses and of course your most playful mood.
The glasses I am wearing are from glasses shop, an online optical store with sturdy, stylish and most importantly affordable glasses. I was contacted to review their glasses, and I was very curious to give them a try.
The site was a tad overwhelming for me since I am a sunglasses hoarder, so it was really hard for me to just pick one.
There were so many beautiful ones I wanted to add to the cart but I had to resist and stick to one.
I finally choose the ones I am wearing in this post because they are pretty similar to the classic Ray Ban clubmaster, I lost mine at Heathrow airport in 2011, it has been a while but it hurt every time I remember it.
I have fallen indefinitely in love with them of course, since the very day I received them
Their retail value is $130 but you can get them for $30 right here.
If you want to try them for your summer days around the city or Greek Island, just use this code and you will get a cheaper price: AdeolaX20
I wish you all a wonderful month of March and week.
I will be a little MIA from Instagram, since I broke my phone again and I will have to get a new one this week.
I have no idea how I will survive without IG, but we will see.

Wearing: Dress/H&M, Sneakers/ Migato, 
Blazer/ZARA
Earrings/Bombon JewelleryBag/DKNY, Glasses:c/o Glasses Shop, Ear Cuff/ H&M, Watch/ Anne Klein, Bracelet/ Vintage Pearls.