I was born in Fleetwood, in the Milton Lodge maternity home just behind the Mount, within spitting distance of the Irish sea, so it's forgivable that I write an awful lot about the sea, especially now I live inland. I miss it hugely, not just the sea itself, but the huge skies and the ever changing colours (well...beige, grey, silver, back to beige) of the beach.
I was the daughter of a fisherman and the granddaughter of a sailor, so the sea was ever present for me growing up, at home hearing blood chilling stories about frozen Arctic voyages and torpedoes or how my dad fell in the dock aged 9 and had to be rescued. At school we learned about the fisherman's ganseys that had a distinct pattern for every fishing town, for easy recognition of drowned trawlermen. My mom had been childhood friends with the brother of one of those lost in December 1959 on the Red Falcon and it was too easy to burst into tears imagining those hopeful children waiting for their Dad to come home from sea for Christmas discovering instead that all hands had been lost.
Back in the 70s when kids were free-range, we'd go round in packs and spend most summers on the beach, taking a pop bottle filled with very dilute cordial, white bread and beef-paste butties and a towel (you wore your cossie under your clothes) we'd fish for crabs off the jetty with safety pins, a 'wishing stone' for a weight and garden string, using mussels for bait, so you'd think I'd be a natural water baby, but nope, water held equal amounts of fascination and abject terror for me, I just about managed to get my 'yellow stripe' for doggy paddling a width of the pool and have tried very hard to stay dry ever since.
So the only time I've ever made waves was on a holiday on the Severn and Avon in a narrow boat when I fell (got thrown as a joke) overboard and very nearly drowned. The perpetrator shall remain un-named but was a professional sailor and PADI instructor. I think he regretted it when he had to heft me out dripping wet, wind milling my arms and whooping lungfuls of water.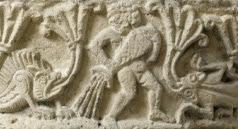 Water baby
You are Aquarius they told her
showed her a picture of a squiggle man - a jar up on his shoulder
they bought her Aquamanda for her bath
water was turquoise and it leapt and frilled
they told her that the moon was her ascendant
filled her full of films dark water rising like machinery: toiling old.
She swam while sleeping
pale green, eau de Nile - a viscous jelly
that supported her and she cut through and left no wrinkle
neither did the fish - mottled with sunlight
near the top no weeds reached slimy tendrils round her ankle.
She did the wreck trek
walked out to a made-up world
where mer-babes slept in flooded cots and bells dull-glugged instead of pealed.
She lay bellied on the beach
dug her elbows in and swam in two inch pools- hair a stream.
Reality was cold and smelled of bleach
she gagged - the rubber hurt her head
and underneath she chugged and burnt
 a whale and clunky, skin like pale suede.
Rachel McGladdery
Email This
BlogThis!
Share to Twitter
Share to Facebook
Reactions: