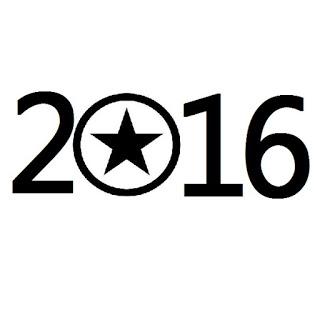 All three parts of RW/FF's Best Of 2016 can be streamed in full below. 
Its been a year of contrasts. 2016 gave us one of history's greatest musical gifts in the form of David Bowie's phenomenal 'Blackstar'. Three days after its release, the world woke up to the shocking news that Bowie had died. In one sense, it's almost like cruel 2016 made the world pay the price for being given such an amazing album. The death of the world's greatest icon cast a massive shadow over the year and even over the year's best songs by other artists, as i will explain more about in a minute. 2016 also saw a number of other dark events, so it's a good job that the year also gave us some brilliant sounds. While the singles charts declined into an even worse state than before, it was a very different story in the wider world of music. 
A few things you need to know about The Best Of 2016 before you listen to it:
- David Bowie's final masterpiece 'Blackstar' sounded amazing the first time I played it; dark, mysterious, odd, challenging and brave. Three days later, we were all hearing it in a new context. The songs were incredible on a purely musical level before his death, but the album's greatness was now underlined by his passing. We could now also understand the genuine darkness and reflection at the heart of the album. The pain was real. While compiling The Best Of 2016, it was obvious that songs from 'Blackstar' would feature on it. How could they not? Not only was it the year's best album, but each and every song was just as good as any other song released in 2016. Even with tracks from the best albums of the last 19 years, I've had no trouble mixing them up and making them sound great as a Various Artists compilation. Yet the music on 'Blackstar' just didn't sound right in amongst songs by other artists. The album's title track was originally intended to be the opening track on this compilation and was followed by Suede's 'Outsiders'. But while listening to it, something didn't sound right. The overwhelming 'Blackstar' just made every other artist's music sound secondary and out of place, like massive jigsaw pieces trying to fit in a puzzle made up of small pieces. I mean absolutely no discredit to the other songs of 2016, there were some truly amazing tracks. It just wasn't fair to line them up alongside the momumental music from 'Blackstar'. Not only didn't it do justice to all those other artists, but interrupting the natural flow of the album as a whole didn't do the songs from 'Blackstar' justice either, since breaking them up into bitesize chunks gave an audiable sense of incompleteness. 
Therefore for the first time ever I have taken the unusual and unprecedented move of featuring an entire album from start to finish as the first part of my compilation, followed by two CDs worth of the year's best music from other artists. The power of Bowie continues, even after his physical death.
- The first annual compilation I made was back in 1997. With this year being the 20th anniversary of 1996, I decided to compile a Best Of 1996 and spent each week looking back at the Top 40 singles charts from each week that year. I added a few album tracks and some other songs that didn't make the Top 40, but after ending up with over 150 songs, it dawned on me that the vast majority of them were all chart hits. I doubt there even 150 entries in the Top 40 throughout 2016, let alone 150 good ones. In contrast to my 1996 compilation, I certainly wasn't looking to the singles chart to pick from for this year. Many of these songs were from LPs that did well in the album charts, which highlights just how odd it is for an act to have a hit album and yet no hit singles. With streaming, record labels, the internet and radio contributing to keeping the singles chart generic, stale, boring and dreadful, only a couple of this year's best tracks were to be found in the Top 40. So if you've heard nothing but chart music in 2016, prepare to hear the real treasures of the year. 
- The YouTube version of The Best Of 2016 is missing two Radiohead tracks, David Bowie's ferocious 'Killing A Little Time' (from the 'Lazarus' musical), Dodgy's wonderful 'Are You The One' and the brilliant Thought Forms instrumental 'Aeaea', none of which were available in the video streaming service. 
- 'Killing A Little Time' is also not available on the Spotify edition, and neither is Ultrasound's stunning 'Kon-Tiki'. If you play the Spotify version, then make sure you go over to YouTube at the appropriate moment and give the Ultrasound track a listen. It'll be well worth your time.
Happy listening.
Part 1 - David Bowie - 'Blackstar'
1. Blackstar
2. Tis A Pity She's A Whore
3. Lazarus
4. Sue (or In A Season Of Crime)
5. Girl Loves Me
6. Dollar Days
7. I Can't Give Everything Away
Part 2
1. Suede- Outsiders
2. Blossoms - Charlemagne
3. Ultrasound - Kon-Tiki
4. James - Nothing But Love
5. Radiohead - Desert Island Disk
6. Paul Draper - Feeling My Heart Run Slow
7. Kula Shaker - High Noon
8. Dodgy - Are You The One?
9. She Makes War - Drown Me Out
10. Iggy Pop - Gardenia
11. Slaves - Hypnotised
12. Green Day - Bang Bang
13. Biffy Clyro - Animal Style
14. Michael Kiwanuka - Black Man In A White World
15. Disclosure - Boss
16. HiFi Sean ft. Paris Grey - Lost Without You
17. Sigala ft. Nile Rodgers and John Newman - Give Me Your Love
18. Kungs vs. Cookin' On 3 Burners - This Girl
19. Underworld - Low Burn
Part 3
1. DJ Shadow ft. Run The Jewels - Nobody Speak
2. David Bowie - Killing A Little Time
3. Suede - Like Kids
4. Blossoms - Getaway
5. Radiohead - Glass Eyes
6. Primal Scream - Where The Light Gets In
7. Soccer96 - Let It Come
8. Michael Kiwanuka - One More Night
9. She Makes War - Paper Thin (ft. Tanya Donelly)
10. Julia Jacklin - Pool Party
11. Case/Lang/Veirs - Best Kept Secret
13. Iggy Pop - Sunday
14. Metallica - Moth Into Flame
15. Green Day - Revolution Radio
16. The Living End - Further Away
17. Kula Shaker - Mountain Lifter
18. Thought Forms - Aeaea
19. James - Girl At The End Of The World
Part 1
Part 2
Part 3
YouTube version
Spotify version