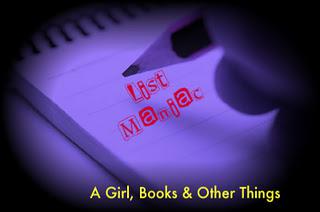 Alright, so last year I filled the last few weeks of the year in my blog with list about favorite stuff of the year and what I was looking for next year so I decided to make a few lists this year and start earlier. Since by this time of the year we got a pretty good idea of the stuff coming up next year - at least some of it - I figured I would start wit this list.



The Year of the Last in The Trilogy - Many of the books I've loved in the last couple of years have been part of trilogies, and their last books are coming out in '12, and they are seriously high on my "Most Anticipated" list as it goes:
Spell Bound by Rachel Hawkins - Things were very, very complicated by the end of Demonglass (book 2) and with very bad odds for Sophie and the gang, and I can't wait to see how it's all turned around, plus there are two hot guys here! Comes out March 13th.
Body and Soul by Stacey Kade - With Alona trapped in someone else's body and both her and Will trying to figure out a way to get her out, all I have to say is that I can way how they pull it off. Look for it May 29th
A Farewell to Charms by Lindsey Leavitt - I loved the cliffhanger at the end of The Royal Treatment, and Desi's world is just one that I love visiting. Comes out June 26th
Endlessly by Kiesten White - While I was reading the previous book, Supernaturally, I keep getting the idea that trouble was brewing at the edges of Evie's world and I can't wait to see what it was.Comes out July 24th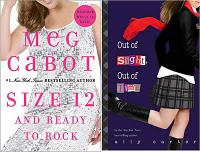 Been Waiting for a Long Time For... - well, this one is self explanatory I think!Size 12 and Ready to Rock by Meg Cabot (Book 4 of the Heather Wells series) - for a long time I didn't think there would be another Heather Wells book, so I'm really happy there will be on July 10th.
Out of Sight, Out of Time by Ally Carter (Book 5 of the Gallagher Girls Series) - I was waiting for this book to come out during 2011 but was delayed. I really loved book 4 - Only the Good Spy Young - and I can't wait to see what's next for this series. I'm pretty sure this book will cover the first half of Cam & Co's senior year and gear up for the end of the series. Comes out March 20tth.
A Tale of Two Proms by Cara Lockwood (book four in the Bard Academy Series) - there isn't a lot of info on it yet, and there isn't a cover either, but I love, love, love this series and I can't wait for it.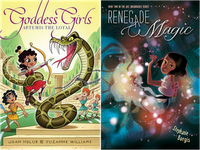 Other Favorites:Goddess Girl Series books of 2012 - Artemis the Loyal (technically comes out December 2011) and Medusa the Mean, and whatever follows. One of my favorite series by far, I hear Persephone will be getting a new book (as will Pandora and Pheme, I think) as well as maybe something to commemorate the 2012 Olympics (Which would be awesome).
About That Night by Julie James. April 3rd.Lately she has become one of my staples of Contemporary, I love reading her books as they are funny and well written.Plus, if I recall correctly, this is about two people meeting again after not having seen each other in a long time and I've always been a sucker for that story line.
A Night Like This by Julia Quinn (Book 2 of the Symthe-Smith Quartet) - May 29thReally loved the first book of the series and I can't wait for book two as it promises to be cute as we keep following the adventures of the infamous Smythe-Smith Quartet.
Rescue Me by Rachel Gibson -May 29th.Not sure what is it about it yet, but I'm pretty sure the hero is the brother of Autumn from Any Man of Mine and he seemed like an interesting character.
Renegade Magic by Stephanie Burgis - April 3rd.Kat, Incorrigible was one of my favorite reads of this year and one of my favorite books about sisters. I adored Kat and I can't wait to send more time with her as she's made of awesome and magic.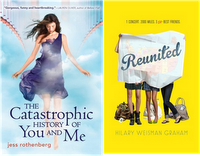 Books that Keep Tempting Me - and I blame other bloggers for it!Reunited by Hillary Weisman Graham - I saw this one at Pirate Penguin's blog and I loved the sound of it. It's about three ex-best friends who go on a cross-country trip to see the band they used to love and who are playing together again. Comes out June 12, 2012.
The Disastrous Story of You and Me by Jess Rothenberg - February 13.I keep seeing this book around and it looks very good, just the kind of story I like. About a girl who dies and then she has to work through the 5 stages of grief and w
Isla and the Happy Ever After by Stephanie Perkins - I'm not the hugest fan of these books (Lola and Anna) but I liked Isla during Anna (when I remembered her) and the book is set in Paris and I feel like Mrs. Perkins' writing keeps growing on me.