I know I suddenly disappeared ultimately while I promised a certain post last Wednesday and I am so sorry about that because I know some of you were expecting it ! But don't worry the week that will begin you will read it ! Unexpected things happen in life and this is the reason why I couldn't post like I said. I felt and still feel bad about it because if you know Incognito, you know that I like posting the day I say it.
This said, I am so grateful (again) to IFB for featuring my post about jumping into the blogging community because I consider it as important as the one I wrote about my
hair

. Since I started blogging I met the best friends ever. Eventhough some of them are miles away from me, they have an important place in my heart and meeting them in real life is one of my wish. And I just want every blogger to experience this feeling of community, friendship and support.
Feel free to discover other cool bloggers by clicking on the links below !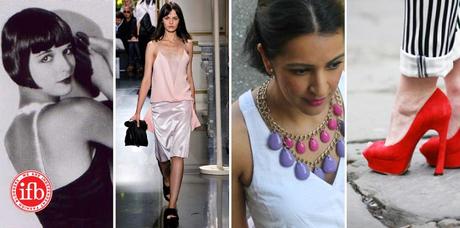 Slipping Into Summer
Are you counting down the days until summer? Heaven knows I am! With all the wonderful things you have time to do, when the heatwaves roll in, you know like going wine tasting, going on vacation, catching up on summer reading, wearing light and flowy dresses... Heck, even catching up on DIY projects! It's all possible when the days are longer! This week's roundup slips into summer, it's a wonderfully mixed bag of all the things you'll need for the summer, the pinafore dress trend, ironic style, pastels! So kick back, relax, and read on.
Links à la Mode: May 16th
SPONSOR: Shopbop Finds Paralux, Anine Bing, Graf & Lantz, Nocturne, Eddie Borgo, L'Agence, Knight$, KJL, Vera Wang, Marc Jacobs, & Kors Watches