It took me over one month to write my article

"Thoughts on racism on the catwalks"

. Over one month to think things through, trying to be as objective as I could and above all discovering that writing my

LBD

(My Little Black Diary for those who don't know this section you're invited to explore it!) is not an easy task. Sometimes because you happen to belong to a certain ethnicity you will think some things are offensive because you belong to it. In my LBD I try to find a good balance between being partial and impartial by trying to approach things as if I wasn't black but also by telling things according my own experience. That's what I did in the article that IFB chose this week to be part of their weekly round up. And believe me it wasn't easy thinking as a non-black person to write this article! That is why I am really proud that it was picked up this week! 
So have a nice read whilst discovering my fellow bloggers' articles!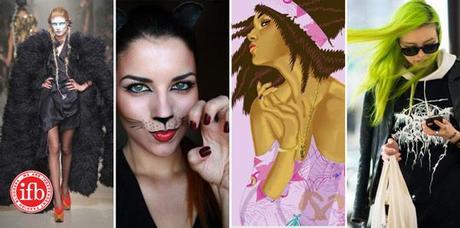 Creatures of the Night
The first of the "Holidays" is finally here. Halloween. While everyone has their favorite holiday, Halloween is special for fashion lovers. You can be anything you want for an evening, dress up, freak out, and party down. If you put off your costume until now, this special roundup has excellent last-minute costume and DIY ideas. Some of my personal best costumes have come literally 45 minutes before I headed out for the night. Of course you'll be wanting to take good care of your skin through all the costuming, with great tips for night skincare, Halloween beauty you can wear all year and when you're out late tonight, you'll want to speed up your routine tomorrow morning.
Live well, be safe, and have a wonderful Halloween!
Links à la Mode: October 31st
SPONSOR: Shopbop Men's Arc'Teryx Veilance, MCM, Hudson+Bleeker, Morning Warrior, Ela Bags, Coast-Wide, Micah Cohen, Sarah Magid, Nina Ricci, Latest from East Dane