I was so excited to finally get The Smitten Kitchen Cookbook from my library after being on the waiting list for over a month! My sister, of course, has it as well as many friends who all highly recommend it. It's a great book for small kitchens, and for people that love vegetarian options for dinner (with a lot of cheese).
It's a hit for me because I (1) have a tiny kitchen, (2) love cheese and don't always need to eat meat and (3) have a little baby just like the author of the book had when she wrote it. There are many dishes I'm going to be trying over the next month (if I can keep the book out that long) and the first one I tried was Linguine with Cauliflower Pesto.
The author, Deb Perelman, was inspired by a dish at Gramercy Tavern in Manhattan.  I have never been to this restaurant, but have always wanted to go as it's one of those "must-go-to" places in the city.
This is also a good recipe to make in stages. With a little one around, it was easy to stop and start. I was able to make the pesto in the afternoon and then not make the pasta until about a half hour before I had dinner. In Deb's book, she even talks about how she made this dish especially when she had a newborn. I thought it quite suitable to start out with this recipe first.
Cauliflower Pesto Pasta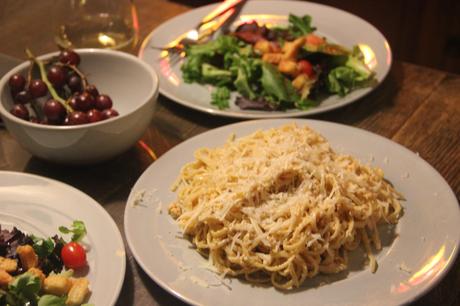 Print
Author:
Deb Perelman
Recipe type:
Vegetarian/Main Dish
Cuisine:
American
Ingredients
salt
1 small head of cauliflower (trimmed, cored, and cut into large chunks)
1 garlic clove
Generous pinch of red pepper flakes
½ cup of pine nuts (or almonds)
2 oz chunk romano or parmesan
4 sun dried tomatoes (dry variety; if oil-packed, be sure to drain and mince them by hand before putting them in the food processor)
1 tbsp drained capers
few tbsp of parsley leaves
⅓ cup olive oil
½ to 1 tsp sherry vinegar (to taste)
1 lb of linguine
Instructions
Set a large of salted water to boil.
Prepare pesto: Pulse half the cauliflower in a food processor until it looks like mixed sizes of couscous. Transfer the cauliflower to a large bowl, and repeat with the second batch, adding it to the same bowl when you are finished.
Pulse the garlic, pepper flakes, almonds (or pine nuts), cheese, sun-dried tomatoes, capers, and parsley in a food processor.
Transfer to the bowl with cauliflower and add the olive oil, the smaller amount of vinegar, and some salt and stir until completely combined. (If you do this step in the food processor, it becomes an unseemly paste. Best to do it by hand.)
Taste and adjust seasoning as needed–either by adding salt, pepper or remainder of vinegar. (start out with about ½ tsp of salt but go up to nearly a full tsp)
Assemble Dish: Once water is boiling, add the linguine and cook until al dente.
Reserve a cup of the cooking water then drain rest.
Immediately toss the hot pasta with the cauliflower pesto and half of your reserved cooking water, until everything is nicely dispersed.
3.2.1682
In her cookbook she recommends cutting up the cauliflower chunks by hand that don't easily cut in the food processor, but I found no problem with this.  You will know the pesto is ready when it looks like "course breadcrumbs."  The recipe can be modified to fit your tastes and if I make this again I will probably add more pine nuts (only because I love them) and maybe a couple more splashes of sherry vinegar which adds a nice bite.
The recipe does request you mix the pesto immediately with the pasta and water, but I had to refrigerate mine (not sure this was necessary) for a couple of hours before I served it, and I think it tasted just fine. I did have to work harder to make sure the ingredients were dispersed evenly, but other than that I was satisfied and so was my husband who can sometimes picky! It was fabulous for leftovers.