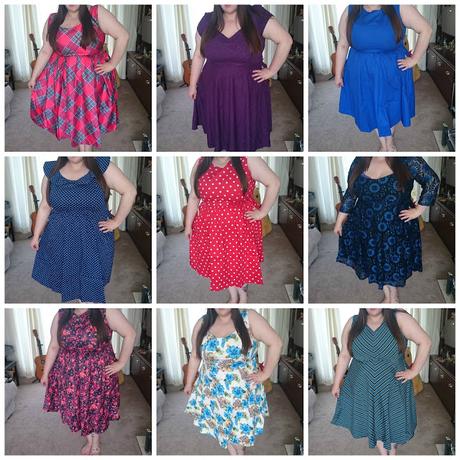 In case you haven't heard, Lindy Bop currently have a 70% off sale - i made a mammoth order, battled through checkout (it took me over 30 minutes to pay) to get myself 12 barginous dresses. Sadly i received the dreaded out of stock email for 3 of the dresses. I thought this would be a good opportunity to go through the ones i did get and do a little try on blog, i apologize for my no make and bad hair...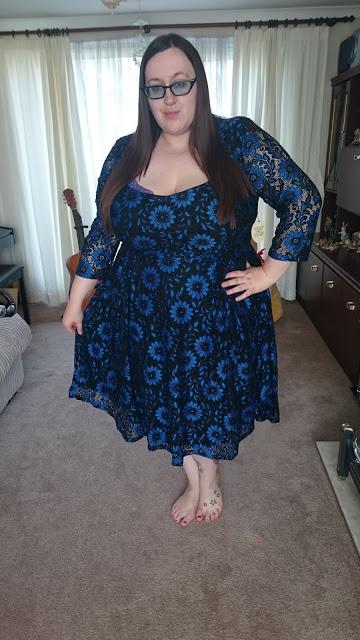 I got this in a 24 as i was concerned about the stretch, i needn't have worried, if anything if it is actually a bit big (mainly in the bust) and i could have got the 22 (which isn't available, hence me keeping the 24). The blue lace detail is stunning, it even has a little bow on the back and i love a 3/4 sleeve.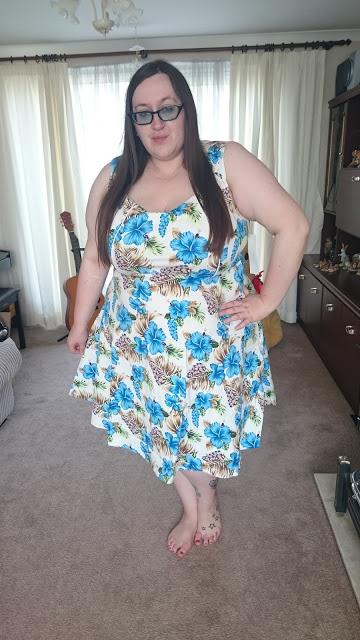 May proves to me that i love a proper circle skirt and not an A line skirt. While the fit (a size 22) was great, it clung to my tummy and didn't flare out enough, this is personal choice, i just prefer more flare. It's also a bit too white for me, i would stain it in no time.
VERDICT - Return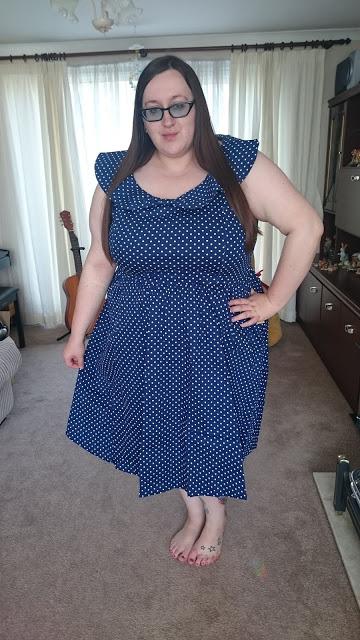 I've loved the Hetty for a while, it must be the boat neck collar. I got a 24, and again it is slightly too big, but not noticeably so, plus it means i have cake room!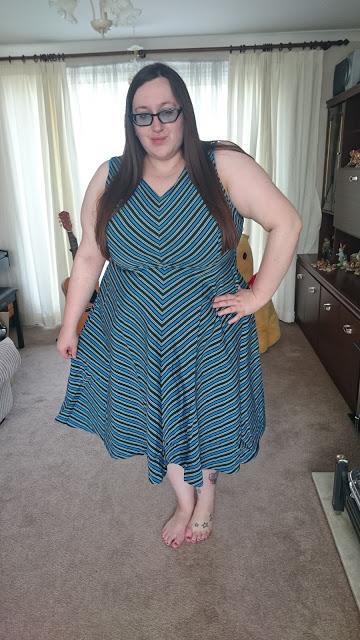 I like this dress as it is similar to a Pin Up Girl Clothing one, but obviously at a fraction of the price. I've had a dalliance with one before so knew i needed to size up and ordered the 26. Even then it didn't fit right, the bust line sits too high and cuts my boobs in half, not a great look, my mum also said looking at me was giving her a headache.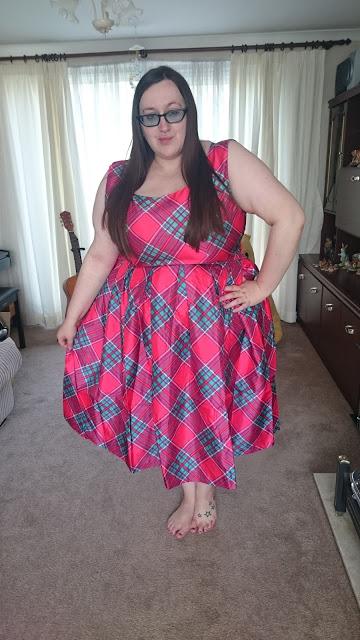 I was pretty convinced this in the 24 wouldn't fit me so i was prepared to be bitterly disappointed. After a bit of a struggle over my bust i was in, yes it's a little tight but totally wearable and the next size up would be too big on my shoulders and under my arms. I love the tartan print and it has a v in the back which is a lovely touch.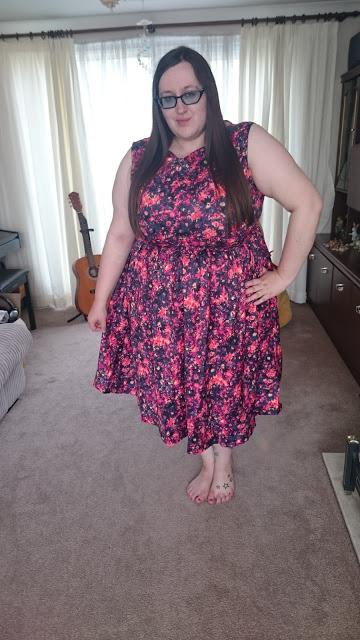 My love of the Audrey is well documented on this blog, i already own loads, and i know that a 22 is the perfect fit, or so i thought. I got this in a 24 (22 was sold out) but having two of the silky variety already i didn't think this would be an issue. Well i got the 24 on, but my boobs are as flat as a pancake, which is no mean feature and i could hardly breathe in it. I was shocked, and felt betrayed by my beloved Audrey, however the print is divine.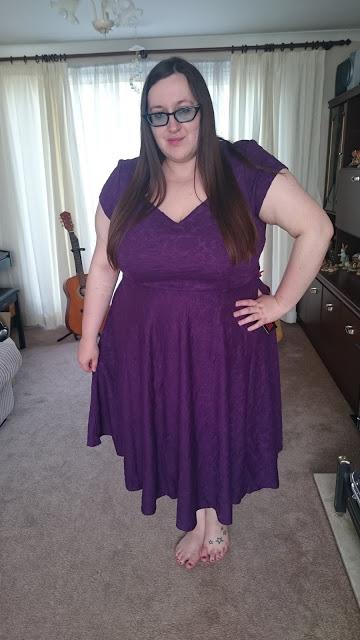 I already have a leopard print Victoria (part of the made in Britain range) and love it, the fabric is heavy and feels really luxious, i actually lack purple in my wardrobe and this dress was to remedy that. My other is 22 so that would have been ideal but was sold out so i get the 24, being a stretch fabric i know it wouldn't be a problem.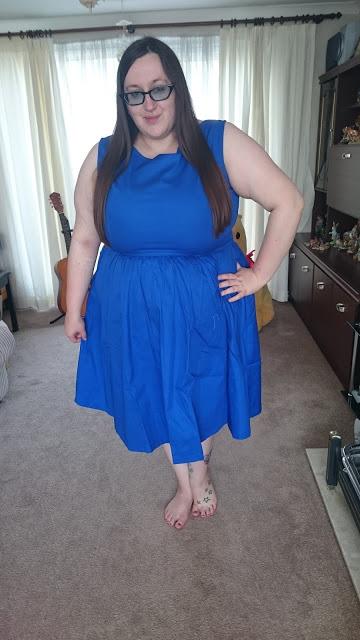 Even more disappointment awaited me, this is a standard Audrey in my usual 22, made with a thinner material than polka dot variety and again this sat awful on my bust, squashing me down and cutting me in at the waist. It was also shorter than the polka dot ones, sitting just below my knee.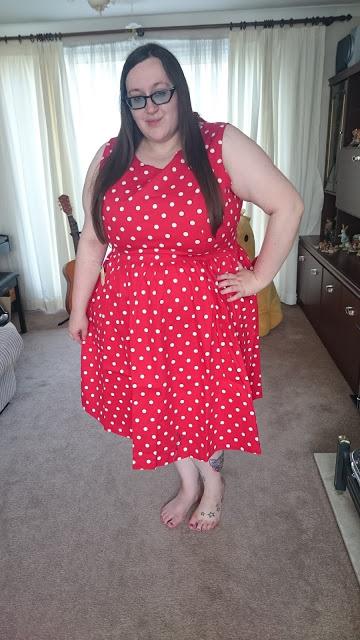 Back into my comfort zone, the polka dot Audrey, in the 24 and this fit great (bit big on my neck) and the length was good. So if you take anything from this post, an Audrey is not an Audrey, the material really matters and the thicker material used on the patterned variety is the the most forgiving. However i decided not to keep this, i bought an Erstwilder brooch which was the same price as the dress and being sensible said i could keep one. The brooch won.