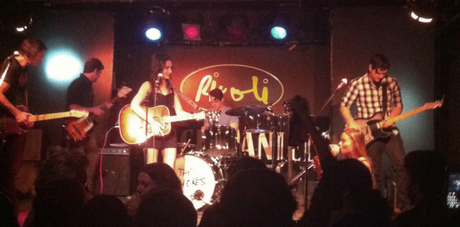 While most people may think that country music lives at big festivals like Boots & Hearts or in stereotypical bars in Tennessee and Texas, I can tell you that it's alive and well in Toronto too. In fact, last night it reached out and slapped me right in my face in the back room at the Rivoli.
Thanks for my friends at The Grid and OffTheGridTO I was able to head down for a sold out show to check out Lindi Ortega with Dustin Bentall & The Smokes. Thanks to those good people for letting that happen!
The room was full, so I know the sellout wasn't a lie – and these people were there for country music, and the 2 acts on the marque specifically.
Dustin Bentall & The Smokes took the stage first (promptly at 9pm as advertised) and my very first thought was to try and find a comparison to him that people might understand. There really wasn't a solid one that came to mind for me. In his Hank Williams Sr. t-shirt and long-ish hair he looks kind of like a modern indie rocker, but when he plays and sings it's country at the core. He reminds me a little of Corb Lund, but more relatable and a without the big hat.
Songs like Emmy Lou (coming up on a soon to be released EP) bring some country/rock and this one tells the story of a 1st trip to a strip club, a fight with his brother, a knocked out tooth, a crush on a dancer and general good times. And Shine (which is also coming soon) could be a radio hit as far as my ears are concerned as it delivers a catchy hook, a fun vibe and is a good country song.
Note: The Smokes are a great band on the stage with Dustin and fiddle player, Kendel Carson rocked my socks with her sweet skills. Look her up on the Twitter (@KendalCarson) and remind her that we all love fiddle players.
Note 2: Dustin's dad, Barney Bentall was in the audience for the show and in an awesome surprise he jumped up on the stage to play guitar and sing with the band on a track called 3000 Miles. Great song, great moment, wish I had the video! Also, this is a direct note that I took while I was watching the band: Dad is cooler now than I will ever be.
Here's another note I took: Dustin Bentall & The Smokes Rock when they decide to rock but Country at all times 
Dustin Bental & The Smokes finished their set with Draft Dodger from their Six Shooter record and when they left the stage the audience wanted more but at the same time we were all clearly satisfied with what we'd been given!
After a brief intermission the crowd was ready for the featured act, and she was ready for us…
Lindi Ortega is Toronto born and Nashville based and she was main event worthy.
With her own lead guitar player (Tom) and the opening act on stage to back her up, Ms. Ortega started strong, stayed strong and finished strong – but more about that in a bit.
Before the show I was looking online and saw that Dolly Parton had been a name that Lindi had been compared to for her sound. And by 10:41 I was in full agreement and hoping that she would defy all odds and play a cover of Jolene, I'm selfish like that.
However, while Jolene wasn't on the menu, tracks like Blue Bird, Angels, All My Friends & Little Lie make you want to move your head, tap your feet and drink beer. It's country music folks. That's what it does. That's what it should do. Kudos to Lindi and the band for making that happen and for bringing that sound to the stage. When she rocks, she rocks – when she's singing about heartbreak she's more Miranda Lambert & Julie Roberts than Taylor Swift. And that's totally okay. Trust me on this one.
She's engaging, funny, down to earth and a hell of a singer. The notes that she runs out there are long and strong and certified country. Classic country, the kind of country that your grand-daddy used to listen to when there were only 2 kinds of music, Country and Western. It's a sound that has been lost in the shuffle and deserves it's praise. Here's me praising it.
This. Girl. Can. Sing.
Note: I would love to hear Miranda Lambert doing a cover of All My Friends.
This is the kind of act that can translate to a bigger room, a bigger stage and a bigger audience. And if Lindi Ortega keeps putting in the work that she's doing right now on tour, we're all going to be going to see her at a bigger venue the next time she comes to town.
Lindi Ortega may have left Toronto for Nashville, but she still talks about TO as home, she had her mommy and daddy in the audience and plays to the audience like she knows them.
And she made me smile.
Look for music from both of these awesome country acts online, check them out and most definitely – see them live if you have the chance!
They are awesome!