New to little Indiana? Subscribe for free to my RSS feed. Thanks for stopping by!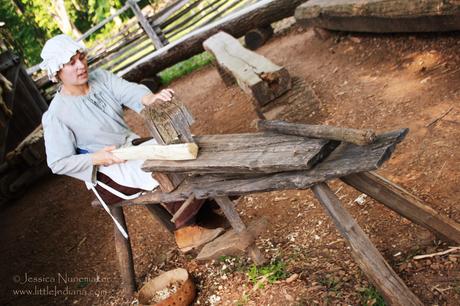 Lincoln Living Historical Farm in Lincoln City, Indiana
The Lincoln Living Historical Farm in Lincoln City, Indiana is an amazing step back in time.
You might think that Illinois or Kentucky are the only states that can claim "dibs" on Abraham Lincoln. But you'd be wrong–Honest Abe spent his formative years right here in Spencer County, Indiana!
Lincoln Living Historical Farm in Lincoln City, Indiana
The Lincoln Living Historical Farm was such a hit with the kids–and with us!
Set inside the Lincoln Boyhood National Memorial Park, you'll find the preserved homestead of Abraham Lincoln. This is the cabin plot where he grew up!
To get there, you'll take off down a long wooded path, head around the bend, and find a fantastic working farm and Abe's old homestead.
Working Farm 1820′s Style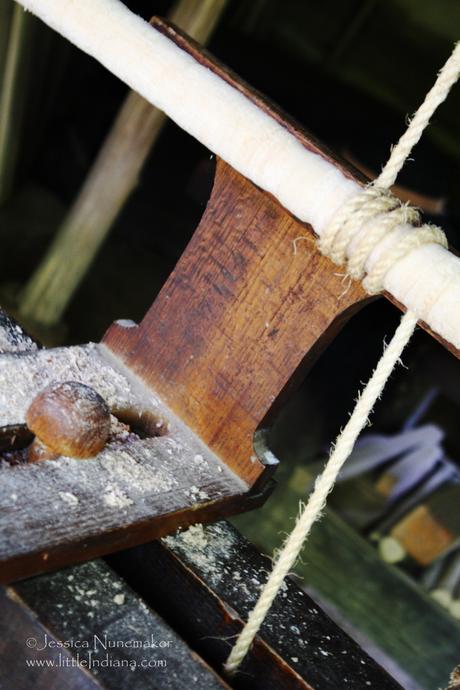 Lincoln Historical Living Farm in LIncoln City, Indiana
It's absolutely fantastic! Park rangers in period costume are actually doing things.
They could be working on furniture or cleaning up or one of a hundred other things. There are many, many old-fashioned items here for the costumed rangers to actually use and create–and share with others. Hubs even got to try his hand at making furniture.
Really, this is just an incredible place.
Seeing The Sites
We started by walking through the cabin. The park ranger was so great. We were in the middle of a heat wave and she still showed us how to work all sorts of old time equipment. Not to mention her patience in handling the constant questions of our six year old!
Before you leaven the cabin, don't forget to climb the rungs on the wall to peek into the second floor area. I didn't–hornets were buzzing around and freaking me out. Now I wish I had!
From the cabin we roamed around outside. Kid #2 raced over to the farm animals. Chickens, roosters, sheep–he was so excited!
Make sure to ask about meat preservation back in the "good old days." Now that's a story!
Go There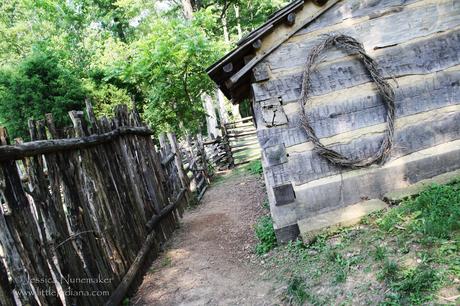 Lincoln Living Historical Farm in Lincoln City, Indiana
This would make such a fun addition to a trip to the area. It's sneaky education–your kids or grandkids will never know what hit 'em!
Though the Lincoln Living Historical Farm has seasonal hours (it's normally staffed April through September) I figured that you planning types may appreciate knowing about it now.
Don't miss a moment. Subscribe to little Indiana and receive instant updates to stay on top of everything "little." Just don't forget to tell 'em little Indiana sent you!
Find Lincoln Historical Living Farm images and other pictures in Indiana on my Flickr photostream.
Lincoln Boyhood National Memorial
3027 East South Street
Lincoln City, Indiana 47552
812.937.4541

View Larger Map
Special thanks to Melissa Wilkinson and The Spencer County Tourism Bureau for our entry into the park. Opinions, however, remain mine and mine alone. Another thank you to the lady in the photo above–heat wave and all, she was just a font of information–and patience.

little Indiana: Where to Stay, Play, and Eat in Small Towns in Indiana. Discovering Indiana's best small towns! Now get little Indiana on your Kindle.
Targeted. Relevant. Affordable! little Indiana advertising.