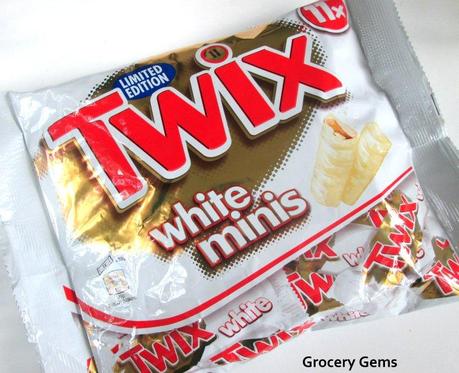 Just a quick post for this pack of 11 mini Twix White which I picked up in a discount store at the weekend. I've reviewed the Limited Edition White Twix before here, but on that occasion I'd bought a (regular sized) bar while on holiday in Portugal. I don't think I've ever come across them in the UK, although I know from comments left on my original review that they have been spotted in discount stores before. This multipack bag of Twix White Minis is a German import - bargain!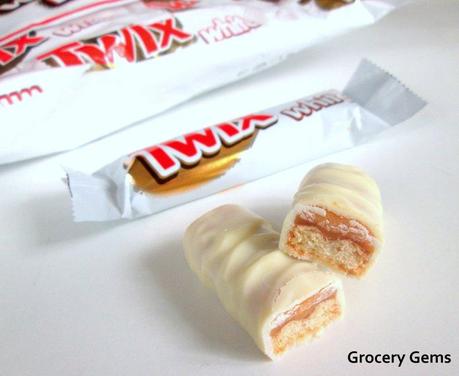 This bag of mini sized Twix was displayed on a special stand with other multipacks of Mars Funsized products, no doubt gearing up for the end of term school parties next week. I'm just waiting for the annual conversation that usually goes like this - Son at bedtime: "Mum I need 30 x cakes/chocolates/crisps for our class party", Me: "no problem, when do you need them by?", Son: "...tomorrow of course". Arrrrgggh!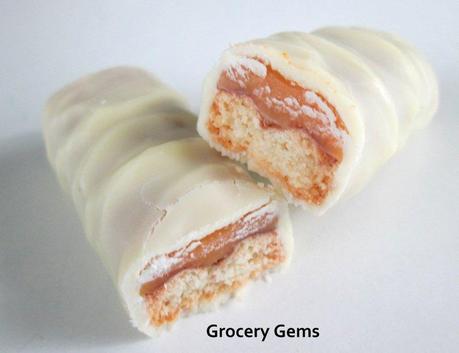 Anyway, the Twix White tastes just like I remember; super sweet and creamy. It's a sugary treat which will test the mettle of even the biggest sweet tooths out there, so it's nice that it comes in this smaller size. Although, if I'm honest, it's a bit too small, and just left me craving another one! 
Grocery Gems Verdict: Twix White Minis

RATING: 7 out of 10.Buy them again?: Yes.


Nutrition (per 20g bar)

: 101 calories
Purchased: 99p Stores.
Price: £0.99p for 11 mini bars.