Welcome to 74 Lime Lane. Take a look around. You'll find popular categories in the sidebar on the right. If you like what you see you might want to subscribe to the RSS feed and the regular Lime Time newsletter. Thank you for visiting!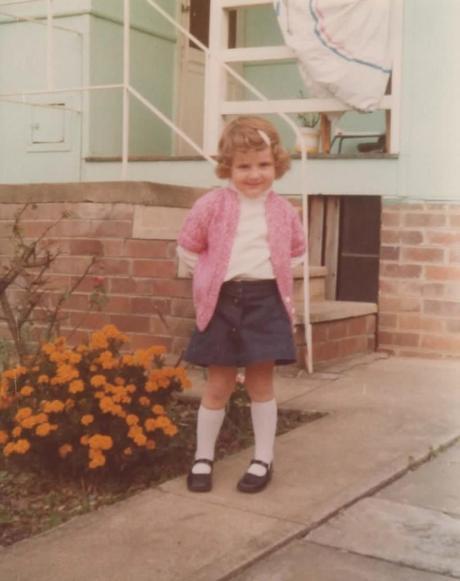 This. Is me.
And that's my swimming pool hanging over the rail.
I'm joining in with Voices of 2014 Flashback Friday and the theme of "first day". And from memory this was my first day of preschool. It must have been because there are like half a dozen photos and that was in the days of film! So it must have been something important.
It might have been the first time I wore a skirt, I was a bit of a tomboy, my favorite shirt had cars all over it. There is a photo of me on those very steps in that shirt.
I've been slack at my own photo snapping this week [so long, photo a day ... again] and I had these scanned from the big birthday party so thought it might be fun to share something different today.
Funnily enough, I've been reminiscing this week over my first date with the Mr. So it's been the week for reliving firsts.
I also have the first day of high school photo – but this little butter-wouldn't-melt-in-my-mouth photo was much cuter than the gangly teen of that era.
But it's Friday! Already! I hope your week has been pleasant and lovely. Mine has been uneventful, which is a great way to be in my line of work!
Although I am hoping for some sunshine in the coming days of rest! How about you?
And now, some reading for your weekend.
What "first" would you share?