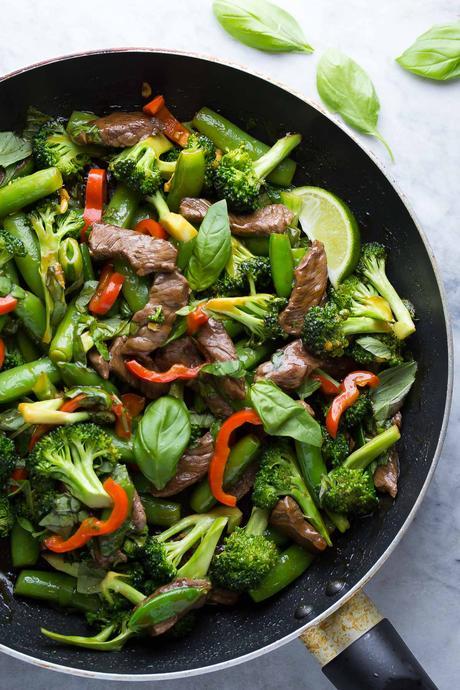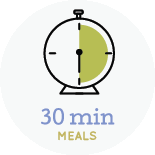 This Thai-inspired Lime Beef and Basil Stir Fry is a simple, flavorful recipe that is on your table in 30 minutes, and is packed full of veggies.
Today is an exciting day for Sweet Peas & Saffron: the 30 Minute Dinner e-Cookbook is officially for sale!
I've worked hard over the past several months on this book and am very proud of each and every recipe in it.  There are FORTY healthy 30 minute dinner recipes in the book, including 20 which are BRAND NEW!  The recipes in this book make weeknight dinners more fun, more delicious, and just plain easier.
For this week only, the eBook is available for just $5 (and if you're on my e-mail list or my Facebook community, you get an exclusive 25% off!).  On Monday, the price will go up to $7.
And in celebration of this digital cookbook, I've decided that this week is officially '30 Minute Dinner Week'.  You will see two brand new 30 minute dinner recipes on the site, and I'm finishing it all up with a 30 minute dinner round-up on Saturday.
Let's kick off '30 Minute Dinner Week' with this Lime Beef and Basil Stir Fry, one of my favorite recipes from the cookbook!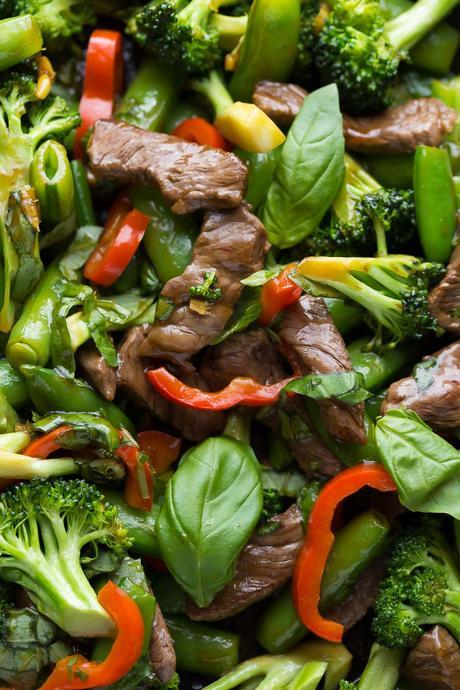 It's no secret that I love Thai food, and based on the popularity of this Thai Curry Lentil & Sweet Potato Soup, and these Thai Chicken Lunch Bowls, it seems like you all are fans as well!
This lime beef and basil stir fry is a departure from the typical Thai curry or peanut sauce flavors.  This one gets its flavor from a simple stir fry sauce of lime juice, soy sauce, fish sauce and brown sugar.  I added a touch of cornstarch to thicken the sauce ever so slightly, and the beef simmers in the sauce to absorb SO much flavor!
This lime beef and basil stir fry is packed full of veggies, and topped off with a full cup of basil leaves.  There is something truly amazing about lime, beef and basil flavors all together…this is definitely one of my favorite stir fry recipes ever!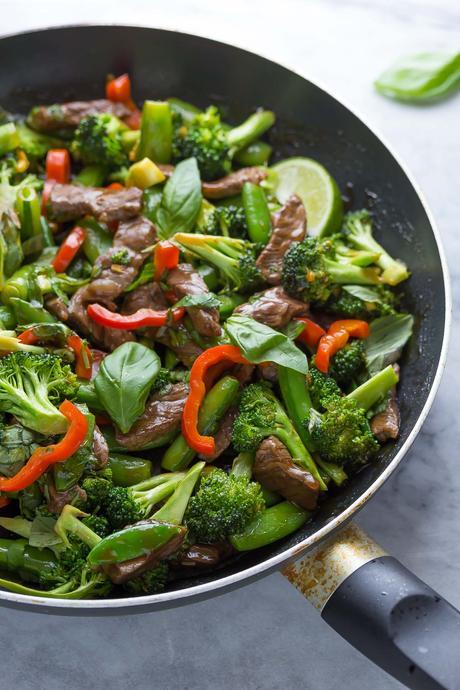 Like all of the recipes in the 30 Minute Dinner e-Cookbook, this stir fry is ready in under 30 minutes.  You can get a head start on it by pre-cooking the rice, cutting the vegetables up, and mixing up the sauce (minus the cornstarch).  That would cut this recipe down to probably a 15-minute meal.

Here's a quick preview of the other brand new recipes in the 30 Minute Dinner Cookbook:
What you will find in this digital cookbook:
A big, beautiful photo for each recipe

Simple, concise instructions with no weird ingredients
Full nutritional information
Meal prep tips to help you get a head start on the recipe

Lime Beef and Basil Stir Fry   Print Prep time 15 mins Cook time 15 mins Total time 30 mins   Author: Denise Serves: 4 Ingredients Stir Fry:
2 tablespoons olive oil
3 cloves garlic, minced
1 teaspoon minced ginger
6 cups vegetables (broccoli, snap peas, and/or bell pepper)
12 oz steaks (400g total), cut into small pieces
1 cup basil leaves
Sauce:
2 tablespoons soy sauce
1 tablespoon fish sauce
3 tablespoons brown sugar
juice of 2 limes (3 tablespoons)
1 teaspoon cornstarch
rice (to serve)
Instructions
Heat oil in a large pan or wok over medium heat. Add the garlic and ginger and cook for 1 minute. Add the vegetables and cook for 5-8 minutes, until cooked through.
Remove the vegetables from the pan and set aside.
Add the steak to the pan, and cook for 3 or so minutes, until just cooked through. Remove steak from pan and sop up any extra oil or liquids from the pan.
Add the sauce to the pan and cook for 1 or so minute, until slightly thickened. Return the steak and vegetables to the pan, along with the basil leaves, and toss to coat.
Serve over rice.
3.5.3208