I have all of my fabric cut for my next project using some wonderful bright colors. I'm still in limbo a little bit on it because I'm winging it, so there is no real pattern to follow. I'm nervous to start, and need to just bite the bullet and go for it.
Here are the colors again: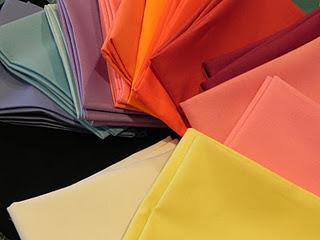 I'm hoping the recent completion of my design wall will aid in the process. I finally got it finished, and even have massive amounts of thread storage on one side :) Although from the photo you can see it is mostly used up already...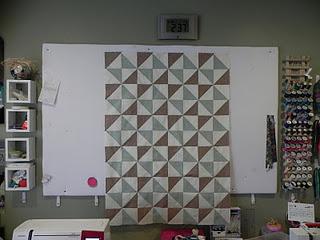 I ended up making it with a thin piece of melamine for the back, then used spray adhesive to attach 1/2 foam insulation sheets (3 total) from Home Depot to give me something to put pins into, and covered it with a layer of poly batting and then white cotton flannel.
In hind sight I think I should have used cotton batting for my final layer over the flannel, it is much clingey-er than the flannel. But if/when the flannel gets dingey looking, I can always re-cover the board with it and put it back up.
Total cost for the board was around $30 including the cotton flannel, and it has been everything I thought it would be. It makes quilting so much easier when you can put your blocks up as you go, and really see your progress! I hope it helps with my next project... My goal is to have the top pieced for my next post :)
Happy Sewing!
Janice