There are 29 million people living in Peru; 9 million in Lima, and I think I met about half of them.
We docked in Callao for an overnight, meaning that Draga and I could go ashore (on the proviso that nothing would break down just five minutes before quitting time). The agent informed us in hysteric guffaws that just outside the port gates gangs of ruthless locals awaited any sailor foolish enough to venture out on foot. Many of us get beaten, stabbed, abducted even, severely mistreated and some never heard from again. "You take taxi taxi," he urges. "Callao no good. You go Lima. My cousin has good taxi, taxi good good, always good price, special price for you."
The agent's cousin, it appeared later that night, specialized in running sailors to Lima for the special price of 70 dollars. However, for Draga and I, he volunteered the extra special price, only specially now on this special evening, of only 50 US.  For that he would wait for us in Lima, to take us back.
After forty minutes of death defying driving through traffic as thick as an asteroid belt, zigzagging along the most depressing slums that seems to consists entirely of alleyways peopled with hordes of hapless kids and bums and small animals, we arrived at Plaza de Armas. I had my mind set on La Catedral; Draga wished for a coffee on a terrace somewhere.
For two hours we felt like human beings again. We partook in a service worshipping something else than mad labor and moneymaking, and we drank coffee on a terrace, trying to pretend this half-lit square is not a glum pearl in an giant oyster of dirt and poverty.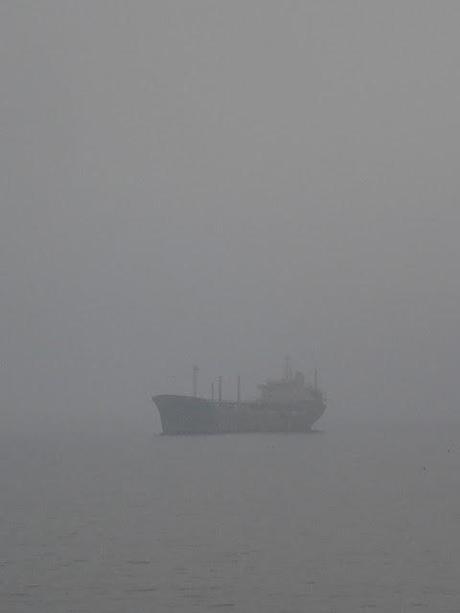 Peru's signature mist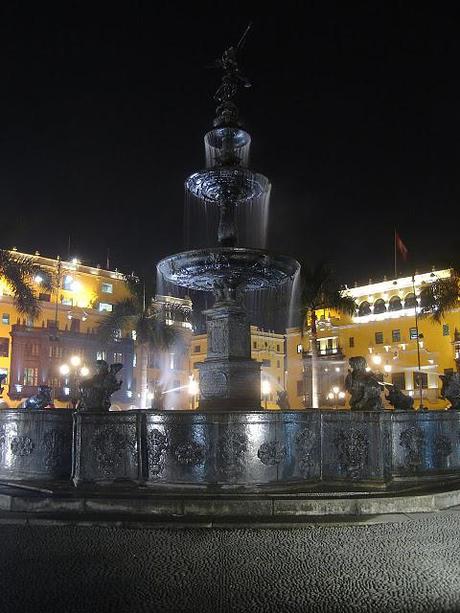 Fountain on Plaza de Armas - Lima, Peru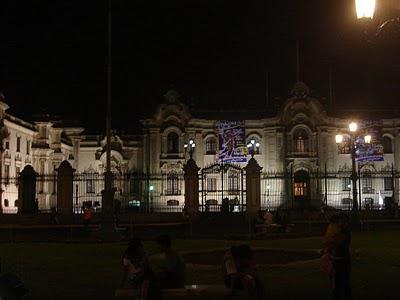 Seat of the Peruvian government - Lima, Peru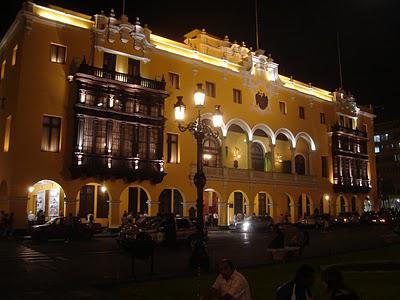 The entire Plaza de Armas is surrounded by oppulent buildings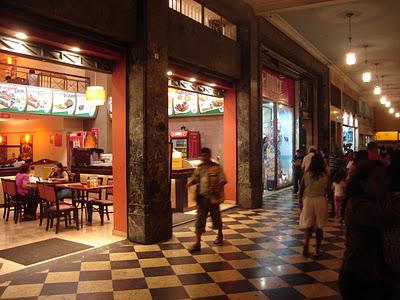 Plaza de Armas - Lima, Peru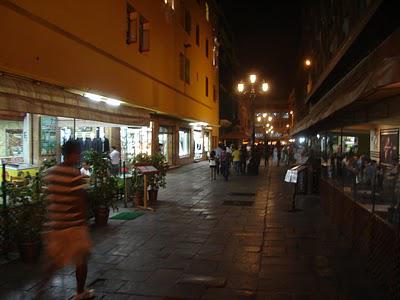 A shopping street off Plaza de Armas - Lima, Peru