HRH The Prince of Wales:  I've spent enough on you to build a battleship!
Lillie Langtry:  And you've spent enough in me to float one.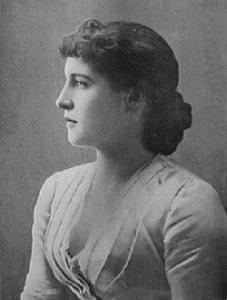 Once the "prostitute" was defined into existence as the lowest of the low in the late 19th century, it became necessary for those who were emotionally invested in the concept to police the dividing line between whores and all other women.  If it was possible for a "fallen woman" to not only raise herself by her own efforts, but to do so without repenting her whoredom, she obviously was not someone any woman could look down upon; since the whole purpose of the definition was to provide such an exemplar, famous harlots became an embarrassment to the prohibitionists.  Such women's harlotry therefore had to be ignored, rationalized or even denied so as to maintain the fiction that we are all monsters, criminals, victims or whatever other role the individual fanatic's belief-system requires.  In the past few decades especially, whores who achieve fame and/or accomplishment that transcends their whoredom are routinely co-opted by prohibitionists, and most popular biographies either leave out the fact that they made a living on their backs or else sanitize it with words like "mistress" or "lover" in order to pretend that the arrangement was established for romantic reasons rather than economic ones.  And if a professional achieves greater and more lasting fame in some other career after her hooking days, the general practice nowadays is to omit her earlier means of support entirely.
Emilie Charlotte Le Breton was born on October 13, 1853, the only daughter of Rev. William Corbet Le Breton (Dean of Jersey) and his wife Emilie; though she had six brothers, only two survived childhood.  Emilie was a high-spirited girl who inherited her mother's looks and her father's temperament; he had numerous affairs and eventually resigned his post in disgrace several years after his daughter had left the island.  Being the only girl also contributed to her personality: she learned to handle males from a very early age, and was educated by her brothers' tutor because she was far too rambunctious for a governess.  At the wedding of her brother William in autumn of 1873 she met the Irish landowner Edward Langtry, the 30-year-old widower of the bride's older sister; Emilie was taken with his charm and apparent affluence and he dazzled her with (chaperoned) cruises on his yacht.  They were married on March 6th, 1874, and he bought her a stately home in Jersey and a flat in London; unfortunately, Langtry was not as wealthy as he appeared to be, and her family's dislike for him was so intense that when her beloved younger brother Reggie died in the spring of 1877, she hadn't seen him in years.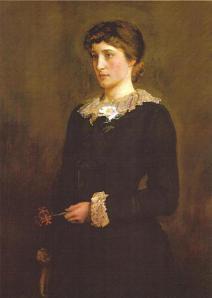 After the funeral Emilie fell into a deep depression, and in an effort to cheer her Lord Ranelagh got her an invitation to a salon held by Lady Sebright and attended by a number of famous artists and literary figures.  Because she was still in mourning, she wore a simple black dress without jewelry and isolated herself in a quiet corner of the suite; but because she was both beautiful and charming this had the opposite effect of the one she was looking for.  She attracted the attention of a number of artists at the salon, among them Frank Miles (who had previously seen her at the theater and was very taken with her); Miles made several sketches that evening and raved about her beauty to everyone he knew.  By the end of the week the Langtrys were overwhelmed by invitations, Miles' sketches had been sold and every photographer and painter in London wanted Emilie to model for him; the most famous of these portraits was A Jersey Lily by Millais, which not only spread her fame but gave her the nickname by which she would be known ever after:  Lillie.
Within weeks, she had come to the attention of the Prince of Wales, who asked to be seated next to her at a dinner party on May 24, 1877 and was soon spending legendary amounts of money on her; since this allowed a far more lavish lifestyle than he would otherwise have had, Langtry was content to go away on fishing trips while his wife entertained her royal patron.  Though His Highness was a noted womanizer, he became totally infatuated with Lillie and even built a house (now Langtry Manor Hotel) for them to tryst in; she became the closest thing to an official mistress as was possible in that time and place, and was even accepted by the Prince's wife, Princess Alexandra (Queen Victoria, on the other hand, was said to have treated her rather coldly).  The relationship continued for two years, during which Lillie made many important friends; chief among them was Oscar Wilde, who later helped her launch the career for which she is known today.  And though it ended when Sarah Bernhardt captured the Prince's eye in June of 1879, they parted on good terms and he later helped her on a number of occasions.
Lillie immediately became involved with the Earl of Shrewsbury, but that arrangement broke up the following January once rumors of divorce began to circulate and creditors started to hound her husband.  By April she had attracted another royal patron, Prince Louis of Battenberg, and when she found herself pregnant in June she told him that he was the father; however, she was also carrying on a romantic affair with Arthur Clarence Jones at the same time, so it's possible that the child was his.  By this point the Langtrys were truly estranged; Edward went off on an extended fishing trip, leaving Lillie to deal with the bill collectors (which she did in October of 1880 by selling off many of the expensive gifts Prince Albert had given her).  She at first tried to hide the pregnancy by renting a cottage in Jersey, but soon realized a small community was the worst place to be; she then appealed to "Bertie" for help and he gave her some money and had her taken to Paris, where she and Jones lived until she gave birth to her daughter Jeanne Marie on March 8, 1881.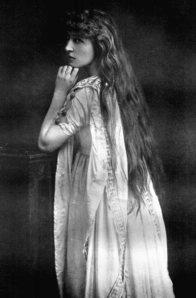 By autumn she had deposited the child in her own mother's care and returned to London, where Wilde suggested she should take up acting.  He connected her to Henrietta Labouchere, a retired actress turned acting coach, and after one amateur production in November she was hired for a part in She Stoops to Conquer; though the critics were divided in their opinions, she had lost none of her charisma and the ever-supportive Prince of Wales made a point of attending several of her performances in order to draw attention to them.  Her popularity attracted enough investment to form her own company only a few months later, and she toured the UK for the rest of the year before landing a deal for an American tour in October – less than a year after she had started acting.  She was an even bigger hit in the US than she had been at home, and her box office receipts broke all previous records.  Nor had she entirely given up her previous career:  she found a new patron in the person of Freddie Gebhard, a multi-millionaire who bought her a townhouse in New York and a private railway carriage built to her specifications.  She eventually became a US citizen and divorced Edward Langtry in 1887, but though she and Gebhard remained together until 1891 they never married. He bought her a whole stable of thoroughbred horses, and she enjoyed modest success racing them; she also bought a vineyard and winery in California in 1888, and though she sold it in 1906 it still bears the name Langtry Farms.  She also sold endorsements for soap and cosmetics, becoming one of the first celebrities to do so.
In 1899, she married Hugo Gerald de Bathe, who became Lord de Bathe in 1907.  Though he was 19 years her junior, the relationship does not appear to have been the typical love match between an aging courtesan and a young lover, but rather a marriage of convenience contracted to get money for him and a title for her; when they retired to Monaco in 1917 he lived half an hour away in Nice, and they only saw each other on social occasions.  She continued acting right up until her retirement, at which time she also sold all of her horses and racing interests.  During her last decade her closest companion was Mathilde Peate, the widow of her butler; she had been estranged from her daughter since 1899, after Jeanne Marie's fiancé had explained the truth about her parentage (which had been kept from her for eighteen years).  In the winter of 1929 Lillie contracted bronchitis and later influenza, dying on February 12th at the age of 75; she left her entire fortune to her daughter, grandchildren and Mrs. Peate, and nothing at all to her husband.  She was buried in the churchyard of St. Savior's Parish on Jersey, near the rectory in which she had grown up; though she had left early and wandered far in her eventful life, the Jersey Lily eventually returned to the soil of her beloved home, which her heart had never really left.