&version;
I'm sure that many enthusiastic bakers would have known or baked this highly reviewed Flour Bakery bread recipe from the book, Flour by Joanne Chang or here or here. Have you?
Gosh! I have bookmarked this recipe for such a looooooooooong time!!!
Until recently, my son asked me to bake banana bread for him and I'm like... I HAVE to bake this well-liked Flour Bakery Banana Bread!!!
Here is my version of Flour Bakery Banana Bread with very minor modifications... Very banana-y! Very moist! Very NICE!!! Now... I know why it is so well-liked!!!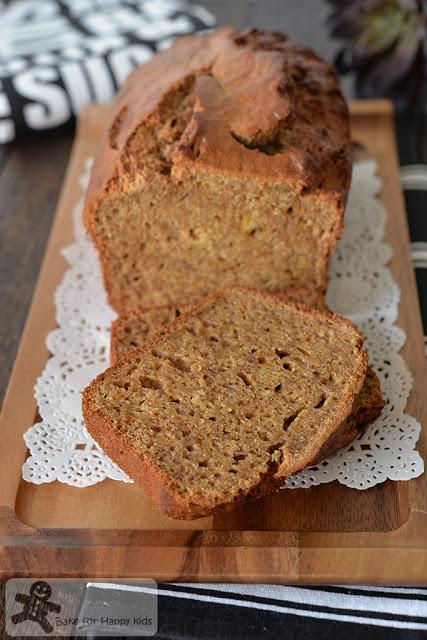 Like the Famous Flour Bakery Banana Bread
I can't say that my banana bread is exact replica of the famous Flour Bakery banana bread because...
1) Instead of caster sugar, we prefer to bake our banana bread with dark brown sugar for its extra robust and rustic flavor.
2) I have reduced the amount of added sugar from 1 cup plus 2 tbsp (225g) to 3/4 cup (140g). With 85g LESS sugar, I must say that the sweetness is still good enough for us!
3) Due to the nut-free school holiday program that my son is attending, I prefer to make ALL our lunchbox food totally nut-free and so I didn't add any walnuts into this banana bread.
4) Less sugar and no nuts? Instead of baking this bread in a 9 x 5 inches loaf pan, I have to bake this bread in a slightly smaller 8 x 4 inches (20 x 10 cm) pan.
Why didn't I follow this recipe to the tee?
Prior baking, I saw many positive reviews at here saying that the base of this very moist and banana-y banana bread recipe is versatile and can be modified by baking the bread into muffins with reduced baking time or substitute the walnuts with chocolate chips. Some say that they can substitute creme fraiche or sour cream with Greek yogurt. Some say that they like the bread with less added sugar but some say that it is not sweet enough. Hmmm...
Nevertheless, this is how I want my wannabe-Flour Bakery banana bread to be...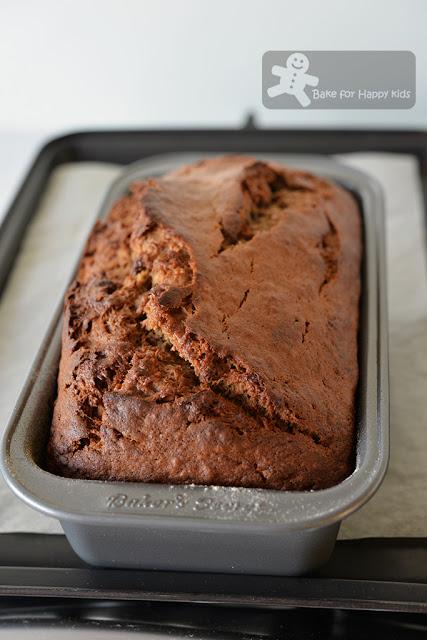 This is my version of the Flour Bakery banana bread...
Nut-free. Made with dark brown sugar plus lots of love :)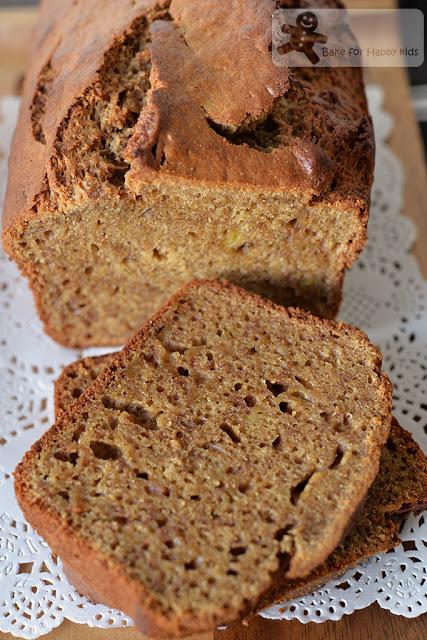 I would rate this recipe 5 out of 5 too!
Very moist and banana-y! Excellent!!!
Here's a video showing how I baked this very banana-loaded banana bread.
Thanks Bensound for the music in my video.
Like my family-friendly recipes? To get the latest updates, you can follow me at either my Facebook at here or here or my Instagram @zoebakeforhappykids
Here's the recipe that I have adapted from Epicurious and the book, Flour by Joanne Chang or here or here.
Makes one 8 x 4 inches or 20 x 10 cm loaf*
2 large eggs
140g (3/4 cup) dark brown sugar*
120g (1/2 cup) neutral tasting vegetable oil
1 1/2 cup mashed bananas, very ripe and about 3-4
2 tbsp sour cream or creme fraiche or Greek yogurt
1/2 tsp vanilla paste or 1 tsp vanilla extract
250g (1 2/3 cups) all-purpose / plain flour
1/2 tsp baking soda*
1/2 tsp baking powder*
1/4 tsp ground cinnamon
1/2 tsp salt
2/3 cup walnuts, toasted and chopped* optional because we prefer our banana bread to have no nuts.
extra oil or vegetable spray to grease loaf pan
extra flour to dust the greased loaf pan.
*The original Flour banana bread contains 1 cup plus 2 tbsp caster sugar, 1 tsp baking soda, no baking powder and walnuts and bakes in one 9 x 5 inches loaf pan.
Preheat oven to 180°C / 350°F.
Grease loaf pan, then dust with flour and knock out any excess.
Using an electric mixer with whisk attachment, beat eggs at the lowest speed for about 1-2 mins. Then, increase speed to medium and beat for about 1-2 mins until frothy. While beating, add dark brown sugar gradually to minimise the amount of clumps forming in the mixture. Increase beating speed to medium-high speed and beat until the mixture is very thick and pale and forms a ribbon when beater is lifted, about 10 mins.
Reduce beating speed to low. While beating, add oil gradually in a slow stream.
Continue beating at low speed. While beating, add bananas, sour cream and vanilla gradually, tablespoonful by tablespoonful. Stop beating when all are well incorporated. Do not over-beat.
Sift flour, baking soda, baking powder, cinnamon and salt into the egg mixture. Add walnuts (optional) if desired and use a spatula to fold the flour mixture and walnuts (optional) into the egg mixture until all are just combined. Do not mix too vigorously and do not over-mix.
Pour batter into the prepared loaf pan, spreading evenly. Bake for 60 mins or until a skewer inserted comes out clean. If the top crust of the bread turns golden brown too quickly after baking for about 40 mins, cover the bread loosely with a piece of foil and continue to bake until the bread is thoroughly baked.
Allow the bread to cool slightly in the pan for about 10 mins. Then, remove from the loaf pan and transfer onto a wire rack to cool further to warm or completely. Slice and serve while it is slightly warm or at room temperature.
Store in an airtight container at room temperature for up to 2 days or in a freezer for up to 1 month.
Happy BakingPlease support me and like me at Facebook...