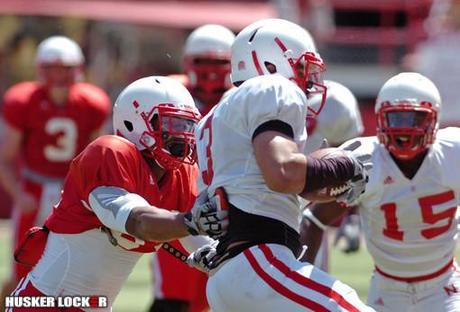 By James Stevenson
With Spring Practice and scrimmages in full swing, a unique idea has made its way across the blogosphere - spring scrimmages against alternate schools.
It's an interesting idea, and not totally out of the realm of possibility for BCS conference colleges.
The easy examples are those of basketball and football. Both sports scrimmage against other schools or lower-league teams.
The Husker volleyball squad recently got back from a spring trip to Honolulu, where they played and defeated the Hawaii Warriors.
If other major sports can do it, why not football?
Reasons it Would be Great:
For the Fans: Imagine a spring contest between Nebraska and Oklahoma. The old rivals meet on a beautiful April day.
Fans pack the stands and get to watch an old rivalry or an unusual opponent come to town. Much more interesting than seeing the fourth string go against the fourth string, at least it's YOUR fourth string versus THEIR fourth string.
For the Players: Huskers keep hitting each other. It gets old. Around the first game each fall, players are excited to hit someone they don't see every day.
On top of that, they would ideally get to test themselves against an actual opposing player from an evenly-matched team.
For the Coaches: Executing a gameplan with all of your starters versus another team's starters would be more useful than watching mixed teams.
The coaches seen that for weeks by then. Getting a new and different data point could be useful. It'd also give the younger players on the team an ideal chance to get some "game" experience.
For the Networks: Imagine having Nebraska/Oklahoma, Alabama/Ohio State or Oregon/West Virginia. The possibilities are endless, and given the way spring practices are scheduled, ESPN could easily have a three or four week "spring game season" with various teams playing each weekend.
For the Athletic Departments: Even as an exhibition/meaningless game, it'd be a huge draw, one that might even require a more familiar ticket cost. The aforementioned television rights would also be lucrative.
Challenges:
Scheduling: Each team relies on one spring home game a year to give the fans a fun day, usually far less expensive than normal.
It's also a highly effective recruiting tool. If schools began playing each other in scrimmages, they might lose that home game. This could be alleviated if each team played two scrimmages per season, home and away.
Perception Effect: One major challenge revolves around teams, fans or media potentially taking these exhibition games TOO seriously.
Ideally, both teams would be playing with no real intention to win - it's a more valuable opportunity to execute properly and try your team against outside competition.
The analysis and armchair punditry that might follow is enough to cause any coach to cross his arms in displeasure, though. This may add more weight to the argument about removing preseason polls.
The timing of the first AP and Coaches' polls is still a hot-button topic. Several fans would be content not seeing them until the anywhere from the fourth to sixth week of the season.
There is some merit to that, though the networks would howl given the subjective nature of the polls which makes them perfect fodder for television analysis.
It also allows for hyping of early games based purely on perception. No Top 25 or Top 10 match-ups during the first five weeks would at least slightly affect ratings.
Competitiveness: Due to the perception effect, some coaches might take things too far by leaving their starters in, playing rough or using trick plays to take home a "W."
Why would this be necessary?
A big win over another name team could boost your preseason poll standings. Fans would certainly debate the results around the globe second-by-second. Other schools might try to schedule weaker opponents to guarnetee wins.
This could be solved with a series of rules to help ensure competitive play. Think of this as some sort of combination of the unwritten rules of the NFL's preseason games and the documented ones of the Pro Bowl.
You could take things a step further turning it into a joint practice session focusing on stations, seven-on-seven and maybe a light scrimmage at the end.
Who to Play: Most coaches would probably want to play a team of similar strength and perception so a win or a loss remains hollow.
It's also easy to assume most coaches wouldn't want to play any conference foes, nor would they want to play against anyone on their fall schedule.
There are plenty of teams to play, but it becomes interesting if schools have different scheduling practices. Why not schedule two home games by bribing smaller schools? Would schools like Kansas State continue a cupcake feast for spring scrimmages?
The plan works best if teams keep things competitive. Playing a lower-tier school might give larger schools incentive to leave their starters in while racking up yardage and style points.
Injuries: Given the need to have strict rules, coaches also wouldn't want to get key players injured. You would think this would lead to starters getting pulled by halftime or shortly thereafter.
Certainly both teams would hit hard and this could lead to some additional injuries. No one wants to lose players in a meaningless exhibition, of course.
Showing the Playbook: On the flip side, other coaches may want to hold back. Usually spring ball is a base install period.
You're working on your core plays. Would coaches waste time in spring game planning for a meaningless scrimmage?
If they don't and their opponent does gameplan, could that hurt their preseason perception and standing? Banning exotic blitzes, trick plays and other elements to keep teams only working on base packages should prevent too much trickeration.
The idea of cross-school scrimmages is certainly interesting. That said, given the various nature of the competitive aspects, it's almost a certainty that nothing would move on this front without a complete package of rules and regulations to protect teams and to assure fair play.
Even then, some coaches may not want to deal with the hoopla of having to face another school and the headaches associated.
Still, with the right package, coaches, administrators and those writing checks might find it to be an offer too good to refuse.