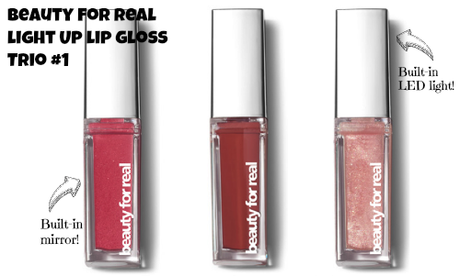 Shown: beauty for real Light Up Lip Gloss Trio #1
(left to right: Kiss Me, Just Lust, Starlust)
What do you get when you combine an amazing lip gloss with a built-in LED light? Makeup brillance! beauty for real is offering their signature Light Up Lip Glosses (each with a built-in side mirror and LED light) in triplet style this holiday season with their Get Gorgeous Gloss Trios. Here's the lip gloss-loving scoop, beauties:
Beauty 411: bfr's glosses have the perfect consistency (no sticky-icky-ness). They're long-wearing and contain lip plumper ingredients that leave your lips feeling full and luscious. Oh, and did we mention the built-in mirror and LED light? Simply press the button on the top of the lid and, voila, you've got a light when applying fresh lippie in a dark-lit area or a mini flashlight for your handbag. (Pure fluorescence brilliance!) We're crushing on Trio #1 (which includes Kiss Me, Just Lust, and Starlust) as it offers the perfect variety of colors, whether it be for daytime natural beauty or nighttime dazzle.
Why you'll love 'em: These gorgeous glosses give new meaning to the phrase "see and be seen!"  bfr is offering four different limited-edition Get Gorgeous Gloss Trios to pick from, all of which include stunning color combinations for the holiday season. And we're betting you're going to fall head over gloss for the built-in mirror and LED light.
bfr Gloss Trios ($49 each) and single glosses ($22 each) can fe found at various stores, salons and beautyforreal.com. So go on, lippie lovers, and "light up" your holiday look!
What beauty goodies will you be buying for the holidays, readers? Share 'em in the comments box below! 
Crows' Feet, Cupcakes, and Cellulite does not accept compensation for reviews. Samples may have been provided. Opinions are 100% the author's own.