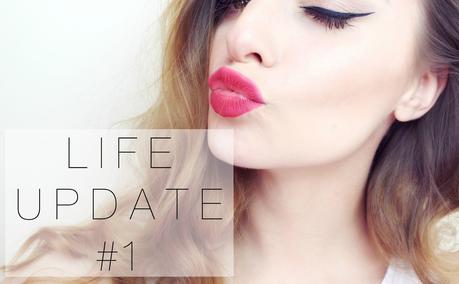 Hi. Hello there. How are you? It's a chatty one today where I'm putting the lipstick and shoes aside and I'm just going to be real with you and telling you whats happening right now! Enjoy!


01 // If you don't know already, alongside blogging and working, I'm in my second year studying for a Marketing degree at my local University. I am quite an organised person and assignments don't tend to stress me out as much as exams do, so as all this year was all assignment assessed it hasn't been too bad. Saying that, I have my first deadline coming tomorrow and my last in two weeks time so it's all systems go. After that I'll be free from University till October when I start the dreaded final year! How exciting!
02 // To celebrate finishing University for the year and to get some time away from the UK, me and my boyfriend have booked up to go on holiday in June. We're heading off to Lanzarote for two weeks in the sun and I could not be more excited. I love being tanned, it makes me feel so much healthier and gives me a new found confidence. If you seen my holiday outfit Instagram pictures from last year I go, erm, quite dark in the sun and I can't wait to be sipping cocktails and catching the rays.
03 // My road to YouTube was a bit of a rocky one, I found it really hard to find my feet and see where and how I fitted in - I actually wrote a post about it here. However, at the beginning of the month I have resumed regular filming and posting and d'ya know what... I bloomin' love it. I am sort of not thinking about it as such anymore, just running with ideas and enjoying the whole experience. If you're not already, I would love for you to subscribe to me here. 
04 // As summer is quickly coming round (Praise the Lord for the sun we've had!) it's a great time for a wardrobe revamp and I like to do this every year. However, I feel like I am in a total style slump at the moment. As much as I love my floral dresses and playsuits I am forever looking and aww'ing at the super chic style I keep on seeing and I want to recreate it. But when I try on outfits I feel totally out of my comfort zone. Ya feel me? Anyone ever get like that?
05 // I began to do the Blogilates Monthly Calendars a few months back and really began enjoying exercising. I'm not a fan of gyms and I run like Phoebe from Friends so indoor activities are the one for me. After my University work is done and dusted I'm wanting to get back into my fitness and I was just wondering if any of you guys know of any other great indoor exercise videos? Preferably free access - cutting down those costs, yo.


Facebook  - Twitter - Instagram - Bloglovin - YoutubeCheck out my April advertiser - Rebeccakdunne!