It should come as no surprise to many people that I have talents and abilities when it comes to working with wood. I appreciate there are still likely to be more-recent followers to this blog who aren't aware of this site and its inception. But for my training as a carpenter and furniture maker, these skills are only fractionally utilised in what I do on a day to day basis.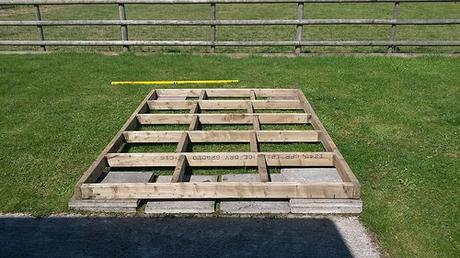 Still, if I was to shift from my current role in to something different then, looking at things on paper (in particular, my CV and qualifications), it would make the most sense for me to return to one of the woodworking trades.
Carpentry and Joinery
This year, it'll be ten-years to the day since I finished my three-year Carpentry and Joinery course at the City of Bristol College. By the time that had ended, I already had a full-time job as a 'trainee' working within a small local firm, mostly with one of two people. But the experience as a whole was largely negative. I made mistakes in the beginning and was heavily over-criticised for that. As the weeks went on, my boss became even less tolerant and the true bully of his nature was unleashed with a daily succession of abusive insults and criticisms.
There never seemed to be an intention to help me see where I was going wrong or to show how I could overcome my mistakes. I wasn't good enough and that was his final word. Worst part is, I went on believing this for several years to follow and that ultimately had an effect on my self esteem and confidence.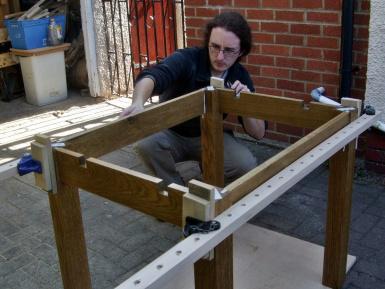 Last month, I met a guy who'd previously worked as a site carpenter and he seemed to have been through a similar experiences, relating to three things with an interconnection – carpentry, anxiety and depression. Just hearing from someone else who'd been through a similar experience allowed me to feel a little more confident in my own choice not to simply 'follow my qualifications'. If the working environment is unhealthy for me then I have a right to avoid it.
In joinery workshops, I've often been told that I'm 'too slow' and have been criticised for it, albeit without further insults. I have only ever truly enjoyed working with wood in two separate situations – once was at college, the second was at home, in my own workshop. College provided a huge learning experience without the pressure or demand of having to cover costs and satisfy a customer. Within a single car garage, I was gradually able to grow and develop the space and my equipment in to something that worked quite well for me.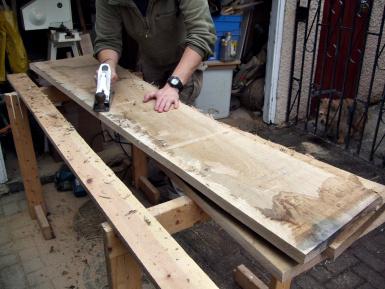 That almost leads us neatly in to the second topic for this post – ahead of which, I would like to state that I left 2015 with the serious thought of joining an agency in the hope of finding work as an 'improver' carpenter… I've made no practical progress towards this though. Currently, I hold too many anxieties amongst having to buy more tools, whether I'm actually being lured in by the hourly rate of pay and that's all before thoughts of re-entering what could be a painfully-familiar environment.
Furniture Making
I miss having a workshop, even though I'm not convinced I would have the free time to make good use of one around a full-time job and other interests. For over a year, I've held on to a thought about finding a workshop space to rent locally. From a practical point of view though, I do not have anything close to £200-300 to spare from my wages each month, once I've paid my rent, topped up the electricity, bills, fuel and added food.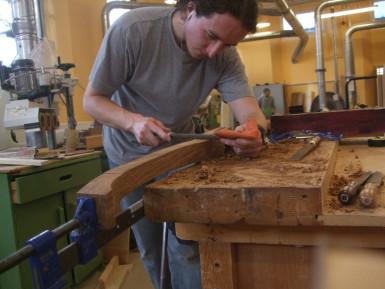 Back in 2010, after two-years of unemployment, I toyed with the idea of working for myself. Over a twelve-month period, I'd already made a few pieces for friends of friends and such but I wasn't making money. Towards the end of the year, I got involved with two furniture exhibitions in Bristol, with the hope that potential customers would take an interest and things would begin to kick-off for me… That didn't happen and, as I very nearly ran out of money that winter, I found myself a full-time job cleaning in a chilled warehouse.
For whatever reason, my phone didn't ring, the e-mails did not come flooding in and people weren't desperate for me to recreate the arm chairs and drop-leaf tables they had seen. It appeared to be a similar situation for everyone else who'd been involved in at least one of the shows.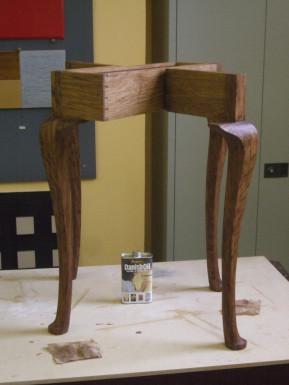 With my failure to price jobs adequately and estimate the time I would spend making, I also found it an uncomfortably isolating experience. I've always been a bit of a loner and I'm not very uncomfortable in my own presence. But even extreme introverts need a little human contact now and again. Spending all-day, every-day in that garage was unhealthy and became a good excuse for me to 'avoid' life. If I was to set up another solo workshop and leave my current job, I'd fear the same would happen again but perhaps, with dire consequences.
But I do still dream on the thought of working for myself and having my own workshop. I might consider a shared space in the right situation. It's one thing to make someone else's designs but there's a joy and satisfaction I miss in seeing your own ideas come in to fruition. Again, I just don't think it's financially viable right now and so, I try to remind myself something I was told maybe five-years ago – that I am still young and that there is plenty of time for that. I've met a number of people, a good decade older than I am now, who've left a mundane career to continue life as furniture makers.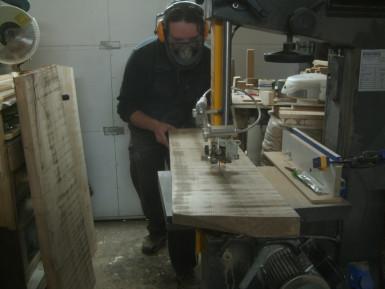 I'm very good at coming up with excuses for reasons not to do this and certainly, not right now. Another would people that people won't pay for it when they can buy something for a fraction of the cost from Ikea… But I can challenge that with the realisation that other makers ARE getting by. Somebody is buying their work and paying for the true cost of craftsmanship.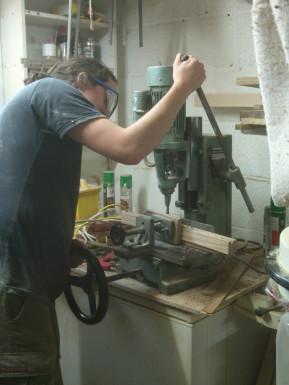 Perhaps it would help it I could subsidise this with another interest running alongside?
Some of those ideas will feature in an upcoming post.
Thanks for reading.