Thomas Rhett made his triumphant return to Boots & Hearts on Sunday night as the main stage headliner. From start to finish the 28-year-old hit-maker was, without a doubt, the star of the show.
Rhett closed the four-day festival with a 17 song set that included some of his biggest hits, fan favourites, and surprises that had country music fans singing and dancing and partying all night. The energy was electric, the voices were loud, and it was the perfect ending to a weekend full of fantastic country music.
More than half an hour before T.Rhett's set, fans started to make their way closer and closer to the stage. They sang and danced to the bumper music. They drank their beers and went to the nearby bar to buy more. They all knew that this was their last big bang of the weekend, and they were ready to make it count.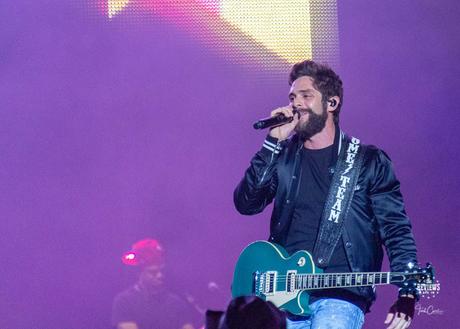 And when Thomas Rhett came out to centre stage to start his set, things got loud!
Rhett's star has been rising steadily and swiftly since his country radio debut in 2012. We've seen him play small bars, take his turn as the opening act, and now he's in the brightest spotlight at the top of the bill. His success at country radio, his reputation as a performer, and his ability to connect with his fans have all contributed to his rise. And it's all well earned.
That connection was evident in a big way on Sunday night as the Boots & Hearts audience was more than happy to take over songs from Rhett's library, singing back to him as loud as they could and as loud as they had all weekend. They started early with songs like T-Shirt and Make Me Wanna and still had it in them to raise their voices together to sing a final chorus of Die A Happy Man. It was special. The kind of special that we love about live music.
It was also special when a surprise birthday cake was brought out to the stage for Rhett's baby girl Ada James who was celebrating her first birthday at home in Nashville. The surprised father of two told the crowd that it had been a while since he'd last cried, but that he could feel himself coming close. And then he sang happy birthday, dedicating it to Ada, with the help of 40,000+ of her new friends.
We need to take a moment to give some love to the band on stage with Thomas Rhett. These dudes are all fantastic on their instruments and play a vital part of the show without always being properly appreciated. On Sunday night, every single member of the band was in fine form. And special love was shown to the two Canadian members (Nathan Whitney, Guitar and Chris Kimmerer, Drums) and outstanding saxophone player, Frank Houston. These guys are pros and entertainers, and they're awesome.
This slideshow requires JavaScript.
More than once during the set, Thomas Rhett spoke about how excited he was to be back at Boots & Hearts, how much he loves his Canadian fans, and how much he appreciated the success he's had north of the border. He added that Sunday was a special day because he had just found out that his current single, Life Changes, was the new #1 at Canadian country radio. The chart topper gives Rhett eight in Canada over his career, and we're sure there are more to come.
Related: Life Changes, Thomas Rhett Album Review
Thomas Rhett's tour schedule is busy for the next few months with dates covering the September and October calendar. And while we're sure that Rhett and the band will have all kinds of fun entertaining fans each and every night that they hit the stage, we're also pretty certain that Boots & Hearts will last as a highlight of 2018.
For nearly an hour and a half, more than 40,000 country music fans showed love to Rhett for his music and performance. They sang and cheered. They waved their hands in the air. They sang happy birthday to his little girl. They (just as much as him) proved that he's a legitimate country music festival headliner.
And he's still just getting started!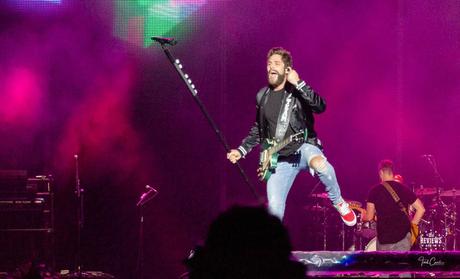 Thomas Rhett Setlist, Boots & Hearts 2018
❤️ Leave Right Now
❤️ T-Shirt
❤️ Renegade
❤️ You Make Me Wanna
❤️ Grave
❤️ Craving You
❤️ Star Of The Show
❤️ Friends In Low Places
❤️ Life Changes
❤️ It Goes Like This
❤️ Round Here
❤️ Sixteen
❤️ Marry Me
❤️ Unforgettable
❤️ Vacation
❤️ Die A Happy Man
ENCORE
❤️ Crash And Burn
Photos of Thomas Rhett at Boots & Hearts 2018