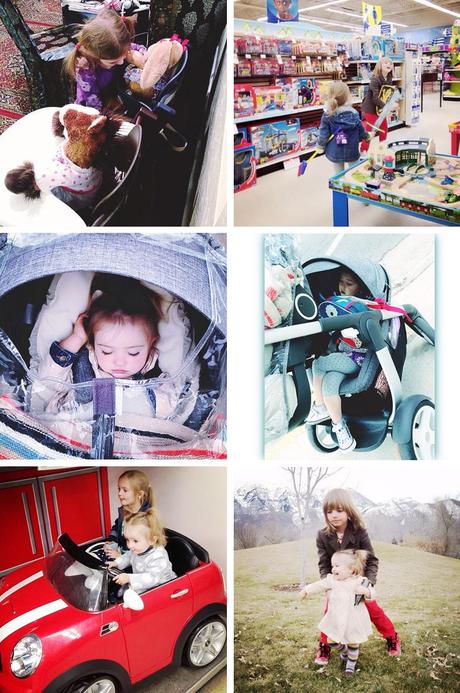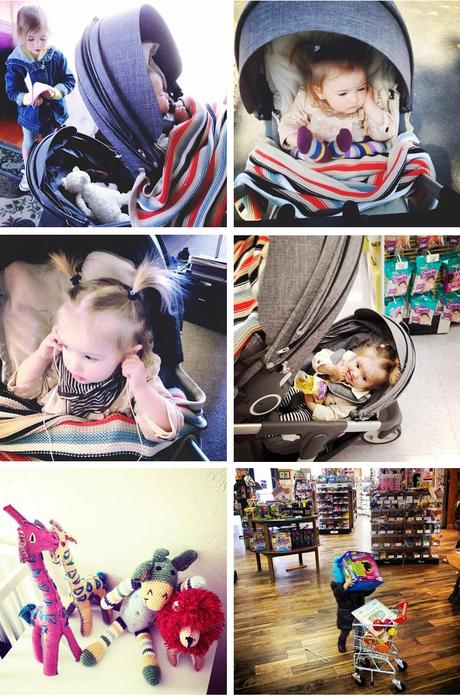 It's FRIDAY! This week has been so full of work, events, etc, it seem to have lasted forever. Yay to the weekend, and (hopefully) nice weather, right? According to the instagram, we have been strolling a lot ( which is true). More of the insta's include: 
* feeding friends after dinner ( what dinner is there without a tea party, right?) * practicing the sword skills and winning a battle from a BOY who is 5 years older ( she won't get lost in life, that's for sure) * strolling and snoozing in the rain. i only wished it could be me there snoozing. * testing every car there was at a toy store...*... and then making sure that the running skills are still intact ( they ARE) *strapping in the friends ( note: it's a cat and a mouse, and they are FRIENDS!) to take for a walk, because she didn't want to sit that day* apparently, no shoes and feet up promote deeper thinking ( i may try that one myself) * i cannot listen to my music anymore. Tchaikovsky is her choice of listen.* ...and when she get's bored on the top, the bottom seat entertains her more. the truth is we were practicing for the upcoming baby. the other part of the truth - i now have to fight to put her on top. apparently, she obviously favors the bottom seat.* some friends love i stumbled upon in the nursery. arranged by the occupant of the nursery herself. * just Vasilisa shopping. she has some seriously great day job, right?
ps: for many of you that inquired, the stroller is the newest Stokke Crusi with in a sibling seat configuration. we honestly love it.
HAPPY FRIDAY!