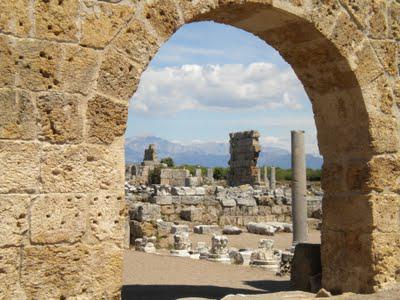 Perge
Before I moved to Turkey I hadn't given much thought to ancient Greek and Roman ruins.  I knew about Epheses and Troy of course, but I didn't realize just how many of these ancient sites were in Turkey.  In the area where I live, there are several ancient attractions within an hour's drive.
The most impressive of these is the amphitheater at Aspendos, built around 1,000 b.c. and still in use today for opera performances.   One of the best preserved ancient theaters in the world, it seats 7,000; almost twice as many as my home theater, the Metropolitan Opera.  I've seen a few ancient theaters, but this is the only one I've seen with the stage and back stage area intact.  I could actually walk through what must have been the dressing rooms. (They were smaller than those at the Met, as this theater pre-dates by centuries the age of the diva.)  We were lucky to have visited on a beautiful day in April which allowed me to take photos that look like postcards.  There were a few tour groups there, but nothing like what it will be like in the summer.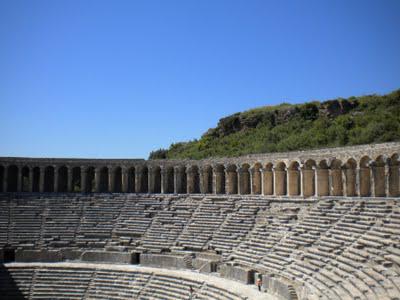 My post-card shot of Aspendos.
Not far from Aspendos is Perge.  Originally a Hellenistic settlement during the time of Alexander the Great, Perge became a Roman Imperial city, the outlines of which can be seen today.  There's the Agora, surrounding shops, and a boulevard lined with columns.  Of course, you do have to use your imagination to fill in these outlines.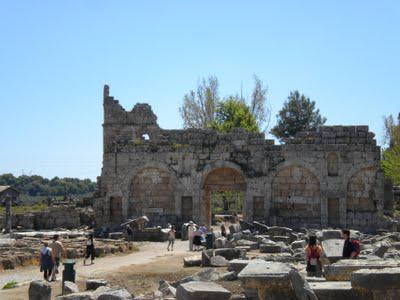 Perge
Another ancient site in this area is Side, also about an hour's drive from Antalya (by car), but a longer trip by bus.  I went for the day with my friend Gaby, who lived in Side for a year before moving to my neighborhood in Konyaalti.  Side is a popular tourist destination because it combines ancient ruins with a sandy beach.  The beach in Konyaalti is actually more beautiful, but it's made of rocks and is less comfortable for walking.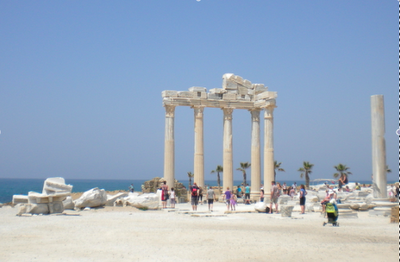 Side
One advantage of Side being more touristy than Konyaalit was the availability of actual coffee.  Several beachside bars had signs for Illy or Lavazza, whereas Baki Beach offers only the dreaded Nescafe.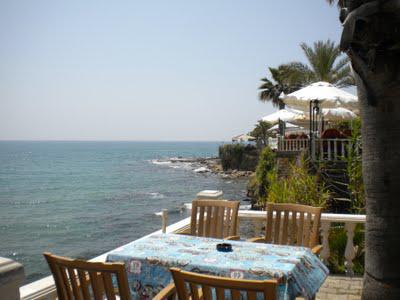 Side
We even found an Italian restaurant that served prosciutto and melon with actual prosciutto!  Prosciutto, being a pork product, is hard to find in Turkey.  I haven't seen it on any menu in Antalya.Side also has a picturesque harbor.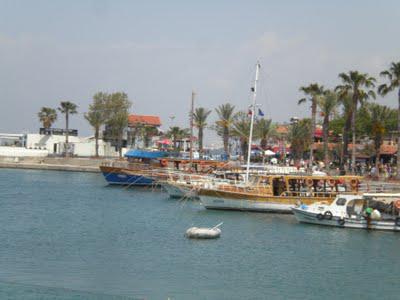 Actually, I don't have to travel further than my local bus stop to see Roman ruins.  There's the remains of a bath that I pass by almost every day.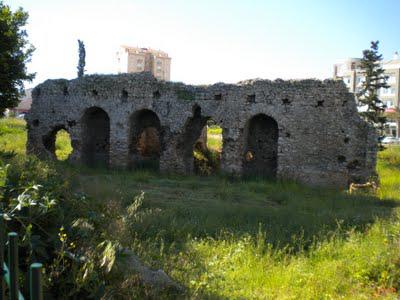 Roman baths in Gursu, Konyaalti, Antalya.

Besides, why travel at all when I live in the city Ataturk described as "undoubtedly the most beautiful place in the world"?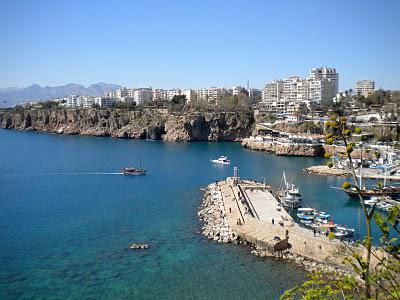 Antalya's harbor