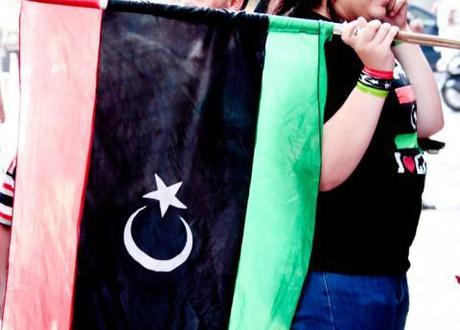 The red, black and green flag of the Libyan opposition movement. Photo credit: Maggie Osama
On 15th February, 2011, Fethi Tarbel, a human rights activist, was arrested in Libya. This was the catalyst for a riot in Benghazi, followed by anti-government protests, which escalated until civil war broke out. It took until 21st August before Colonel Muammar Gaddafi, who had ruled for more than 40 years,  was ousted with Nato backing and then killed on the 20th October in his own town of Sirte.
Libya is now planning celebrations across the country to mark the day. The chant of "Curly we are sorry" – an ironic reference to Gaddafi's head of hair – rings loud. About 15,000 people were killed in the conflict, according to the United Nations, but according to Libya's National Transitional Council, the number is double, said Al Jazeera. The country has now, according to The Daily Telegraph, published its election law, which will allow two fifths of the seats for political parties banned under Gaddafi's rule. The National Transitional Council is expected to stand aside after elections in June, but it has struggled to impose its authority on the many armed groups that have sprung up. A picture is emerging of a country ravaged, with no structures in place, and whose government is still staffed with old Gaddafi loyalists. Corruption and mayhem is rife.
So what's the situation one year on? The country is roamed by bands of "thuwwar", armed brigades of former rebel fighters who haven't handed their weapons over. The leader of the National Transitional Council, (itself riven by division), Mustafa Abdel Jalil, said that he would act against instability and that the spirit of the revolution would not be forgotten.  Al Jazeera reported that Saadi Gaddafi, one of the former leader's children, who lives in Niger, has claimed that he will start "a new uprising at any time." The news website also reports that the judiciary and court system is in chaos – nobody accused of crimes has been tried; the trial of 47 alleged Gaddafi fighters was halted because the milita holding them wouldn't let them go. Saif al-Islam, another of Gaddafi's sons, has yet to be tried.
"We opened our arms to all Libyans, whether they supported the revolution or not. But this tolerance does not mean we are incapable of dealing with the stability of our country," said Mustafa Abdel Jalil in a television address, quoted on Al Jazeera.
Back into chaos. Gabriel Gatehouse on the BBC said that there "will be fireworks" and "plenty of shooting in the air." There won't be any "military parades", as a "mark of respect for those who lost their lives during the revolution." But there is a problem – the "thuwwar" – they don't answer to anyone except their commanders. Human rights organisations, said Al Jazeera,  have accused them of torturing their prisoners, including abductions, whippings, and electrocutions. The interim government is having "limited success" in making these men into a national security force; there are often violent disputes between rival groups. There are many fears that without control, "Libya could slide back into oppression and instability."
Vested interests. Al Jazeera said that the challenges facing Libyans were "manifold." They have to rebuild the infrastructure and the institutions; they have to work out what's going on with the economy and shore up the health, educational and judicial systems. But that's not even the least pressing thing, which is the thuwwar, whose vested interests are a real problem.  Al Jazeera also said that the National Security Council was seen as "self-serving, weak and populated with Gaddafi loyalists." One of Hannibal Gaddafi's employees is even in the council.
Noone wants to take charge. Mark Urban, on the ground in Libya, wrote on the BBC that many people he spoke to were afraid of saying things publicy – "which itself prompts questions." There is disquiet amongst some foreign backers of the revolution, who see that unemployment is increasing, despite assets being unfrozen; oil production is also going back towards 2 million barrels a day. So the country has money. But because of the forthcoming elections, there's a feeling that "nobody wants to take big decisions." The dictatorship of Gaddafi has turned into a "collective leadership with a cult of obscurity." There's no public debate, and revenge attacks have gone unpunished. Libya ought to be on the right track – but it's still in turmoil.
There are positives.   Media and journalism, said Mohamed Eljarh on  Middle East Online, has rapidly expanded. But the pluralist culture that is now burgeoning is alien to many who've only known Gaddafi. But they want, passionately, a true democracy – and that's what we should all be hoping for, post elections, when the second anniversary comes around.