4 days ago, on December 16, 2015, Florida Atlantic University (FAU) sent "a letter of termination" to James Tracy, tenured Associate Professor of Communication and Multimedia Studies, because of his research into Sandy Hook and purported "harassment" of Lenny and Veronique Pozner.
The Pozners are the parents of Noah, who has the distinction of being killed twice — the first time at Sandy Hook Elementary School on Dec. 14, 2012; the second time at the Army School shooting in Peshawar, Pakistan, on Dec. 16, 2014. (See also "The curious parents of Sandy Hook child victim Noah Pozner")
Tracy is given 10 calendar days to respond.
Below is Professor James Fetzer's letter to the (Florida) Sun-Sentinel in defense of Tracy. (Fetzer, Tracy, Dr. Eowyn, as well as other professionals are the contributors to Nobody Died at Sandy Hook, which, after nearly a month of robust sales and rave reviews on Amazon.com, was suppressed and banned. The book is now available to the public FOR FREE. To download the book, click here.)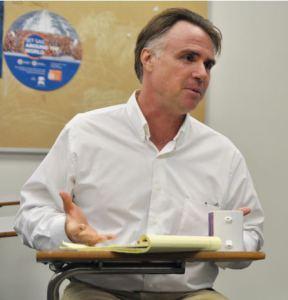 James Tracy (photo by Michelle Friswell)
An Open Letter to the South Florida Sun Sentinel
By Jim Fetzer • December 20, 2015
NOTE: When the Pozners took donations from the public, they lost their right to privacy, because it is in the public interest to avoid being taken for a ride by con men, shysters and frauds. 
James Tracy was probing the legitimacy of their claim to have lost a son, which was a very good question because: 
(1) Lenny had given a fabricated death certificate to Kelley Watt (which you can find in the book in Ch. 11; and,
(2) Noah was reported to have died for the second time in Pakistan (on or about 16 December 2014, two years after 14 December 2012).
We have proven that the school was actually closed by 2008 in NOBODY DIED AT SANDY HOOK (2015), which was BANNED BY AMAZON.COM because it blew apart the Obama "gun control" motive derived from faking the shooting.
Sun Sentinel Editors and Staff,
Does no one at the Sun Sentinel care about truth? Faculty never speak for their institutions; that is the role of the administration. Since Tracy is faculty, not administration, he cannot possibly be speaking for FAU. They know that.
Noah Pozner is an unusual young man, who reportedly has died twice: once at Sandy Hook (on 14 December 2012) and again in Pakistan (on 16 December 2014). You might want to ask Lenny Pozner how that could have happened.
We have no good reason to believe that Noah even died once. Lenny gave a death certificate to Kelley Watt, which turned out to be a fabrication. I included it in NOBODY DIED AT SANDY HOOK (2015), which is my 31st book.
Like the other families of Sandy Hook, the Pozners have pocketed over $1,000,000 due to donations from the public which has been taken in by the official account. If the hoax were to become public, they might have to give it back.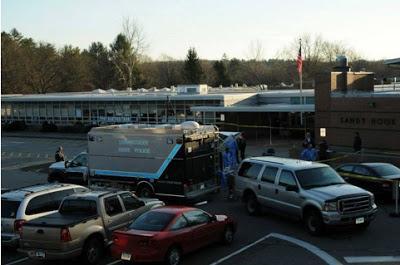 The book has 13 contributors, including 6 Ph.D. (current or retired) college professors and other experts on the case. I am copying some of them here. It has been released to the public for free after having been banned by amazon.com.
We have a mountain of proof that the school was closed by 2008, which means there were no students there and thus none for Adam Lanza (who appears to be a creature of fiction) to have shot and none to evacuate.
It was a two-day drill, with the rehearsal on the 13th, going LIVE on the 14th. Some participants did not understand and put up donation sites on the 13th. Even Adam Lanza was originally reported to have died the day before.
We even have the FEMA manual, which I included in the book as Appendix A. We have presented the thorough and detailed results of our investigation, which anyone can now download from rense.com, for example, and read for free.
We have 50 photos of furnishing the Lanza home to serve as a prop and 50 more of them refurbishing the school to serve as the stage. One shows the SWAT team in place. The windows to Classroom 10 (seen over the vehicle) are undamaged.
That means this photo was taken before the shooting. Crime scene tape is up for a crime that has yet to be committed. And Wayne Carver, Medical Examiner, is awaiting the arrival of his portable mortuary tent. It was an elaborately staged event.
Here are the windows of Classroom 10 before and after "the shooting" as well as photos of the perps drilling the holes in the window frame and the pink rods showing the presumptive trajectories, which would never occur with a real event: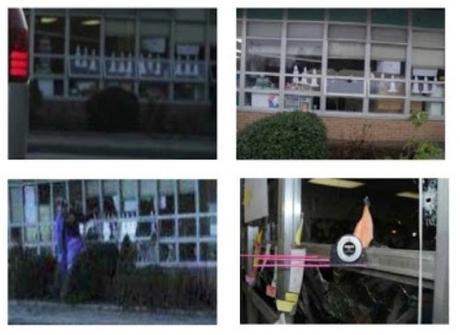 Here is a photo of the Nancy Lanza bedroom suite. Adam is supposed to have shot her four times in the head, but that is not real blood. And in their haste to finish arranging the room, they left a blue moving pad under the leg of the bed: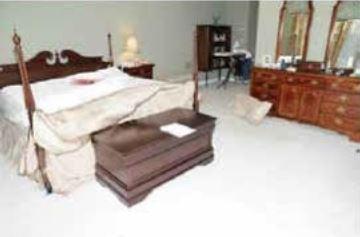 I am a former Marine Corps officer who spent 35 years offering course in logic critical thinking and scientific reasoning. Tracy is the only one on the FAU campus who has taken the time to study the case.  No one else has done it.
He may be the most outstanding member of the faculty but is being railroaded by those who believe everything they hear from the mass media. I would like to think that you might be an exception. This is a gross miscarriage of justice.
Jim
James H. Fetzer, Ph.D.
McKnight Professor Emeritus
University of Minnesota Duluth