This week we reviewed the letter A!
                                      
Aiden worked on his Aa Activity Book this week. He helped an ant find a picnic basket, put apples on the apple tree, and drew an acrobat on the rings among other things.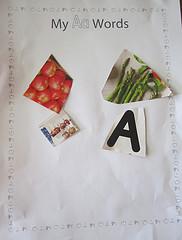 We used the My A Words page in the activity book to make an A collage using pictures we cut out of  magazines. We didn't find very many!
                                   
We also chose some fun Aa a activities to complete throughout the week and wrote them on our Aa Activity Chart. I specifically chose activities that would be of learning value and interest to Elle as well so we could all have fun together. As we finished each one Aiden glued an alligator on it. He really liked that part. I suppose he will be a 'list' person one day...
                                  
There was quite a bit of rain here this week, so we used that time to do some pretend play. We became architects and designed a town.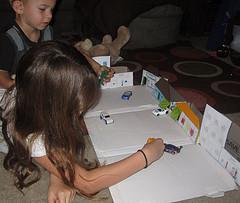 After we colored our town I cut out cereal boxes to fit each template and then the children helped me glue them on. We just used cardboard we had laying around in the recycling for our road.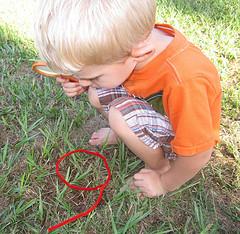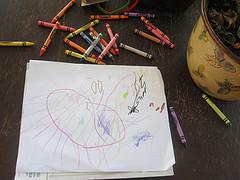 We lassoed an ant in our backyard. We made a lasso out of pipe cleaners and then 'lassoed' a small area of our backyard. We got out our maginifying glass and oohed and aahed over all the living things we found in such a small area. When we were finished Aiden drew a picture of his lasso and all the things he found in it and around it. He explained each one to me as he drew it.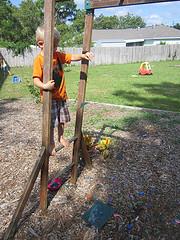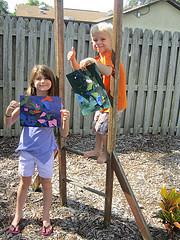 Later, we studied the work of Hans Arp. He is an artist form the Dada period and made 'Collages of Chance' among other things. He dropped scraps of paper onto a larger sheet of paper and then glued then where they landed. After looking at his work and finding his home of Switzerland on the map we headed out to the swing set to make our own. We also listened to the music of  the Spanish composer Isaac Albeniz. Asturias was their favorite, so we listened to it played on various instruments on youtube. Aiden and I discussed how various songs made him feel.



I decided it would be fun to make an origami animal for each letter of the alphabet. I was wrong! After many tears (my own) I finished the head of the alligator above. Luckily, we were having lunch with my parents later in the day and my dad was happy to finish the alligator for Aiden. The children did get an excellent lesson in how NOT to behave when you feel frustrated:)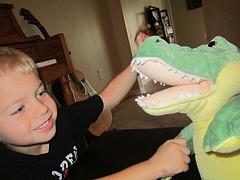 Aiden had an arm-wrestling competition with his stuffed animals.This was lots of fun! Elle made a scoreboard so we could keep track of who won each match. It was a close match, but Aiden won.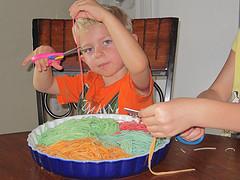 We dyed angel hair pasta and then cut it with scissors. OK...I was kind of reaching for an A activity with this one, but we were having company and I really needed to clean the house! This was a lot of fun and kept Aiden engaged for quite some time. Even Elle joined in and pretended she was a hairstylist.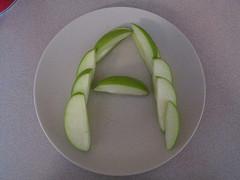 We read Johnny Appleseed while we ate apples (I had planned to make apple butter, but we had an unfortunate cinnamon accident involving an over-eager 3 year old and the kitchen floor). Luckily I wrote all the activities on our A Action Activity Sheet in pencil.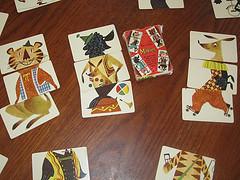 The children both love these animal mixies. I have a few vintage sets I picked up on Ebay for cheap.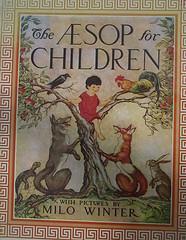 We read several of Aesop's fables this week. I picked this collection up from the library. The stories were the perfect length for Aiden and the author used excellent vocabulary.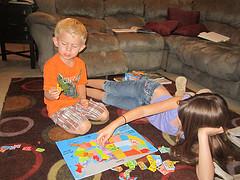 Elle and Aiden worked together to complete a puzzle of America. I like this one a lot because it is magnetic and has all the shape outlines which is perfect for Aiden. He is trying to figure out what state he has in the picture above.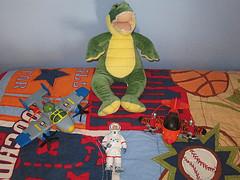 We finished up with an A Scavenger Hunt. I am taking pictures of Aiden's toys that begin with each letter so I can make a personal ABC book for him on Shutterfly for Christmas. I am also taking a picture of each toy individually so I can make an Alphabet I-Spy poster for his room. I think using his own items will help him form and maintain letter-sound connections better.
That's it for A! I hope everyone had a great week!