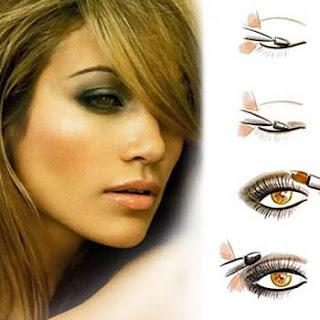 The spring eye makeup calls for energy and excitement. The spring brings along the subtle colours for the eyes the craze of colours in clothes and the craze of dramatic eye liner will redefine the spring eye makeup trends for 2012. With the bright colours and the festivity there is a necessity that all the ladies update themselves with the colours of eye makeup being used for the spring 2012 trends?
The subtle pinks and the shades of gold will go the magic with a combination of the flick of the liner at the outer fringe of the eye. Yes the nude peach and the dramatic use of mascara will also define the eyes for the summer make up 2012. Make the use of the talents so that you can apply the liner on your eyes in a way that would exaggerate the shape of your eye and doesnt give them a glance that is overdone. The focus this summer is on the outer fringe of the eye.
Yes the liner that goes all the way up and gives the eyes a festive yet a subtle classic look ideal for the spring and summer of the year 2012. It will be a lovely suggestion to experiment with the coloured liner on the lower lid and the outer corner of the eye. Make definite the bright colours and this different look suits you and you do not over do anything with the colours.
Make the art of applying liner a fun activity and keep experimenting this summer 2012. Eye makeup trend in the coursework of the spring is all about making the eyes express the excitement of the summers. As the sun shines let the eyes shine with ivory, peach and gold. These colours will give the whole face a fresh and lively look.
Spring eye make is all about the light and nude look with dramatic eye corners to make the shape of the eyes prominent.