let's talk about pants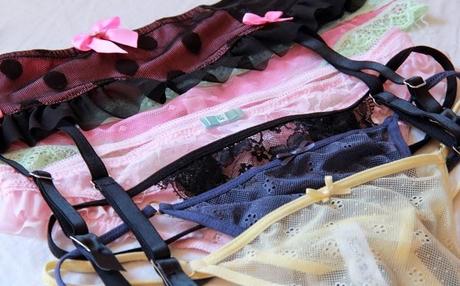 Most of my life I've been a confirmed lazy cow when it comes to lingerie. It's always been one of those things that I love to look at, but never really get around to spending my money on. Given a spare 20 quid, for most of my life I would have spent it on magazines, make-up, a new top or a big plastic bag full of junk food. This is largely due to the fact that for most of my teens, I was seriously unhappy with my body. I didn't want to think about how I looked in lingerie, let alone try some on in a shop; a shop with evil mirrors and thin, petite sales assistants (I live in Wales, all our sales assistants are petite and tanned and so friendly it makes me want to cry). I was a girl-boxer-shorts-from-Tammy nightmare until I was about 19, and then finally lost all my puppy fat, and my crippling body shame with it. I'm by no means a stick-thin girl (I'm usually an 8 or a 10, and in no way tiny at 5'10) but the main difference is that I simply don't give a shit any more. My boyfriend has rid me of any lingering shame I had left, and now I spend the majority of my time indoors naked. Not naked and sucking my stomach in. Not naked and in complete darkness. Naked naked. Eating pizza hunched over my laptop with sauce on my boob naked.
But anyway, this post isn't about nakedness, it's about pants. Naturally as my attitude to nudity has changed, as has my attitude to underwear. I wear less and less the older I get. Nowadays I wear the kind of pants that to my Nan, resemble something you would truss a ham in. You may have seen on my Twitter that I recently discovered, much to my amazement, that g-strings ARE actually comfortable, and now I don't really wear anything else. VPL is a thing of the past (or should I say, thong of the past, haha haha ha) and recently some very pretty garters and corsets and stockings have filled my drawers. I still own a few dodgy pairs of 'period pants' (and the Most Awful Phrase Award goes to….!) but there's also some very lovely stuff from Westward Bound, Boux Avenue, Ann Summers and Topshop that I make a habit of wearing every day, rather than 'saving it' (for what?! FOR WHAT?!). Primark has been my favorite hunting ground lately, especially for 3-packs of pastel stripper-thongs and g-strings. I feel the most confident in a high-rise design with very little detailing. For me that is the magic formula, but everyone is different, and in order to discover your magic formula, you have to try things on. Nobody likes a muffin top, so I always suggest trying knickers out for size (over your own, obviously) before you buy. It just saves money and self-loathing.
The only thing left to talk about, really, is hair. Yes, I'm going to go there. I wouldn't be me if I didn't go there, would I? Some people don't like wearing tiny pants when they have a big bush sticking out the sides, and I get that, I do. But life is short. So don't match your briefs to your bikini line if you don't want to. Being shaved is nice if you like feeling smooth. Otherwise, let it all hang out. No shave, no shame.
And if anyone says they can see your bra, tell them you're glad, because it's cute as hell and cost you 40 quid.