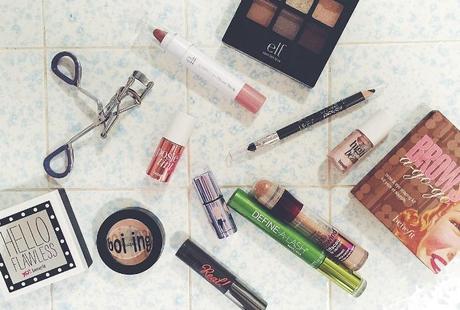 First things first: I am the furthest thing from a beauty blogger. You already know this.
A weird thing happens when you get to be in your late-twenties. You suddenly have a makeup and skincare identity crisis on the regular. What chemicals are in this? How do I treat these little wrinkles? What the heck is BB cream? Brushes vs. sponges? Should I wear sunscreen on my face every single day? Can I pull off red lipstick? Should I buy cheap or expensive mascara? OMG WHY DO I STILL HAVE ACNE?!
…..or maybe that's just me?
A recent vox chat with my friend April led to many voicemail minutes discussing these very important topics. Together, we reached the same conclusion.
WE KNOW NOTHING.
Having said that, I'm a big fan of trial and error when it comes to painting your face. I like to do things like Birchbox from time to time and buy Sephora sample kits to figure out what works best before I invest in full size products. I always ask for makeup for Christmas because I hate spending money on something as vain (yet necessary) as makeup.
Over the years I've found a few tried and true favorites, but I'm still on the hunt for the perfect red lipstick and I still need to know if using a makeup primer is necessary. Suggestions welcome.
Here are the current beauty products I can't live without:
1. Dr. Jart BB Cream – I got this in my Birchbox way back when (circa 2012?) and have been using it religiously ever since. I apply it right over my moisturizer (or a primer) and use it as my main foundation. It glides on smoothly, provides great coverage, and has SPF 25.
2. The Beauty Blender Sponge – You guys. This is singlehandedly the best makeup tool I discovered in 2014. I got it for Christmas and haven't looked back since. GAME CHANGER.
3. Maybelline Instant Age Rewind Eraser Dark Circles Treatment Concealer – I mean, the name itself warrants giving it a try, no? This is my go-to under eye concealer, and it only costs $7. Can't beat that. I use the applicator to dab a few spots under my eyes, and then blend with the beauty sponge. Done and done. For blemishes and touch-ups, I love the Boi-ing concealer by Benefit.
4. Feelin' Dandy Lip & Cheek Kit – I got this for Christmas and I could not love it more. I apply the posie tint on the apples of my cheeks with my fingertips, and dab a little bit of high beam on my cheekbones.
5. Maybelline Define-A-Lash Mascara – This is my go-to, everyday mascara. I've probably tried more than a dozen drugstore mascaras over the years, but I always come back to this one. I like my eyelashes to look long and defined, not necessarily super full and thick. If I'm going out on a date or want to look extra glam, I use Benefit's They're Real Mascara on top of this one.
6. E.L.F Eyeshadow – I only wear eyeshadow a couple times a week (if that), and honestly, I cannot tell the difference between the $2 and $22 kind. So I usually stick to the $2 kind. The e.l.f. brand always has a ton of neutral palettes for under $5 and they work fine for me. I also really like their jumbo lip crayons for a tiny bit of color.
7. Hello Flawless – For powder, I rotate between the Benefit Hello Flawless (when I need more coverage), and Sonia Kashuk Pressed Powder (when I need less coverage). Both of these last a long time.
8. Brows-a-go-go – I'm pretty sure Benefit replaced this with Brow Zings but this stuff lasts forever so I'm still working off my original brow set. Let's file this under: Makeup I Discovered Too Late In Life. Seriously though, well done eyebrows might be the secret to a well done face.
Alright, I showed you mine. Now show me yours. What beauty faves can you not live without?