The summer holidays of my childhood seemed to last forever and it was always warm and sunny. Day after day playing on Blackpool sands wearing cool, cotton dresses or shorts and blouses, always with Woolworth's plastic sandals that rubbed blisters on my bare feet. This was long before the comfortable 'jelly shoes' my children wore.
As a family, we didn't go away on holiday very much. When we moved to live in Blackpool, everything was here literally on our doorstep. My father had taken a pub on South Promenade. My sister and I would be taken across four lanes of traffic and the tramlines, usually by Auntie Kathy who looked after us. It was the mid-1960s and Blackpool was packed with holiday makers. We would have to search for a space on the beach, away from the donkeys. I'm happy to have such fond memories to look back on.
These days, my holiday expectations are very different.
I'm not the only person of a certain age dreaming of taking off in a decent sized motor home for as long as a chosen trip takes. The first part of my journey would be to Wales, to revisit the glorious Pembrokeshire coast where my husband and I spent many wonderful holidays with our children. Family members owned a static caravan on an exclusive cliff-top site and we were privileged to be offered to stay there every summer. We explored every sea-side, paddled in the clear, clean water, stuck paper flags in sand pies and had picnics and ice-creams in our beach tent. We trekked parts of the Pembrokeshire Coastal Path, visited castles and places of interest, but most of all, we relaxed in fresh air, slept well and came home refreshed and ready to start the new school year, complete with freckles and sun-kissed hair. Our children are parents themselves now and would love to make the same memories with their offspring. I hope they do.
The second part of my journey would be to sail from Fishguard to Rosslare and travel the coast to County Cork, kiss the Blarney Stone and visit Cork City. I would take time to see as much of Ireland as possible, the beauty of the west, and the waves of the Atlantic Ocean crashing against the Cliffs of Moher. I'd taste the briny air on the coast and march my wellington boots through lush, green fields inland. I'd travel to the north-west then come back to Galway and drive across the country to the bustling, lively Temple Bar area in Dublin where I would hope to hear the singing of Irish songs filling the streets from the busy pubs and have dinner at Gallagher's Boxty House. From Dublin, I would travel into Northern Ireland. No tour would be complete without a trip to see Giant's Causeway. I would visit Belfast and leave flowers at George Best's resting place.
The third part of my journey would be to take the ferry from Belfast to Stranraer then a drive up the Ayrshire coast to see Ailsa Craig, the granite isle, majestic in the sunshine. From here, I would travel east into my favoured Dumfries & Galloway to enjoy some quiet time and watch the red kites flying over the forest as the sun sinks into the Solway Firth. I'd stay a long time here before heading home.
This is a fantasy holiday, but it is do-able, sometime in the future when I have retired, (well, that should have already happened but someone moved the goal posts), or if I win the lottery or other such wind-fall.And I haven't got a motor home yet, either.
We've recently returned home after a restful holiday in Dumfries & Galloway, where our much visited chosen location is quite hidden away, miles from anywhere with no wifi and a phone signal a ten minute walk up the lane. We'll be there again in a few weeks, I can't wait.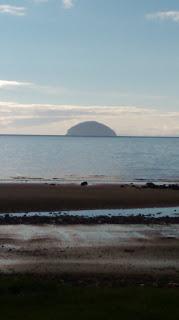 I was a young teenager in 1968. Twiggy was my idol. I wanted high heels in bright colours, crocheted mini dresses and some lipstick. I wanted to wear a cow-bell round my neck like the young people on the promenade. I still wanted to play out on the beach. My poem, written a few years ago, captures that summer. By the way, I wasn't allowed a cow-bell.   Thanks for reading, Pam.    
   This Was My Blackpool In '68.
Taking a tram from North Pier to Starr Gate.
A summer of fun and staying up late.
This was my Blackpool in '68.
Anne, Auntie Kath and me, all holding hands
Crossing the Prom to get on to the sands
Where the grumpy deck-chair man always stands.
This was my Blackpool in '68.
We were young ladies with panache and style,
Playing the penny arcades for a while,
Frittering our spends on the Golden Mile.
This was my Blackpool in '68.
Spinning the Waltzers three times in a row.
Make it go faster, we don't like it slow,
And then the man said, "That's it, off you go!"
This was my Blackpool in '68.
Out to a summer show, straight after tea.
Engelbert tonight at the ABC,
A back-stage delight for my mom and me.
This was my Blackpool in '68.
Got to get ready, there's no time to lose!
My trendiest outfit is what I will choose…
A pink mini dress with bright orange shoes.
This was my Blackpool in '68.
A time of peace, love and Flower Power,
Charlie Cairoli and Blackpool Tower,
Seaside and sunshine for hour after hour.
This was my Blackpool in '68.
Pamela Winning,2013
Email This
BlogThis!
Share to Twitter
Share to Facebook
Reactions: