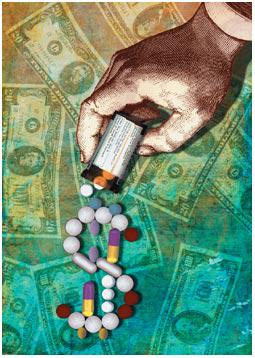 Good day PSW Members!  It has been a while since the last post, but biotech plays have been active in chat, as well as in Stock World Weekly with new trades, and updating existing ones.  I must say that the biotechs and pharma are doing well in my portfolio!  This article is mainly for the many new members that have joined the PSW chat over the past few months, as many of us oldie' but goodies are in the stock plays below in some form or another.
It remains my belief that the next few years are going to be big years for biotechs.  Pharma has expiring patents, and the big players continue to scour the landscape for up and coming companies and therapies.  One we played was MITI, and that was a nice winner for a longer term hold.  At PSW, buying and selling biotechs as day trades is not the style, as we invest in companies for longer term holds, or play them into major events, then reduce our risks/exposers using options and hedging strategies.
At the end of January, Infinity Pharma (INFI) dropped like a rock and we jumped an a conservative buy write that was a bit too conservative (bought the stock and sold the April $8/7 strangle).  INFI's stock is now above where it was when it dropped, amazing but this is how we like to enter biotechs, as if we bought at $10, well, it may not have recovered…..but that is water under the bridge now.  The company has 3 development candidates described below:
Saridegib (also known as IPI-926) is a novel, potent, oral molecule that inhibits Smoothened, a key component of the Hedgehog pathway.  The chemical is semi-synthetic derivative of the alkaloid cyclopamine.  The hedgehog pathway was noted in the Curis article here. 
Retaspimycin hydrochloride (also known as IPI-504) is an intravenously administered, potent and selective heat shock protein 90 (Hsp90) inhibitor.  HSP90 is a chaperone to other proteins – in other words, they help in the folding or unfolding of proteins as they are being made or broken down.  Think of them as the arm in a car assembly line that aid in the production or destruction of the automobile.  In cancer, HSP90 helps stabilize proteins that are upregulated in cancer.  
…