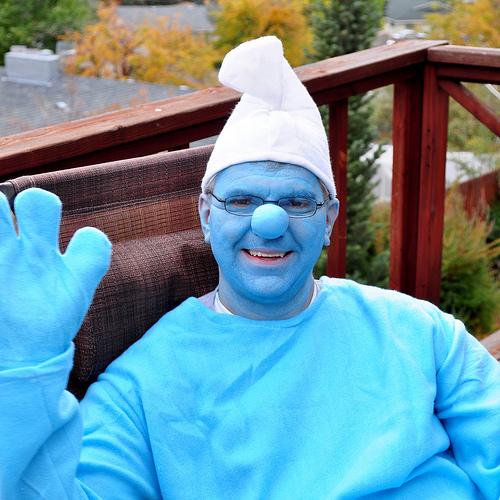 Carissa Rogers (GoodNCrazy) / Flickr Creative Commons
La la lalalala, La lala la la, La la lalalala, La lala la laaaaa!
Do you have visions of tiny blue people skipping through the forest as you read that?
There are few of us who didn't grow up with the Smurfs. Whether you were there for their print introduction in 1958 or are from the Smurf chewable vitamin tablet generation.
We have Belgian comics artist Peyo to thank for our miniscule, aqua-colored, white hat-wearing friends. Originally named Les Schtroumpfs (yup, that's French), they quickly gained popularity until it eventually exploded into a Gargamel-sized franchise.
The word Smurf actually comes from the Dutch translation of Les Schtroumpfs. We have our Smurfs, the Dutch have their Smurfen.
For the die-hard Smurf fans among us, there's Global Smurf Day.
This year, that was yesterday, June 22. Just three days prior to Peyo's birthday.
Twenty-eight countries participated, and you can bet your boots that Amsterdam was part of the celebration - despite the icky weather.
Vondelpark's Groot Melkhuis was covered in blue, with blue-faced children running about doing crafts, participating in relays, and playing games. The only prerequisite was that everything must be Smurf colored.
Blue balloons, streamers, table clothes, and tarp were the order of the day, with banners celebrating the release of Smurfs 2 the movie, due to open in the Netherlands on July 31.
The Smurfs themselves even made an appearance. With Papa Smurf and Smurfette numbered among them, of course.
The Dutch have a very special connection as it was the Dutch musician known as Father Abraham who wrote the "other" Smurf song, which went on to become a number one hit in several countries.
If you didn't make it out for the party (even Neil Patrick Harris partook in the Smurf Day festivities)... then shame on you!!
Just kidding! If you missed it this year, check out the video highlights from the fiesta in Vondelpark below. And if you're curious as to what the Father Abraham version sounds like, there's a video of that down there too.
Oh, and I wasn't kidding about the NPH thing... he really did get his Smurf on for Global Smurf Day