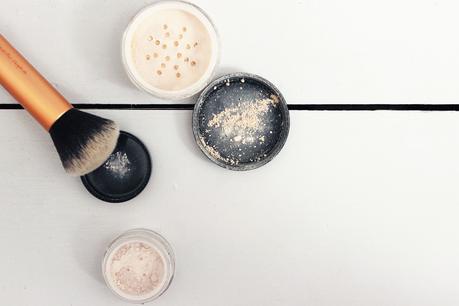 I think my first ever foundation was mineral, but after that, I've never really gone back to it. The thing is, me and minerals ... on paper we're not made for each other. My weird combination skin, both oily and dry aren't normally a great match for powder formulas. In theory, it should be liquid all the way for me, except, with a little bit of effort and a good skincare routine, I've found it can actually work quite well. 
The one that I'm wearing at the moment (on those days where I actually bother to apply foundation) is the Mineralissima Foundation in Neutral Light and Concealer in Almond. It's been on my lust-list for many years and I finally got round to getting some. 
Mineralissima are an indie mineral makeup company from Holland who operate online selling all sorts of mineral makeup. I first heard of them on other beauty blogs and after checking the sight myself knew that it was something I had to try out. The extensive range of products was a little overwhelming at first, but they have a great system which allows you to find the shade that you are, and also the ability to buy tester pots to check before investing. There's something to suit everyone, which is really impressive considering the real lack of that in most makeup brands. 
The formulations themselves are amazing too. Light coverage, they give a naturally flawless with a beautiful glow - you can hardly tell you're wearing makeup at all, and the concealer is a perfect brightening color for under the eyes or great for setting too. The Kabuki brush they come with is excellent, and the product hardly even needs buffing into the skin. The powder is finely milled, velvet-textured and easy to apply. Even for a loose powder item, I don't find it too much hassle, which is great for rushed mornings.
For those worried about dryness, you can finish off your application with a spritz of hydrating toner to stop anything looking at all powdery but otherwise you're good to go. A long lasting, light and natural base that your skin will thank you for - I've truly been covered to powders. Will you be trying this or any other mineral makeup?