When you are walking around Georgetown (the capital of the state of Penang in Malaysia), you may have to stop and to make sure you are still in Malaysia. The people, the cars, the motorcycles/scooters may be Malaysian but, the buildings look like they belong in the London of the past. The city screams colonial and yet it sits in the middle of Asia. It's these contrasts that make Penang a UNESCO Heritage site and jewel to behold.
Much like our time in KL (Kuala Lumpur), we spent our time on our feet in Georgetown. The city is very easy to walk around and walking is the only way to guarantee you don't miss the interesting sights that lay around almost every corner. To write about every interesting thing we saw would take more words than should be contained within a post. I'll write about our highlights and you can view the pictures to discover your own.
One of our first highlights was a cemetery. Yes, you read that correctly, a cemetery. I don't make it a habit to travel to a different part of the world to stand among graves and headstones, but sometimes you can gain a lot of historical knowledge by doing so. This particular cemetery had the graves of early missionaries, who had come to the island to plant churches, open schools and hospitals over a hundred and fifty years ago. The graveyard also had graves of some Chinese believers who had fled China during he Boxer Rebellion, only to pass away on the island from illnesses. One grave also had a connection with the school teacher from the real life movie adaptation of The King & I. Her husband was buried here. The cemetery is in desperate need of care taking and we were unable to locate his grave.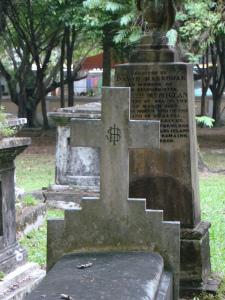 IHS, representing the first three letters for Jesus in Greek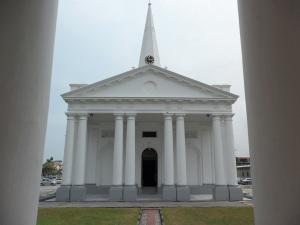 St. George's Church
A short distance from the cemetery is St. George's Church. This church was built in 1818 and is the oldest Anglican church in  Southeast Asia. The church is almost completely white both inside and out,  and the floors are marble. It is a beautiful church.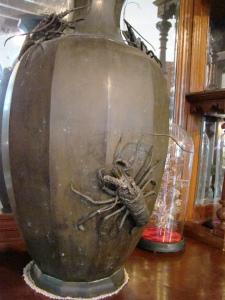 A strange vase
Another interesting stop on our walk around Georgetown was Pinang Peranakan Mansion. This old mansion was once owned by some wealthy Baba-Nonyas (Malay-Chinese). Their unique and expensive taste can be found in every room. The vase on the left is just one example of their somewhat strange taste. Each room was filled with similar objects and with expensive furniture. All of these things were accumulated by the trade that occurred along the straits of Penang.
Georgetown is a great place to walk around and explore. At times you feel like you are in China, and other times you feel like you are trapped in a colonial time bubble. These contrasts make Georgetown, Penang a definite must-visit.
Check out more photos here.