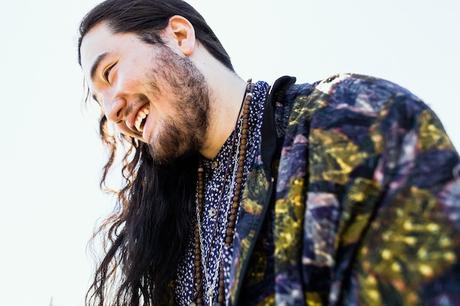 Music supervisor (and On The Mountain Season 3 alum) Matt FX is perhaps one of the coolest people around. When he's not soundtracking one of our personal favorite shows in the entire world, Broad City, he's DJ'ing killer parties around NYC — of course, he's also making his own effortlessly awesome music, which is set for release later this year. In between his many gigs, we asked Matt FX to help us soundtrack our week with a killer playlist. Check out the soundtrack to your personal Broad City episode below, and be sure to look out for his EP later this year.
Playlist
Sleater Kinney – "A New Wave"
Early in the season, I had a discussion with the girls about how we wanted the music to sound for season 3 and onwards, and one of the unanimous agreements was the idea of adding more 'guitar music', something you guys are more than familiar with! 
I literally couldn't have thought of a better place to start than with the legends that are Sleater Kinney. "A New Wave" actually starts off episode 6 of this season!
Host – "Two Lights"
I received this song over a year ago now ,and although I still haven't found a perfect sync for it (opening credits on a Noah Baumbach film, anyone?), I'm constantly blown away by the track's majestic beauty. The artist Host also calls this music 'desk metal', which I totally love the notion of :)
Hooded Fang – "Tunnel Vision"
Hooded Fang are the band to watch. Trust me. 
"Tunnel Vision" is only the beginning.
Ziemba – "El Paso"
Ziemba is amazing! We used a bit of her music in Season 2, and although I didn't find a spot in Season 3, I'm a huge fan of all that she continues to do. "El Paso" is an awesome track that gives me flecks of Pat Benatar 80s in the best way possible!
Weaves – "One More"
Weaves are 100% my favorite band from last year's CMJ festival — everyone needs to go check out their live show. "One More" is the first single from their debut album coming later this year. Check their shit out!!!!!
SWIMM – "Shoulda Coulda"
So funny story actually — I'm actually writing this list on an airplane while sitting next to an old friend who I bumped into waiting at the gate. She'd mentioned that she shared one of my public music searches with a private facebook group she's in and wondered if anyone had contacted me through it yet (to which I wasn't sure).
Anyway, fast forward a couple hours later, and I'm scanning my inbox trying to figure out just how I heard of SWIMM before seeing it was indeed my friend's post-sharing that lead someone from their team to contact me! The band's debut EP is super dope, and "Shoulda Coulda" was a song that immediately spoke to me with it's chill-ass, funk-leaning intro and it's big swirly chorus! 
BRAND'O – "SPIT FIRE"
BRAND'O is a new project from Daniel Brandt of Brandt Brauer Frick. Super brash rock 'n' roll with some really amazing sound design and a super unique vibe. Definitely some siiiiick sick montage music.
Pouty – "Moody"
Pouty is a new project by Rachel from the band SLUTEVER, another amazing women-fronted band that shows up in the Broad City Philadelphia episode. I love "Bloom" for all of it's 90s brilliance. Great lyrics and production, lovely harmonies as well! 
The So So Glos – "Dancing Industry"
The So So Glos are one of the first DIY bands I remember seeing back in high school that were made of people I didn't already know. In a lot of ways, they make up some of the godfathers of the current BK DIY scene, paving the way with their magic school bus tour van (RIP) as well as their home-cum-venue Shea Stadium (still kicking!). "Dancing Industry" is the lead single from their new album Kamikaze, and a fantastic representation of what makes The So So Glos tick.