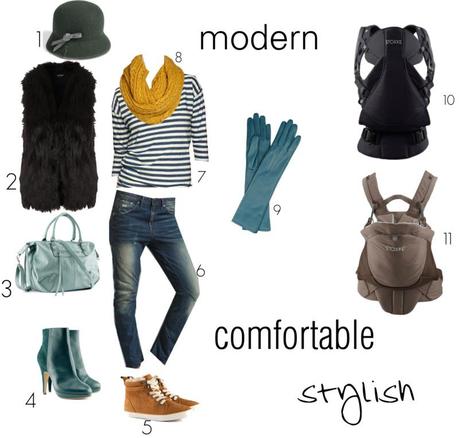 1/2/3/4/5/6/7/8/9/10/11 I've been living in the above mentioned modern/comfortable/stylish uniform ( baby carrier included! i think it's my styling take off point ). My gloves are not as fancy, and about 100 years old, but the color was the point, so there you have it. 
A few discoveries I've made lately : 
* i love my faux-leather h&m bag. I always thought leather will last you forever, and it does. However. Mommy-hood entitles a few different things that may not come to mind right away. One of them is the almost constant need for empty hands ( hello, cross-body bags!). I have discovered, unfortunately, that ALL my very fancy leather straps transferred color to my very loved tees and blouses. Faux leather? ZERO problems. 
* yoga toes does miracles! Remember, I've mentioned lack of ability to wear flats, because my too-high arches hurt like crazy after just a little bit? A little over a year of daily meticulous exercises and flats are my personal new black.  I still love and wear heels, but honestly, my excitement is more then a child's in the candy store.  Now , half the time my heels travel in the bag ( or stroller basket ) to the destination point, which, I discovered, requires only 1/2 the time on flat footing. 
* no carrier is like stokke mycarrier. first time, after a day of wearing it a "back spa carrier" term came to mind. now , after 1/2 year of wearing it, that term if firmly attached to it. i can go on forever, but you have to try it on. trust me , there isn't anything like it on the market. hallelujah! for someone who actually made it possible to wear your baby all day long. 
*vests have become my "uniform".  i used to dislike them - simply did not get the purpose. but since fall/winters are so mild here, i discovered a whole new side to this article of clothing and i LOVE it. 
*scarves can go LOOONG ways to keep you warm.
* i love structured hats. i hope this trend stays forever. 
*if it doesn't, i'll still wear them anyway.


WHAT ABOUT YOU?

 ANY RECENT DISCOVERIES?