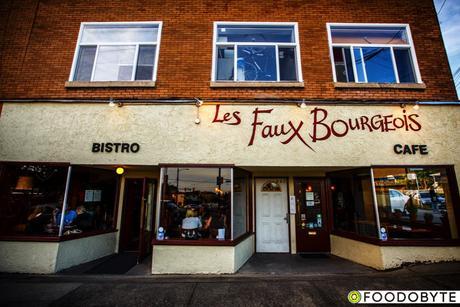 French cuisine pretty much pioneered and globalificationified the big-small-big rule: big plate, small food, big price. Sure, each morsel of food packs a suitcase of flavour… but if you're not actually full, does it even count as a meal? Thankfully, Les Faux Bourgeois doesn't follow this suit, offering both mouth-drooling and stomach-filling food at a wallet-happy price.
After completing French 11 (and using my spare block to sit in French 12 to chill with friends and doing presentations for lolz), I can confidently say that… I still needed Google to double-check my translation of Les Faux Bourgeois. It spat out Bourgeois False. Nice. I guess it's alluding to how the food looks like it's for the rich, but costs like it's for the normal.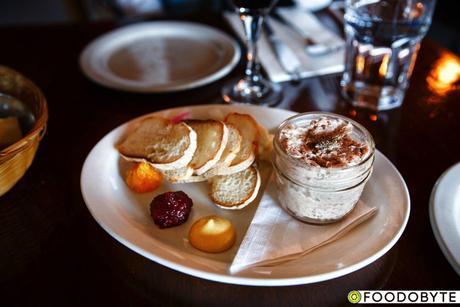 Starting with a simple appetizer, Grape and I shared the Pâté de Campagne ($8) – a country style pork pâté to spread on crostini, paired with some sauces (mustard, cranberry and marmalade). Initially, we struggled to pack as much pâté on each crostini as possible since there weren't that many… only to realize that there's refills on bread =.= Even though I typically like my meat to be only savoury in flavour, the sweet sauces really brightened up the pâté and made it more interesting.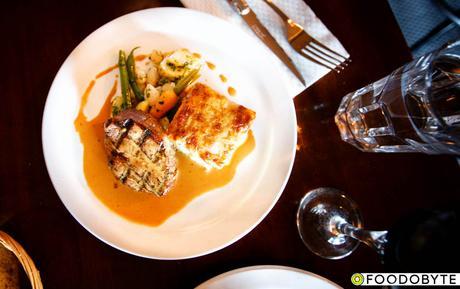 Grape ordered the Filet de Boeuf Grillé ($25) – beef tenderloin, potato gratin and glazed vegetables with a choice of red wine shallot jus, mustard butter or peppercorn sauce.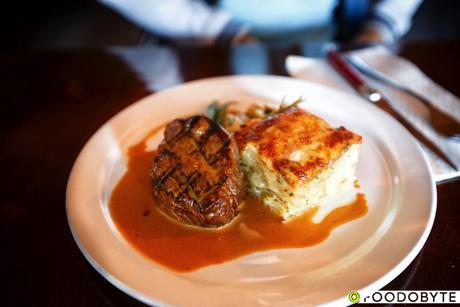 Can't really go wrong with tenderloin :)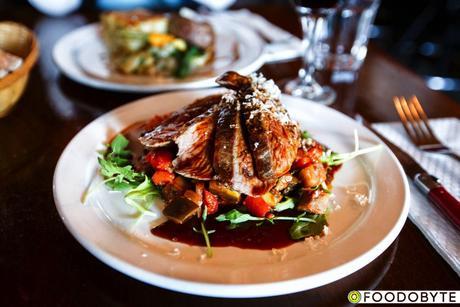 I initially wanted to order the tenderloin as well, just for the potato gratin. Instead, I chose the Lamb Sirloin ($25) – roasted lamb sirloin with ratatouille, fresh arugula and horseradish. Wow, the lamb was oh-so tender. Although, I was ever so slightly disappointed that the ratatouille didn't look like the one in Disney's animation, Ratatouille. While I appreciated all of the tasty veggies, I wished there was something carby on the plate like Grape's potato gratin.
Final Bytes
Reservations recommended
Check out the daily/seasonal features
Free parking nearby
Foodobyte's Rating


to eat / to recommend
---
663 E 15th Avenue, Vancouver
Open 5:30pm – Midnight (Mon – Sat), 5pm – 10pm (Sun)