Technology at its best !!
Always had a problem with the spelling of "receive" or always remains confused about what is the spelling of "Mississippi". Well what if I say there is a pen which vibrates when you make any spelling mistake. Sounds funny, Right ? But I am serious, Falk Wolsky and Daniel Kaesmacher, two German inventors have invented a pen WHICH VIBRATES WHEN YOU MAKE A SPELLING MISTAKE.
SCROLL DOWN FOR VIDEO AND WORKING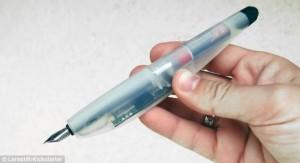 A pen which will change the way of writing !!
Lernstift, a German word for learning pen is a pen which has an in-built sensor that recognizes movements in writing and tracks the shape of the letters to recognize words and than vibrates if there is any mistake in it. It has two modes : Orthography Mode which is used to recognize the misspellings and Calligraphy Mode which is used to find out flaws in the handwriting and fonts. The idea came when Wolsky's wife was helping her child doing his homework.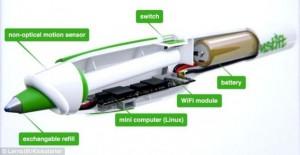 Inside view of "Lernstift"
HOW DOES IT WORKS ?
1.) The pen has an embedded Linux system and a board which contains a non-optical mouse sensor,processor, memory, vibration module and Wi-Fi.
2.) The motion sensor is used to recognize all movements in writing. It even works if pen is used to write in air.
3.) It can be easily connected to Smartphones and PC due to the inbuilt Wi-Fi in it.
4.)It does not need any special paper or any other devices to work as compared to other digital pens available in market.
5.)To check whether the word is right or not, it uses a built-in hand writing software.
Check out the working of Lernstift : The pen that vibrates when you make a mistake.
http://www.youtube.com/watch?v=kX-8dU7-QrQ
The future models will also be available to check grammatical errors. The software has 40 built in languages but it will be launched in English and German for testing purpose. The main advantage of this pen over other digital pen is that it has a replaceable ink refill and it does not require any special software or paper.
Planning to buy ?
Click here to buy from official site.