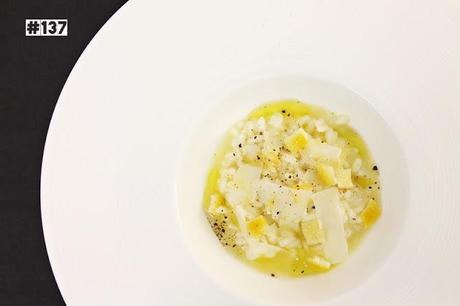 Risotto is always a good choice and I really like to serve it on it´s own, you don´t have to serve that much because most risottos are very rich. This one is slightly lighter thanks to the lemon.
Lemon risotto with pickled lemon rinds & black pepper
Italian arborio rice
dry white wine
Parmesan cheese
lemon
shallot onion
garlic
salt, black pepper
sugar
light chicken stock
olive oil
butter
Cut away the rind from the lemon, you´ll need all of the skin and let a little bit of the meat stay attached to the rind. Cut the rind in cubes, bring water to the boil and add the lemon rinds, let simmer for ten minutes. Then discard the water and repeat three times. This will remove most of the bitterness but will still keep a little bit of the lemon flavor. Also the remaining bitterness will give the dish great flavor and a little bit of contrast to the acidity of the lemon juice. Once the rind is cooked bring equal parts water and sugar to the boil and add the rinds together with a few drops of lemon juice. Let simmer for ten minutes and then leave to cool.
Dice garlic and shallots and add to a pan with some olive oil, salt and pepper. Let the onions cook on low heat for five minutes, then add rice and let cook another five minutes on low heat. Turn up the heat a little bit and add a little bit of white wine and lemon juice and stir gently. Once the lemon and wine is almost gone add chicken stock a little at the time constantly stirring until the rice is almost done. You will want to keep a little bit of bite to it and the rice will keep cooking even after you remove it from the heat so be careful not to overcook it. Once the rice is almost done add a knob of butter and grated Parmesan cheese and a few drops of lemon juice.
Let the risotto rest for a few minutes and then adjust the flavors with salt, pepper, Parmesan and lemon juice if necessary. Plate the risotto and add some extra black pepper, olive oil, Parmesan and the pickled lemon rinds on top. Serve warm.